India is in talks with Chile and Bolivia for tapping into lithium mining and sourcing the Lithium mineral that remains the cornerstone for the country's switch to green mobility.
Lithium Reserves in India
A geological survey of India has found a Lithium reserve of 5.9 million tonnes in the Salal-Haimana area of the Reasi District of Jammu and Kashmir. Lithium is a crucial component for the production of rechargeable batteries, which are used in a variety of electronic devices, including smartphones, laptops, and electric vehicles. These resources are a part of the mineral block known as "Reasi Sersandu-Kherikot-Rahotkot-Darabi," where prospecting has been going on from 2021–2022.
The country may be able to meet its local need for metal, which has been rising recently due to the rising popularity of electronic products and electric vehicles, thanks to the recent discovery of this significant metal deposit in India.
Properties of Lithium
The Chemical Symbol of Lithium is 'Li' and the atomic no is 3. It is derived from the Greek word lithos, which means stone. It is a delicate white-silver alkali metal and the least dense metal. As it is soluble as an ion and is present in ocean water.
Uses of Lithium
Lithium is isolated electronically, from a mixture of lithium chloride and potassium chloride. It is used in the treatment of mental illness which includes bipolar disorder.
Salt of Lithium is seen as a mood stabilizer and antidepressant.
Industrial products use lithium as well as its compound, which includes lithium metal batteries and lithium-ion batteries.
Lithium is best known for its role in energy storage technology.
What is Lithium Triangle?
The Lithium Triangle refers to an area in the Andes, straddling Argentina, Bolivia, and Chile, known for its abundant lithium deposits.
This region's lithium is found primarily in the salt flats scattered throughout the Atacama Desert and its adjacent dry regions.
This area is known for having the world's largest deposits of lithium, a mineral crucial for the production of batteries for electric vehicles, cellphones, and other electronic devices.
It is estimated that the Lithium Triangle hosts about 54% to 58% of the world's lithium resources​.
Lithium Triangle Countries
Bolivia has the world's largest lithium reserves.
Argentina has the world's second-largest lithium reserve.
Chili has the world's third-largest lithium reserve.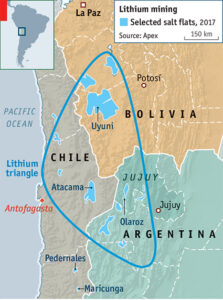 Despite having the fourth-largest lithium deposits in the world, 6.8 million tonnes, according to the US Geological Survey, the USA has very little production activity. Despite having only, the fifth-highest overall reserve with 6.3 million tonnes, Australia was by far the largest lithium producer in the world in 2019. With 4.5 million tonnes of total lithium reserves, China is sixth on the list. China as a nation produced 7,500 tonnes of metal in 2019, which ranked third globally.
Significance of Lithium Triangle
It plays a vital role in the development of clean energy technologies and is central to efforts combating climate change.
Lithium is essential for the production of rechargeable lithium-ion batteries, which are key to powering electric vehicles and storing energy from renewable sources.
The efficient and sustainable extraction of lithium from this region is, therefore, a critical component of the global transition to a more sustainable energy future​.
Jammu & Kashmir Lithium Reserve
One of the largest Lithium Resources in the world, the recently discovered lithium deposit is believed to be 5.9 million tonnes and is located in the Salal-Haimana area in the Reasi District of Jammu & Kashmir (UT) according to the Geological Survey of India (GSI). Lithium reserves in a tiny area of land studied in Southern Karnataka's Mandya district were previously assessed to be 14,100 tonnes by scientists at the Atomic Minerals Directorate (under India's Atomic Energy Commission).
Gujarat will host India's first lithium factory in 2021, with Manikaran Power Limited investing Rs 1000 crore to build the refinery. The ore of lithium will be used in the refinery to make the basic components of batteries. TATA is developing Li-ion batteries that are entirely built in India. These batteries are produced by the Indian Space Research Organisation (ISRO), however, their availability and application are currently constrained.
A Memorandum of Agreement for Li-battery operation and technology transfer to India was inked in 2018 between RAASI Solar Power Private Limited and the Central Electro Chemical Research Institute in Tamil Nadu.
Lithium Reserves in World Map
Few countries such as Chile, Australia, Argentina, China, US in the world have the largest lithium reserves, regardless of their stage of development.
Lithium Reserve in India UPSC
Due to its widespread use in products essential to modern living, lithium has been termed "white gold." Lithium demand and supply cannot even somewhat keep up. The International Energy Agency forecasts that a lithium shortage could happen by 2025.
India now imports a number of minerals to meet its demand, including lithium, nickel, and cobalt. As the world strives to wean itself off its reliance on China for crucial battery materials, India is taking ambitious steps to establish itself as a rival in the supply chain for electric vehicles. Only a small portion of the raw ingredients needed to satisfy domestic demand for lithium-ion batteries are available in India.