Lakes of Bihar
There is more water than land in north Bihar one of such waterbody are Lakes of Bihar. Lakes of Bihar also plays a significant role in promoting aqua-economy. A lake is a body of water that is surrounded by land. It is rich in flora and fauna, it is here that makhana (foxnut) fruit is cultivated, and the lesser-known singhara (water chestnut), too. Unfortunately, in the last few decades many of the waterbodies have either dried up or have been reclaimed for agriculture.
Lakes of Bihar locally known as chaurs (tectonic depressions), mauns (oxbow lakes) and freshwater bodies that dot north Bihar were previously inundated by overflow from the rivers and local monsoon runoff. Their principal function of the lakes is to act as sponges and they were nature's own initiative at flood control. Human intervention has seriously impaired this function.
List of Lakes of Bihar
The largest wetland including the lakes of India which is in the Indo-Gangetic flood plain, of which Bihar accounts for 273,395 hectare. The lakes of north Bihar are dependent upon six major tributaries of the Ganga flowing out from the central Himalaya on to the plains between the Nepalese border, and the Ganga itself.
From the Gandak river in the west to the Mahananda river in the east, the northern part of the Gangetic plains is studded with numerous small freshwater lakes and chaurs, the vast majority of which are oxbow lakes marking the historical courses of the Bayanadi, Burhi Gandak, Sapt Kosi and Mahananda rivers. Most of the lakes are 100-200 ha, but some exceed 1,000 ha in area. There are more than 14,000 ha under chaurs in Darbhanga district alone. The other major lake Kawar in Begusari district, covering an area of 7,400 ha. It is considered one of South Asia's largest freshwater lakes. Check the List id Lakes of Bihar below:
Kanwar Lake
Kanwar Lake is located in Manjhol village in Begusarai district of Bihar The total area of ​​this lake is 16 square kilometers Construction of Kanwar Lake was done by spilling of Gandak River More than 60 species of birds come from Central Asia to live in this lake during cold days Also, Siberian birds appear here in both November and December All in all, this lake is famous for its habitat of birds About 106 species of birds, both Indian and foreign, live here
Muchalinda Lake
It is located in the Bihar town of Bodhgaya. At this lake, Buddha used to practice his meditate. The statue of Lord Buddha is situated in the middle of the lake and is shown in a position of meditation. In essence, it is a lovely pond surrounded by vegetation.
Ghora Katora Lake
This lake is located near Rajgir, Bihar's Nalanda district and is being surrounded by Hills. It is situated next to the World Peace Pagoda and encircled by lush landscapes.
Kusheshwar Asthan Lake
It is been located in Darbhanga's Kusheshwar. In 1972, Kusheshwar Lake was designated as a bird sanctuary. Its size fluctuates between 20 sq km and 100 sq km. Its area tends to grow excessively as a result of the rainy season's intense precipitation. This lake receives water from lakes like Kamla, Kareh, etc. It is renowned for producing fish. During the winter, migrating birds such the Pelicia Damatia and Siberian Crane stop by Kusheshwar Lake.
Gogabill Lake
It is situated in the district of Kathihar. It extends upto 218 acres in total. One of the biggest wetlands in Bihar is this one. It joins the Ganga and Mahananda rivers when the water level is high due to heavy rain or flooding.  It functions as a sanctuary for birds, pets, and other aquatic and land species. Around 300 migrating birds from the Siberian region and the Caspian Sea visit it throughout the winter and monsoon seasons.
Anupam Lake
Anupam Lake is a natural lake that can be found in the Bihar region of Kaimur. It is a beautiful picture as the lake's crystal-clear water reflects the surrounding vegetation. For those who enjoy the outdoors and photography, the lake is the ideal location because it provides many chances to capture its tranquil beauty.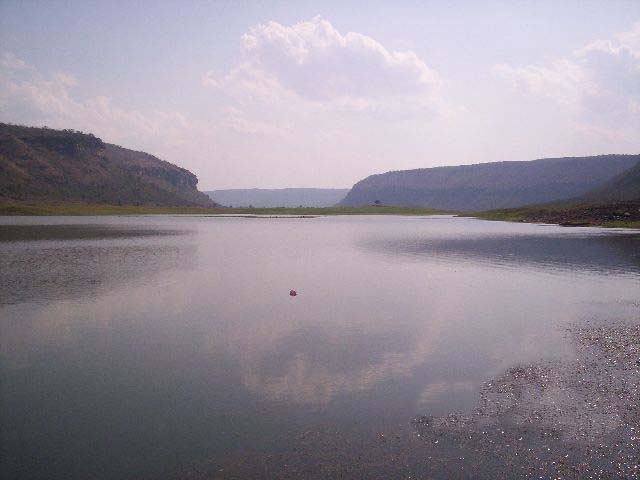 Matsyagandha Lake
In Northern Bihar, there is a man-made lake called Matsyagandha Lake. It is located in the Saharsa district's Sattar Kataiya block.
Kharagpur Lake
Located in Kusheshwar in Darbhanga district of Bihar state, this lake is also known as Kusheshwar Sthan Lake. This lake is also famous for its habitat of birds This lake is home to a large number of birds, so this lake was declared a bird sanctuary in 1972.
By the way, the area of ​​this lake is 20 square kilometers, but when it rains in the rainy season, the area of ​​the lake increases due to excessive water and reaches 100 square kilometers.
Ghogha Lake

It is located in Manihari, Katihar and its are is around 5 sq km. The birds of India are mainly seen in this lake The trend of migratory birds in this lake is very low Also, this lake is not very popular among the people of Bihar. Also, there are many small lakes around the Ghogha lake, which become one due to flooding and the area of ​​this lake increases considerably.
Simri-Bakhtiyarpur Lake
Actually, this lake in the Simri-Bakhtiyarpur region of the Saharsa district in the Indian state of Bihar is the result of the convergence of numerous smaller lakes. Additionally, this lake doesn't expand as much as other lakes do. It contains lakes with names like Muniya, Sardia, Kumibi, Gobra, etc.