UPSC Anthropology Syllabus
In recent years, those aspiring to the UPSC CSE exam and preparing for the UPSC IAS Mains Exam have made Anthropology one of their favourite UPSC optional subjects. Its popularity can be attributed to the availability of materials and easy understanding for studying for UPSC exams.
Many UPSC candidates ignore this optional exam because they believe the subject will be difficult as the name suggests. The UPSC Anthropology Syllabus demands that candidates understand anthropology as a science and use it to solve human problems. There are many diagrams in anthropology, so be sure to practise labelling and creating diagrams as much as you can..
Read More: UPSC Syllabus
UPSC Anthropology Optional Syllabus
If you decide to opt for Anthropology as an optional subject for the UPSC Mains exam and have no educational background in the subject then first you have to develop an understanding of the subject and conceptual clarity. Anthropology is the study of people—past and present—with a focus on understanding the biological and cultural aspects of the human condition through the integration of biology, cultural studies, archaeology, linguistics, and other social sciences.
Read More: UPSC Economics Syllabus
UPSC Anthropology Syllabus Paper 1
UPSC Anthropology Syllabus for Paper 1 is divided into 12 units which are further subdivided into different topics. Major categorisation of the Anthropology syllabus is listed below:
Meaning, Scope and development of Anthropology

Relationships with other disciplines
Main branches of Anthropology, their scope and relevance
Human Evolution and the emergence of Man
Characteristics of Primates
Phylogenetic Status
The biological basis of Life
Principles of Prehistoric Archaeology
Chronology and Cultural Evolution

Nature of Culture, Society, Marriage, Family, Kinship
Economic Organization
Political Organization and Social Control
Religion
Anthropological theories
Culture, Language and Communication
Research methods in Anthropology
Human Genetics
Concept of human growth and Development
Relevance of menarche, menopause and other bio-events to fertility. Fertility patterns and differentials.
Applications of Anthropology
Read More: UPSC Optional Subjects
Read More: UPSC Geography Syllabus
Read More: UPSC Sociology Optional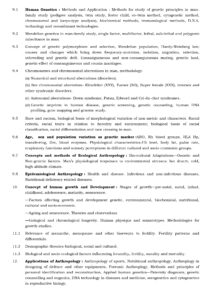 Read More:  UPSC Prelims Syllabus
UPSC Anthropology Syllabus Paper 2
The UPSC Anthropology Syllabus for Paper 2 has been divided into 9 units:
Palaeo, Ethno-archaeology, and the Development of Indian Culture and Civilization.
Demographic Profile of India
Sacred Complex and Nature-Man-Spirit Complex, Caste System in India, Structure & Nature of Traditional Indian Social System, Impact of Buddhism, Jainism, Islam, and Christianity on Indian Society.
Emergence, growth and development in India
Indian Village, The social, political, and economic status of linguistic and religious minorities in Indian society, as well as indigenous and exogenous processes of sociocultural change.
India's tribal condition and tribal communities' issues
Problems with social change and modern tribal societies, as well as issues with SC, ST, and OBC exploitation and deprivation.
Nation-states and tribes, the Impact of different religions on tribal societies, including Hinduism, Buddhism, Christianity, and Islam.
The role of anthropology in the development of tribal and rural areas, and the history of tribal administration.
Read More: UPSC Syllabus in Hindi
The complete UPSC Anthropology Optional Syllabus Paper 2 has been discussed in detail below:
UPSC Anthropology Syllabus 2022 FAQs
Q. What are the topics of anthropology for UPSC?
Ans. Anthropology is a very interesting subject which includes Human Evolution, Social Structures, Cultural Development, the Concept of human growth and Development etc.
Q. Is anthropology good for UPSC?
Ans. For IAS candidates, selecting the best optional subject is a significant decision. UPSC IAS Exam candidates can consider anthropology as an optional subject because it is a very interesting subject.
Q. What is the syllabus of Anthropology in UPSC optional?
Ans. The UPSC Anthropology syllabus for the IAS Exam puts a significant emphasis on the candidates' ability to understand the subject as science and apply the knowledge to problems that affect the common person. Human evolution, social structures, cultural development, and other related topics are covered in this subject.
Q. Is anthropology a tough optional?
Ans. Anthropology is an interesting subject and one of the most popular optional subjects in the UPSC IAS exam due to the type of questions asked in the exam. After solving the previous year's questions, the Candidate can feel confident and easily attempt the questions.
Q. Can anthropology be prepared in 4 months?
Ans. The anthropology syllabus is relatively short. If the proper study materials and method are used, it can be finished in 4 months. Candidates with a background in science or engineering who don't want to take their degree subjects as optional can choose this option.
Other UPSC 2023 Related Links