GS Geography (Live classes) Module by Deepanshu Singh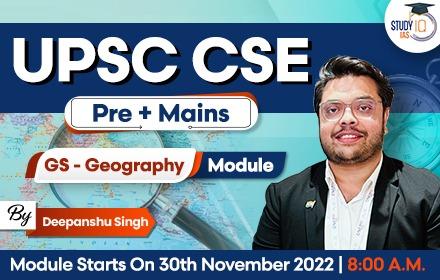 * Prices will increase after 7th December 2022
Course Details
Module Starts on 30th November 2022 | Timing - 8 AM

The weightage of Geography is increasing in the UPSC examination. Geography is important for all the three stages of the examination. Prelims, Mains and Personality Test. 2022 mains saw 8 questions from Geography. It is also important for understanding the newspaper and current affairs. In this course Study IQ ensures the GS Geography is holistically covered for all three stages of examination.
Features of the course:

1. 100+ Hours of Live teaching by our faculties
2. Comprehensively designed module covering every topic in detail
3. All basic Geography NCERTs covered in the lectures, handouts
4. Hand written notes, Lecture Notes, Lecture PPTs on static topics
5. MCQ based learning for every lecture to enhance retention
6. Answer writing program guided by our experienced faculties
7. Yearly compilation of Geography related current affairs near the Prelims examination
8. 4 sectional test on Geography - Prelims pattern
9. Mains revision test after the completion of Geography module

Frequently Asked Questions
They can contact us on our Support and our team will help them upgrade to the Live Course at a nominal cost. You can call us at 9580048004.
Yes, existing users will continue to get Current Affair Updates, doubt sessions and other course related updates.
Current affairs will be done through our CAP module. The CAP module will have high quality PDF which covers topics from multiple sources. The PDF will be explained through a video which will be available 9.30P.M daily (Monday - Saturday)
Prelims test series will be both online and offline(Postal based). Tests would be conducted weekly from August onwards. These are a set of 40+ tests which include both General studies and CSAT.
After teaching every Mains-related topic, faculty will give a question for practice. Discussion will be done the next day. The student can evaluate the answer by themselves after the discussion from the faculty.
MCQs can be solved on the StudyIQ App.