Set of two - Modern Indian History & Indian Art and Culture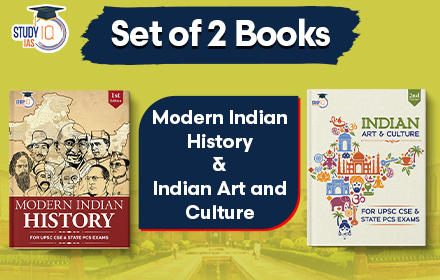 Course Details
Delve into India's historical journey and cultural richness with this remarkable book set featuring 'Modern Indian History' and 'Indian Art and Culture' by StudyIQ. Tailored to align with UPSC trends, these books offer a consolidated and updated approach to mastering these crucial exam components. 1. Modern Indian History: Navigate the complexities of India's historical evolution with StudyIQ's 'Modern Indian History' book. Exclusively designed for UPSC Civil Services Examination, this resource-rich guide presents comprehensive and easily comprehensible content. Integrated with relevant examples, landmark events, and maps, it fosters enhanced concept understanding. Previous years' questions facilitate knowledge assessment and trend analysis, ensuring a robust preparation. 2. Indian Art and Culture: Uncover the artistic and cultural treasures of India with StudyIQ's 'Indian Art and Culture' book. Tailored to UPSC Civil Services Examination demands, this book simplifies the complexities of Indian art and culture. Featuring clear and comprehensible content, diagrams, pictorial representations, and maps, it enriches your learning experience. The inclusion of relevant previous years' questions aids in understanding question trends and testing your knowledge.
Note : The book will be dispatched within 48 hours of your order placement. You will receive an email containing your shipment tracking ID. While the delivery time may vary based on the delivery location, rest assured that we are committed to ensuring a prompt delivery as soon as possible.
Frequently Asked Questions
We offer a wide range of exam-related books, including UPSC Civil Services Examination (CSE) books, state PSC materials, SSC, banking, railways, and various competitive exam preparation resources.
Yes, all our books are meticulously updated to align with the latest exam patterns and syllabi to ensure you have the most relevant study materials.
Absolutely! We offer a diverse collection of books containing previous year question papers to help you practice and understand the exam's trend.
Yes, our books are authored by experienced educators, subject experts, and professionals who are well-versed with the exam requirements.
Yes, we provide subject-specific books covering various topics to cater to the specific needs of aspirants preparing for different exams.
Certainly, our collection includes books designed for both Prelims and Mains, offering comprehensive coverage of the entire exam syllabus.