भारतीय कृषि (Indian Agriculture) - Book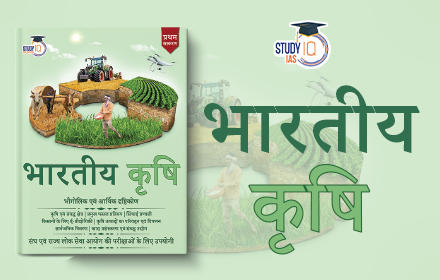 Course Details
StudyIQ's 'भारतीय कृषि (Indian Agriculture)' book (Hindi Language), launched by Study IQ Publications, is a comprehensive guide tailored for UPSC Civil Services Examinations aspirants. This book, designed for both Prelims and Mains, covers Indian agriculture holistically, reflecting the latest exam pattern. With inputs from experienced faculty and subject-matter experts, it addresses challenges faced during competitive exam preparation.

Key Dimensions Covered:
• Crop Diversity: Insights into India's crops, cultivation methods, and significance across sectors.
• Role in GDP: Examining agriculture's impact on employment, rural development, and GDP contribution.
• Resource Analysis: Status, challenges, and development of agricultural resources.
• Pricing Mechanisms: Understanding agricultural pricing's influence and the role of relevant authorities.
• Marketing Dynamics: Examining marketing institutions, government initiatives, and cooperative systems.
• Supply Chain Insights: Exploring procurement, storage, marketing, distribution, and technology transfer.
• Emerging Trends: Recognizing diversification, trade, sustainability, gender dynamics, and ICT implications.

Some Notable features of book includes:
• Comprehensive Content: A consolidated resource for Indian agriculture.
• Visual Learning: Infographics aid comprehension.
• Trend Insights: Previous year questions highlight question patterns.
• Engaging Elements: 'Do You Know' sections enhance learning excitement.
Frequently Asked Questions
We offer a wide range of exam-related books, including UPSC Civil Services Examination (CSE) books, state PSC materials, SSC, banking, railways, and various competitive exam preparation resources.
Yes, all our books are meticulously updated to align with the latest exam patterns and syllabi to ensure you have the most relevant study materials.
Absolutely! We offer a diverse collection of books containing previous year question papers to help you practice and understand the exam's trend.
Yes, our books are authored by experienced educators, subject experts, and professionals who are well-versed with the exam requirements.
Yes, we provide subject-specific books covering various topics to cater to the specific needs of aspirants preparing for different exams.
Certainly, our collection includes books designed for both Prelims and Mains, offering comprehensive coverage of the entire exam syllabus.