Gaurav Sir Current Affairs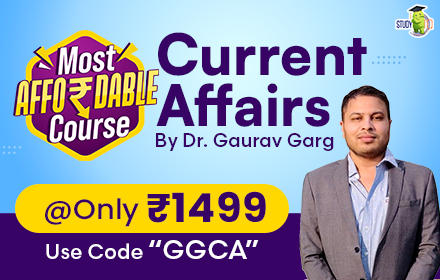 Course Details
This course 'Current Affairs by Gaurav Sir' is a creation of Dr Gaurav Garg himself who is well known for his rich quality of content in a precise way. The course is compiled in such a way that covering this single course will enable aspirants to sco...
show more
Frequently Asked Questions
FAQ's Smart Courses
Smart Courses are app-based courses offered by Study IQ. Apart from videos, the courses comprise of snippets, lecture PPTs, crux, quizzes, etc. - for all round preparation. Currently it is available only on Android platform.
This App is compatible with the Android operating device (Android versions 6 or higher) i.e. Mobile. This app does not support iOS i.e. Apple devices. Most of the courses are available on the Website, so you can access them via Windows OS on Laptop or Desktop.
You need an active internet connection i.e. mobile data or WiFi to play videos.
You can download lecture videos in App and play them offline.
After downloading the App from Google Playstore, follow the steps mentioned below. Open the App > Register or login yourself > Find the course, you are interested > Click on 'Buy Now'.
You can access your already purchased courses from "My Library".