Failure to Triumph: A Book by Dr. Gaurav Garg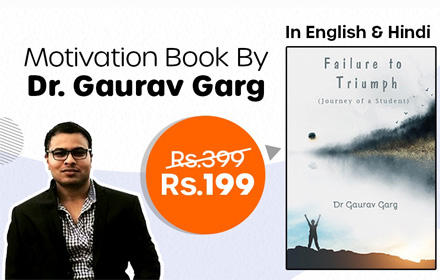 Courses Info

Videos (1)
Course Details
Life changing book for student community, Motivation based on personal experience, a guiding light for everyone. The book will be available as Paperback and delivery starts from May 15, 2020. The contents of the book can be seen under "Course Content...
show more
Frequently Asked Questions
We offer a wide range of exam-related books, including UPSC Civil Services Examination (CSE) books, state PSC materials, SSC, banking, railways, and various competitive exam preparation resources.
Yes, all our books are meticulously updated to align with the latest exam patterns and syllabi to ensure you have the most relevant study materials.
Absolutely! We offer a diverse collection of books containing previous year question papers to help you practice and understand the exam's trend.
Yes, our books are authored by experienced educators, subject experts, and professionals who are well-versed with the exam requirements.
Yes, we provide subject-specific books covering various topics to cater to the specific needs of aspirants preparing for different exams.
Certainly, our collection includes books designed for both Prelims and Mains, offering comprehensive coverage of the entire exam syllabus.