NCERT सरलीकृत: राजव्यवस्था (NCERT Simplified Polity)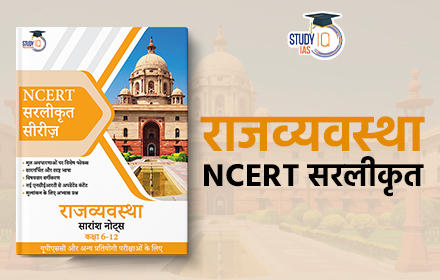 Course Details
In the realm of competitive examinations, NCERT textbooks are regarded as the foundation for building a strong understanding of various subjects. They are trusted by educators and students alike for their well-structured content and accuracy. However, with an ever-expanding syllabus, it becomes challenging for aspirants to cover every detail. Recognizing this need, "NCERT सरलीकृत: राजव्यवस्था" is crafted as the ideal companion to streamline your preparation and maximize your chances of success. Some Notable features of the book include: - Comprehensive Summary: We have retained the core concepts, theories, and principles while eliminating redundant details, so you can focus on mastering the essential knowledge. - Structured by Class and Chapter: The book is thoughtfully organized into well-defined sections, with each section focusing on a particular class and its corresponding chapters. - Crisp and Clear Language: We understand that clarity and simplicity are crucial in the learning process. Thus, our language is crafted to be lucid and accessible, making complex ideas easier to grasp. This writing style not only aids in a quick review but also facilitates better retention of information. - Practice Questions: Alongside the summaries, "NCERT सरलीकृत: राजव्यवस्था" includes thoughtfully selected practice questions to assess your understanding and reinforce your learning.
Note : The book will be dispatched within 48 hours of your order placement. You will receive an email containing your shipment tracking ID. While the delivery time may vary based on the delivery location, rest assured that we are committed to ensuring a prompt delivery as soon as possible.
Frequently Asked Questions
We offer a wide range of exam-related books, including UPSC Civil Services Examination (CSE) books, state PSC materials, SSC, banking, railways, and various competitive exam preparation resources.
Yes, all our books are meticulously updated to align with the latest exam patterns and syllabi to ensure you have the most relevant study materials.
Absolutely! We offer a diverse collection of books containing previous year question papers to help you practice and understand the exam's trend.
Yes, our books are authored by experienced educators, subject experts, and professionals who are well-versed with the exam requirements.
Yes, we provide subject-specific books covering various topics to cater to the specific needs of aspirants preparing for different exams.
Certainly, our collection includes books designed for both Prelims and Mains, offering comprehensive coverage of the entire exam syllabus.