Indian History 1000+ MCQs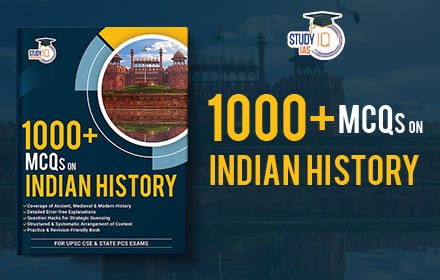 Course Details
Introducing StudyIQ's "Indian History 1000+ MCQs" book – a reliable solution tailored to address the challenges faced by competitive exam aspirants in mastering Indian History. Covering Ancient Indian history, Medieval Indian History, Indian Art & Culture, the Struggle for Independence, and more, this book recognizes the importance of practicing Multiple-Choice Questions (MCQs) in excelling in exams like UPSC CSE and State PCS. Some Notable features of book includes: • Comprehensive Coverage: Encompasses various periods of Indian history and diverse cultural aspects. • Detailed Explanations: Each MCQ is accompanied by accurate explanations for enhanced understanding. • Strategic Question Hacks: Equipping aspirants with invaluable skills, numerous questions include Question Hacks. • Structured Sections: Thoughtful organization allows easy navigation through different historical eras. • Practice and Revision-Friendly: Equips aspirants with solid historical knowledge for effective preparation.
Note: The book will be dispatched within 48 hours of your order placement. You will receive an email containing your shipment tracking ID. While the delivery time may vary based on the delivery location, rest assured that we are committed to ensuring prompt delivery as soon as possible.
Frequently Asked Questions
We offer a wide range of exam-related books, including UPSC Civil Services Examination (CSE) books, state PSC materials, SSC, banking, railways, and various competitive exam preparation resources.
Yes, all our books are meticulously updated to align with the latest exam patterns and syllabi to ensure you have the most relevant study materials.
Absolutely! We offer a diverse collection of books containing previous year question papers to help you practice and understand the exam's trend.
Yes, our books are authored by experienced educators, subject experts, and professionals who are well-versed with the exam requirements.
Yes, we provide subject-specific books covering various topics to cater to the specific needs of aspirants preparing for different exams.
Certainly, our collection includes books designed for both Prelims and Mains, offering comprehensive coverage of the entire exam syllabus.