UPSC IAS (Mains) Philosophy Optional Live 2024 (Comprehensive) October Batch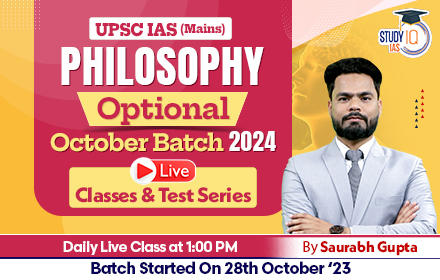 * Prices will increase after 6th December
Course Details
Batch Started on 28th October, 2023 | Class Timing -1:00 PM
For Further queries please call on : 080-6897-3353
StudyIQ is here with its Philosophy optional Course. Let's start with understanding the merits of Philosophy Optional.
• Highest Average Success Rate (7.9%)
• Easy to score 300+
• (Maximum Gained Marks 327/500)
• Produced many All India Ranks like Athar Amir Khan AIR-2 in 2015, Ankita Jain AIR -3 in 2020.
• Shortest Syllabus (Saves Time For Revision & Preparing For GS) Static Subject (No Current Section)
• Logical Subject (Develops Logical Thinking)
• Helps in Preparation of GS Paper-IV (Ethics Integrity and Aptitude), Essay Writing
• Covers Various Socio-Political topics (Democracy, Equality, Justice etc.)
• Improves Writing Skills and makes a candidate thoughtful which helps in Interview
• No Philosophy background is required.

Features of the course -

• 400 hours of live lectures spread over 4 months
• Comprehensive coverage through high quality lecture notes
• Hand written notes and Crux will be provided
• Live answer writing program under the guidance of faculty
• Previous Year Questions discussions
• Doubt clearing sessions by the faculty

Features of the Test Series -

• The language style and nature of the questions are in line with the questions asked by the Union Public Service Commission and based on deep understanding and knowledge.
• There will be a total of 12 tests.
• 8 sectional tests and 4 Full Length tests will be conducted.
• The evaluation of papers will be done in 4-5 days after the student uploads the paper.
• Discussion of each paper would be done thoroughly.
• Synopsis of each test will be provided after the student attempts the paper.
• Previous Year Questions and high-yielding topics would be covered comprehensively.
Frequently Asked Questions
The course will be completed in 5 to 6 months
The validity of the course will be 18 months
Batch timings are from 1pm to 4pm
Yes, the classes will be in both Hindi & English
No, the Content will be provided only in English
There is no one-to-one mentorship, however the faculties conducts doubt sessions on a regular basis.