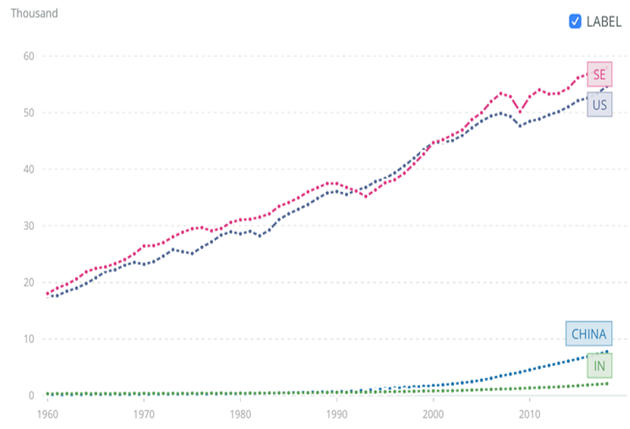 This shows how far an average Indian is from an average Chinese or American.
That is why economists repeat that India has to grow rapidly for several decades at a stretch if it wants the average laevel of lifestyle to reach anywhere close to the developed world.
For this, We continuously need to increase our manufacturing
But India's Dependence on China
Contrary to perception, India imports a lot of intermediate goods from China, and stopping that trade will affect our ability to produce finished goods.
There are sectors that are import-dependent such as automobile, pharmaceuticals, electronics, telecommunications, etc.
Thus move towards boycotting these goods could be counter-productive, impacting the overall competitiveness of the Indian manufacturing sector and undermining our competitiveness to export.
But does that means India should resign to becoming a "slave" to Chinese imports?
Ofcourse the answer is "No".
But, the path to overcoming our dependence on Chinese goods — or for that matter, imports of any other country,
Requires Indian policymakers and businesses to put in real hard work and not resort to lazy solutions such as banning trade or raising tariff barriers.
Reason for India's poor share in Global trade?
The first thing to understand is that India's poor share in global trade, especially on goods, is a reflection of our acute lack of competitiveness.
This is the harsh truth but far too often, instead of accepting this reality, policymakers have blamed India's stagnant exports performance on weak global demand.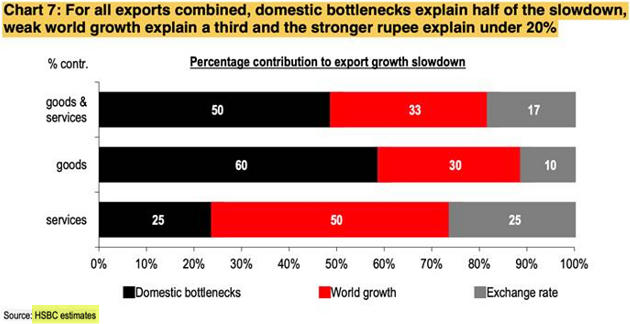 What are domestic bottlenecks?
Poor infrastructure,
Lack of reliable electricity,
Logistical delays,
Regulatory hurdles,
Problems in enforcing contracts etc.
How to reduce the cost of manufacturing?
We need to be more sector-specific and
Focus on factors of production that can make a meaningful difference.
For example, India's desire to revive textile exports can be helped by increasing productivity in cotton plantations (by better implementing available technology, like BT Cotton).
Trade negotiations (bilateral, multilateral and plurilateral) to lower tariffs that India's exports face abroad can boost India's exports in textiles and engineering goods".
Towards fine-tuning a sector-specific strategy to boost exports,
The government can just revisit the advice rendered by its Chief Economic Adviser Krishnamurthy V. Subramanian in the latest Economic Survey released this year.
India must not harbour "misplaced insecurity on the trade front"
India has gained from trade agreements: a 0.7% increase per year in trade surplus with partner countries for manufactured products and 2.3% per year for total merchandise.
Second, The current environment for international trade presents India an unprecedented opportunity to chart a China-like, labour-intensive, export trajectory.
Thereby create unparalleled job opportunities for our burgeoning youth.
According to the Survey, by integrating "Assemble in India for the world" into Make in India,
"India can create 4 crore well-paid jobs by 2025 and 8 crore by 2030".
The Survey singled out China as a model for India to emulate.
"China's remarkable export performance vis-à-vis India is driven primarily by deliberate specialization at large scale in labour-intensive activities,
Especially 'network products', where production occurs across Global Value Chains (GVCs) operated by multi-national corporations".