Swarms of extremism
As if the COVID-19 crisis were not enough, we now have swarms of locusts invading us.
Travelled from Africa to South Asia: country borders and barriers put up by proud sovereign nations are fuitile for such swarms.
Swarm intelligence: the individuals that make up a colony of living creatures are singularly unintelligent and are driven by programmed instinct, but their collective actions make their entire colony intelligent as an entity by itself.
bees, ants, birds, fish etc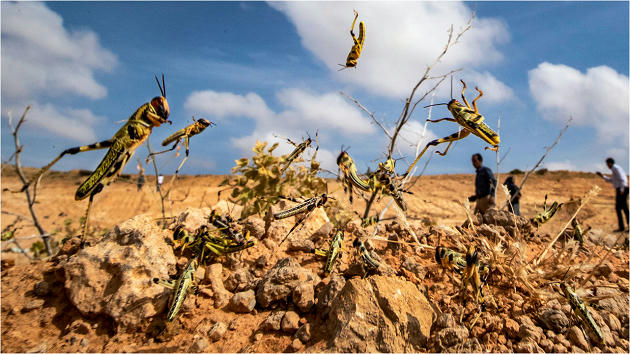 How does swarm intelligence work?
An important point to note is that they are leaderless.
Scientists put it down to the fact that within a swarm, individuals are constantly communicating with each other through actions, signals or otherwise, in a binary manner.
Millions and billions of binary communications add up to a sum larger than the whole.
If the human brain was considered a colony of independently alive neuron cells, then it can be imagined that all its nuanced thought emerges from simple, binary synapse-mediated conversations between individual neurons.
A leader signals something, whether it is the need to distort history, create a false sense of assurance in a faltering economy, fuel hate against somebody, or signal success when strategies fail.
From then on, the swarms take over the creating of simple messages, fake news, sloganeering and hate.
Individuals down the ladder, shorn of individual capabilities for critical thinking, share messages, amplify them and make hashtags trend.
Is there any political future for the critical, thinking mind then?
At first sight, liberals who are ruggedly individualistic are especially unsuited for being a part of any swarm.
They reject binary communications, and see their proximate supporters as competitors rather than as part of a larger, coordinated order.
What we need are more compassionate, thinking and inclusive locusts.
Addressing the elephant in the room
Most crackers are aimed at wild boar that destroy small farmers' crop.
With the absence of large predators outside forests and the huge availability of easily accessible food crops, deer, monkeys, boar and other species inevitably fill this space.
In almost all developed nations these species are kept in control so they don't destroy large crop areas.
In less developed countries, local people take matters into their own hands.
Studies show this "reciprocity" — boars eating crops, people eating boar — is what allows farmers tolerate these otherwise problematic animals.
India does not allow rural people to hunt animals, but neither does the government cull animals regularly despite their numbers shooting up.
Wildlife Protection Act | Vermin | Cull
Kerala had declared boar "vermin", but very few have been killed over the years.
Compensation schemes: but in India this is always only a fraction of the market value of the crop.
The start of the monsoon is when animals move into human habitation more, partly on account of jackfruit and other crops/fruits.
While some people are indeed over-exploiting the planet, everyone is far from being equally culpable for the ecological disaster that we are now in.
Boars are classified "least concern", and are in absolutely no danger of going extinct.
For elephants only about 25% of their range is within protected areas.
One study in central India by Majgaonkar and others found that only 2.6% of the range of leopards, hyenas and wolves in central India was within protected areas.
There are no universal solutions.
Solutions vary based on the context, the kinds of crops grown, density of people, socioeconomic status, etc.
Farmers should be empowered and subsidised to better protect their land.
India has done well in saving nature given its high population density.
Profit, not profiteering
Regulate hospital fees charged in the private sector for COVID-19 care.
Few States have set a cap on the tariff that can be charged by private hospitals.
Central government to capped the price of tests for COVID-19 at ₹4,500 in private labs.
 Staying alive to the hardships of its people, it must ensure ̥that the harsh times are not further exacerbated by profiteering.
Paging the private sector in the COVID fight
The COVID-19 pandemic is unlikely to disappear in the immediate future.
This unprecedented crisis has highlighted the critical need to mobilise available resources in public sector, and the private sector in particular.
There are no clear policy guidelines to use private sector resources that could complement public sector efforts, and how the payments for their services made.
Countries that have had a policy-based strategic relationship with the private sector seem to have performed well in controlling this pandemic.
We need to bring in structural changes in the health sector to rejuvenate partnerships with the private sector.
Laboratory services
An accredited private laboratory can be contracted to be co-located in a public health facility preferably in tier-II/tier-III public hospitals.
States that already have private laboratories under a public–private partnership (PPP) contract can be asked to add COVID-19 tests.
The government may procure test kits and the private sector could charge a service fee from the government.
Suspect cases can be issued vouchers for testing at any empanelled private laboratories.
E-vouchers generated by tele-health call centres can subsequently be reimbursed by the government.
A mobile sample collection and testing facility can be operated by a private entity in high density clusters.
Hospital infrastructure
A private contractor could be hired to refurbish an existing ward in a public hospital into an intensive care unit (ICU) ward.
The Centre can provide viability gap funding to the State to support the development of such a facility.
The government can refer patients to empanelled private COVID-19 hospitals, at a fixed package rate.
Clear policy directions, a robust referral system, agreement on tariffs, and a quick reimbursement mechanism.
Besides facilitating quick credit access for manufacturing, the government may also give buy back guarantees and facilitate the supply chain channels.
Central intelligence system
An IT system with artificial intelligence capability should be the backbone of supporting all public and private sector efforts in combating COVID-19.
The intelligence system should seamlessly help in case identification, contact tracing, managing a tele-health centre, generating e-vouchers, authorising tests, managing referrals for isolation and hospitalisation in the private sector, payment, follow-up, etc.
A group of inter-disciplinary experts to guide in institutionalising the private partnership arrangements would go a long way.
In Persian Gulf littoral, cooperative security is key
The United Nations defines this body of water as the Persian Gulf.
The lands around it are shared by eight countries (Bahrain, Iran, Iraq, Kuwait, Oman, Qatar, Saudi Arabia, and the United Arab Emirates), all members of the UN.
Turbulence has often characterised their inter se political relations.
Saudi vs Iran
Many moons and much bloodshed later, it was left to the Security Council through Resolution 598 (1987) to explore 'measures to enhance the security and stability in the region'.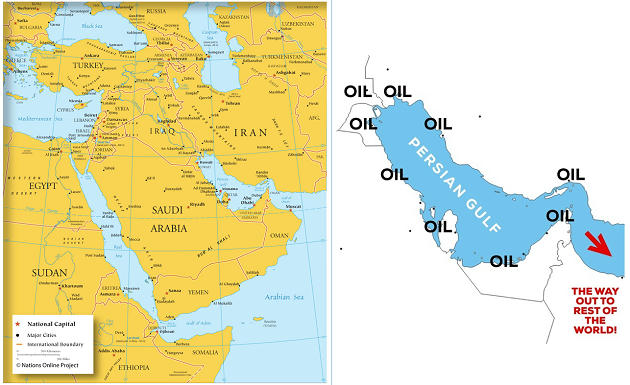 Security for whom, by whom, against whom, for what purpose? Is the requirement in local, regional or global terms? Does it require an extra-regional agency?
The essential ingredients of such a framework would thus be to ensure

Conditions of peace and stability in individual littoral states.
Freedom to all states of the Gulf littoral to exploit their hydrocarbon and other natural resources and export them.
Freedom of commercial shipping in international waters of the Persian Gulf.
Freedom of access to, and outlet from, Gulf waters through the Strait of Hormuz.
Prevention of conflict that may impinge on the freedom of trade and shipping
Prevention of emergence of conditions that may impinge on any of these considerations

It is evident that a common GCC threat perception has not evolved over time and has been hampered by the emergence of conflicting tactical and strategic interests and subjective considerations.
Impact of COVID-19 on regional economies.
The problems in the Organization of the Petroleum Exporting Countries (OPEC).
The decline in oil prices.
Both Iran and the GCC states would benefit from a formal commitment to an arrangement.
The governments are India-friendly and Indian-friendly and appreciate the benefits of a wide-ranging relationship.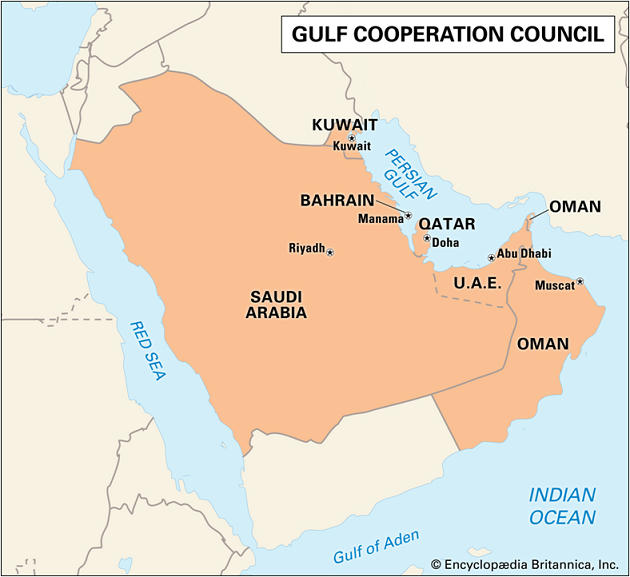 Bilateral trade of around $121 billion and remittances of $49 billion from a workforce of over nine million.
GCC suppliers account for around 34% of our crude imports and national oil companies in Saudi Arabia and Abu Dhabi are partners in a $44 billion investment in the giant Ratnagiri oil refinery.
In addition, Saudi Aramco is reported to take a 20% stake in Reliance oil-to-chemicals business.
Indian interests do not entail power projection; they necessitate in their totality, peace and regional stability, freedom of navigation and access to the region's markets in terms of trade, technology and manpower resources.
NEWS
Restore April status along LAC: India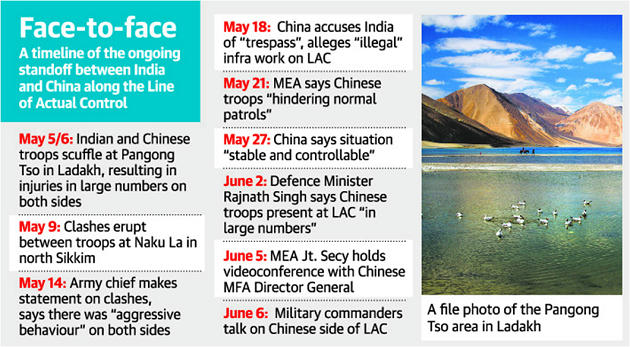 India has firmly conveyed its demand to China for restoring the status quo as existed in April along the border during the senior military commander talks on Saturday, sources said.
The Ministry of External Affairs (MEA) said the talks were held in a "cordial and positive" atmosphere, and both sides will continue the military and diplomatic engagements to "resolve the situation".
Sources said the talks, which went on for several hours, remained inconclusive, but each side put across their issues, which would be conveyed to the respective governments and taken up in subsequent meetings.
Delhi's hospitals only for its 'residents': CM
800 monuments with places of worship set to open today

Safety norms announced by the Health Ministry to apply
Five Hizbul militants killed in J&K encounter
Five Hizbul Mujahideen militants, including a top commander, were on Sunday killed in an encounter with security forces in Shopian district of J&K.
Sikh student alleges assault, communal slur by IPS officer
A Sikh student has alleged that an IPS officer assaulted him and hurt his religious sentiments by pulling his hair, the symbol of his faith, in Agra on Saturday.
Gursimar Setia, who identified himself as a law student of The West Bengal National University of Juridical Sciences, Kolkata, shared his ordeal on Twitter.

Religious places, shopping malls, restaurant  hotels and offices which remained shut due to COVID-19  lockdown, are set to reopen from today as a part of unlock one.
However, such establishments will be allowed to open in only non- containment zones.
They will have to follow all the guidelines issued by the Central Government in this regard so that social distancing could be ensured.
As per the guidelines related to religious places, only asymptomatic persons will be allowed and no  physical offerings like prasad and distribution or sprinkling of holy water is permitted.
During the last 24 hours, a total of 5 thousand 220 COVID-19 patients have been cured in the country. So far, a total of 1 lakh 19 thousand 293 patients have been cured taking the recovery rate to 48.37 per cent.
There are 1 lakh 20 thousand 406 active COVID cases across the country and all are under active medical supervision.
Under Operation Samudra Setu, the Indian Navy's ship INS Jalashwa brought 700 stranded Indians to Tuticorin from the Maldives today.
They included 508 from Tamil Nadu and 192 from different other states.
Reknowned cricketer sachin tendulkar appealed to the people to honour the corona warriors
Download Free PDF – Daily Hindu Editorial Analysis