INTRODUCTION
A poorly drafted law that is riddled with ambiguities, amendments, clarifications and exemptions that inevitably lead to conflicting interpretations and spawn endless litigation.
Such uncertainty can spook investors and spoil the investment climate in the economy.
A nation state that ensures predictability of policy action, provides forward guidance on policy action, maintains broad consistency in actual policy with the forward guidance, reduces ambiguity and arbitrariness in policy implementation creates economic policy certainty.
ECONOMIC POLICY UNCERTAINTY IN INDIA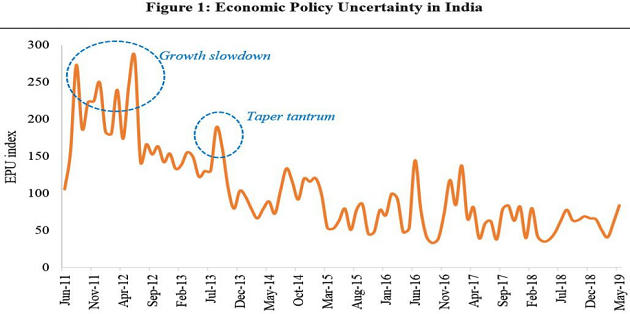 Economic Policy Uncertainty when measured using EPU index was the highest in 2011-12 coinciding with the years of policy paralysis.
This period also witnessed the problems of the high twin deficits and high inflation.
The index is also high in the second half of 2013 when the economy faced problems that led to volatile capital flows, depreciation of rupee vis-à-vis US dollar.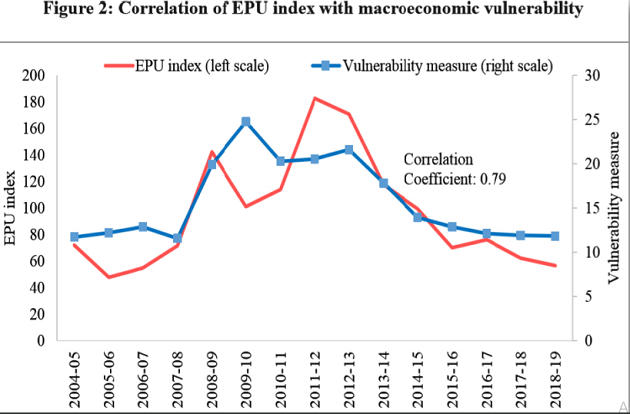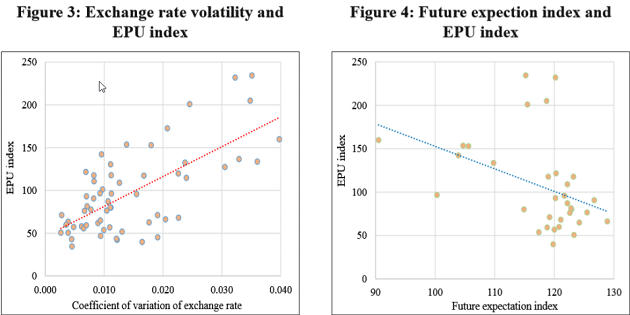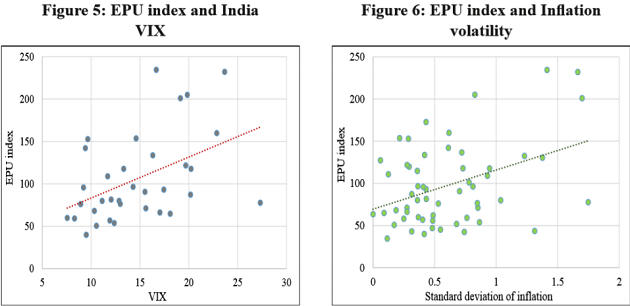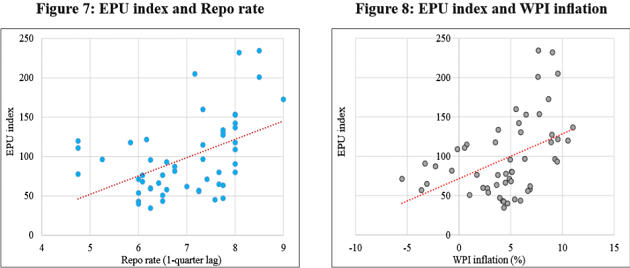 DECOUPLING OF ECONOMIC POLICY UNCERTAINTY IN INDIA SINCE 2015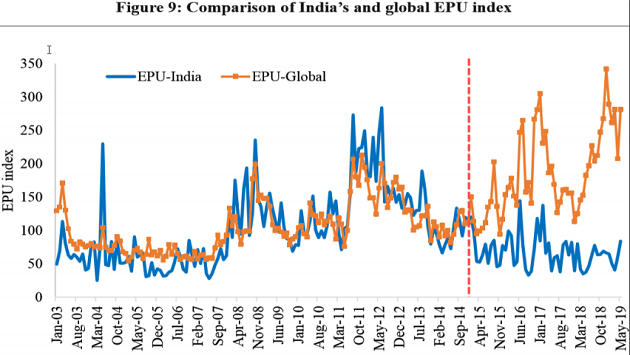 Economic policy uncertainty peaked in India during the late 2011 and early 2012 and has since been declining.
Economic policy uncertainty in India moved closely in tandem with global uncertainty until 2014.
However, it started diverging since early 2015 and seems to have completely decoupled in 2018.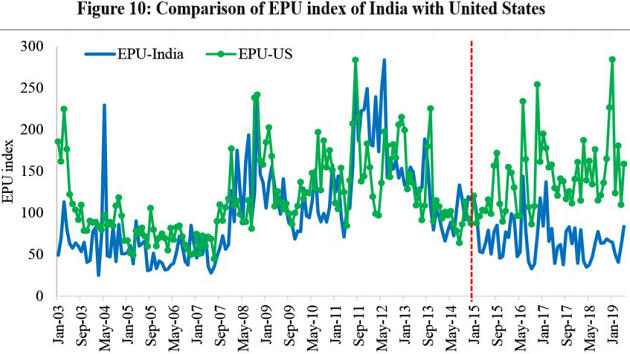 GREEN SHOOTS OF TURNAROUND IN INVESTMENT ACTIVITY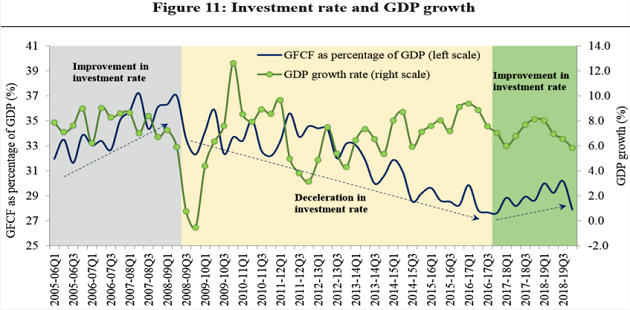 After falling for close to a decade since 2008, investment activity has turned the corner since Q1 of 2017-18.
In fact it fell from 37% in 2007-08 to 27% in the following ten years but has since recovered to approximately 28% recently.
Implementation of Insolvency and Bankruptcy Code 2016 and recapitalization of banks helped to promote investment.
Focus on improvement in the business climate via measures to improve ease of doing business, clarity in the policy for FDI liberalization may have also helped.
RELATIONSHIP OF ECONOMIC POLICY UNCERTAINTY WITH INVESTMENT IN INDIA
International studies found that:-
High uncertainty and deteriorating business confidence played a role in the investment slowdown in India.
Uncertainty shocks can generate drop in GDP of around 2.5%.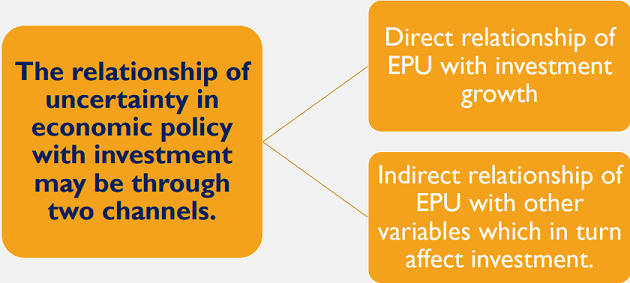 DIRECT RELATION
The Figure shows that there is a strong negative relationship between EPU index and investment growth.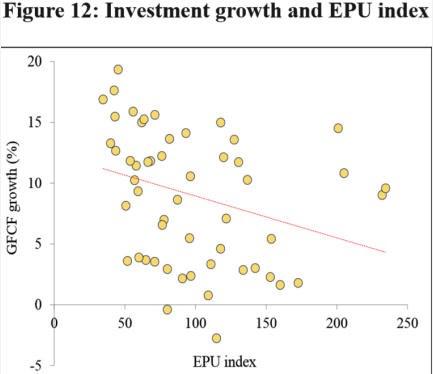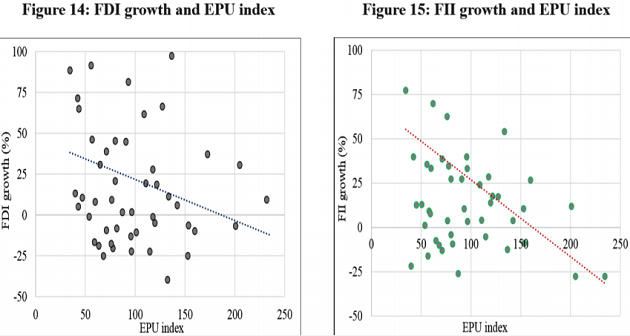 INDIRECT RELATION
First, is the cost of borrowing. (Repo Rate)
Second, is the prices that producers get for their products.
Third, is the capacity utilization. The full utilization of capacity in any quarter is expected to have a positive relationship with investment growth in the following quarter.
POLICY RECOMMENDATIONS TO REDUCE ECONOMIC UNCERTAINTY
First, top-level policymakers must:-
Ensure that their policy actions are predictable.
Provide forward guidance on the stance of policy.
Maintain broad consistency in actual policy.
Reduce ambiguity/arbitrariness in policy implementation.
Second,
EPU index must become an important index that policymakers at the highest-level monitor on a quarterly basis.
Government must encourage construction of EPU sub-indices to capture economic policy uncertainty stemming from fiscal policy, tax policy, monetary policy, trade policy, and banking policy.
Third,
Quality assurance of processes in policy making.
The actual implementation of policy occurs at the lower levels, where ambiguity gets created and exacerbates economic policy uncertainty.
Government departments must be mandated to similarly seek quality certifications which will require training of personnel.