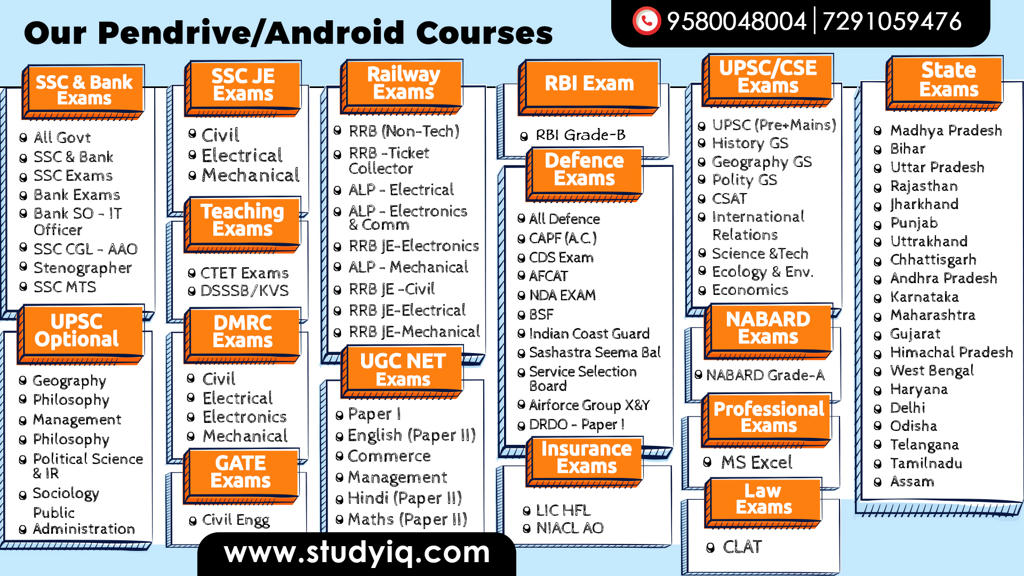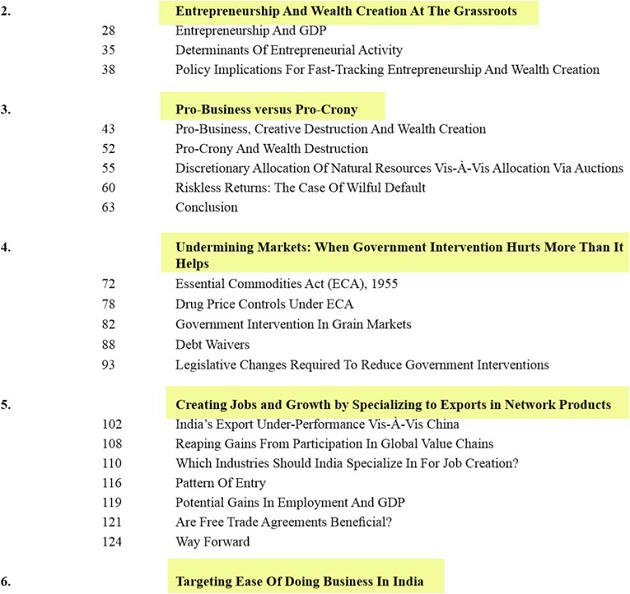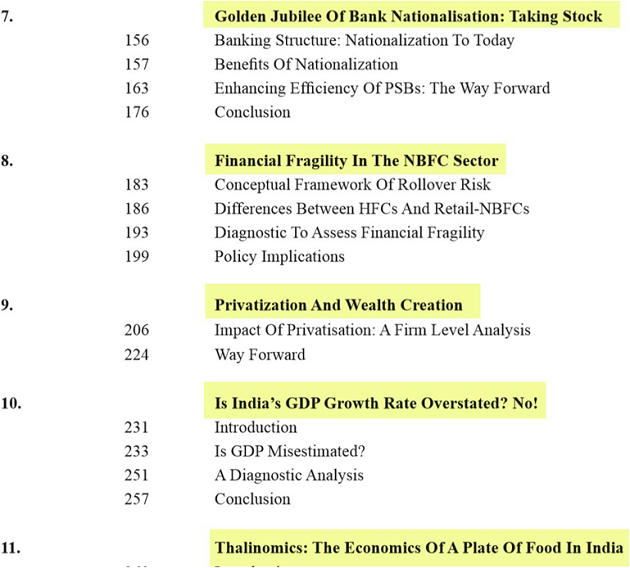 INTRODUCTION
Entrepreneurship plays very important role in economic development and subsequent emplsoyment growth.
Hence, it represents a key focus area for many policy
Entrepreneurs are seen as agents of change that accelerate innovation in the economy.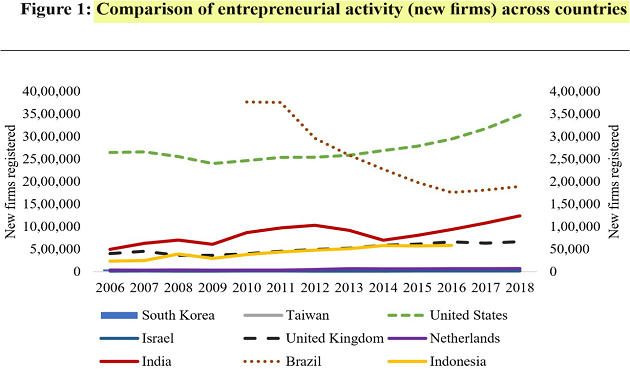 IMPORTANT FINDINGS
India has the 3rd largest entrepreneurship ecosystem in the
Number of new firms in the formal sector grew at a cumulative annual growth rate of 3.8% from 2006-2014, the  growth rate from 2014 to 2018 has been 2%.
As a result, from about 70,000 new firms created in 2014, the number has grown to about 1,24,000 new firms in 2018.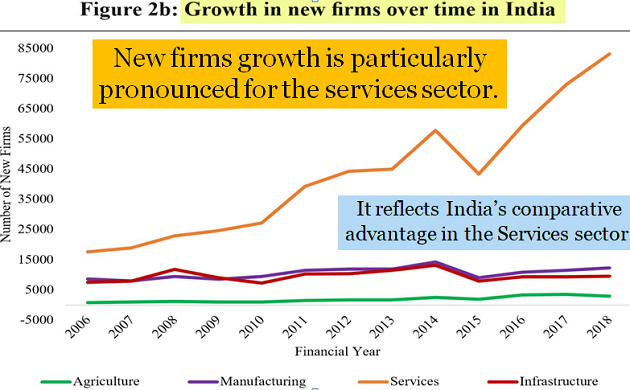 ENTREPRENEURSHIP AND GDP
The entrepreneurial activity is related to economic growth.
Entrepreneurial activity has a significant positive impact on
Though the peninsular states dominate entry of new firms, entrepreneurship is dispersed across India and is not restricted  just to a few metropolitan cities.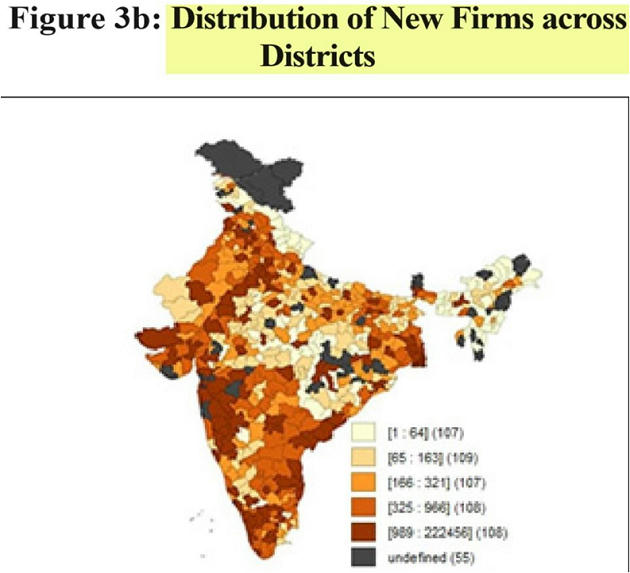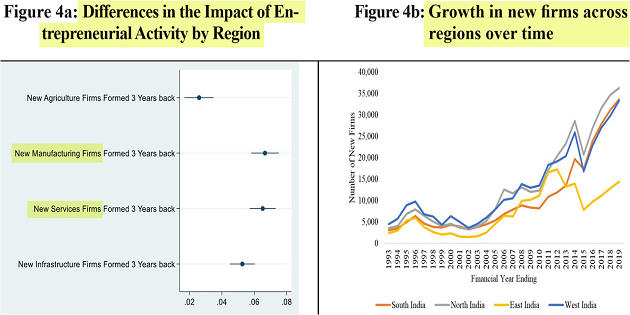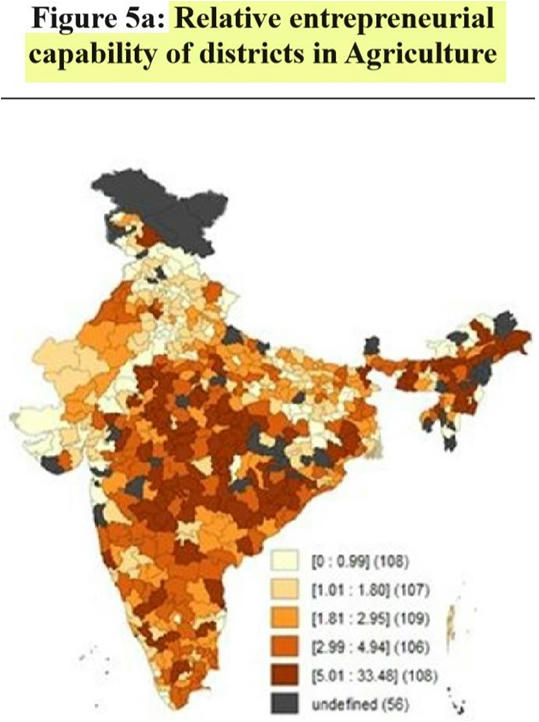 Entrepreneurial capabilities in the Agriculture sector are distributed evenly across most  districts in India.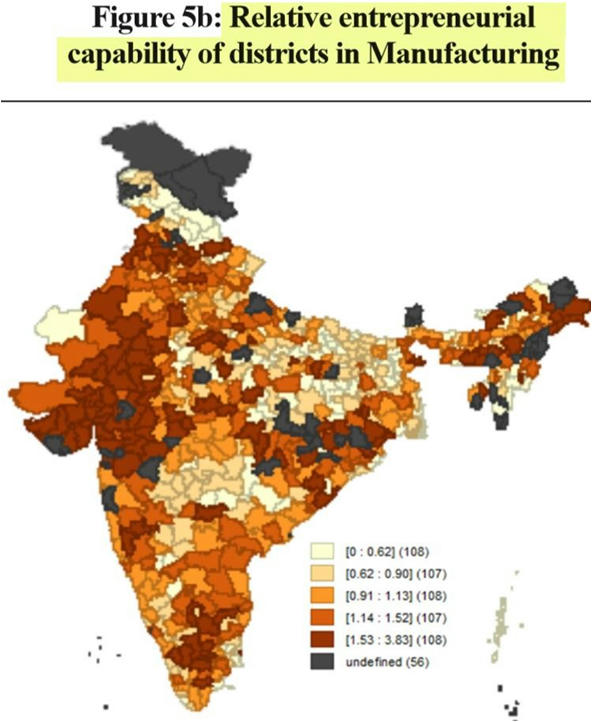 Entrepreneurial activity in the Manufacturing sector is highest in the regions of Gujarat, Meghalaya,  Puducherry, Punjab and Rajasthan.
Further, states classified in the Economic survey 2018-19 as states with inflexible labour laws such as West Bengal,  Assam, Jharkhand, Kerala and Bihar were classified in the  lowest quintiles of entrepreneurial activity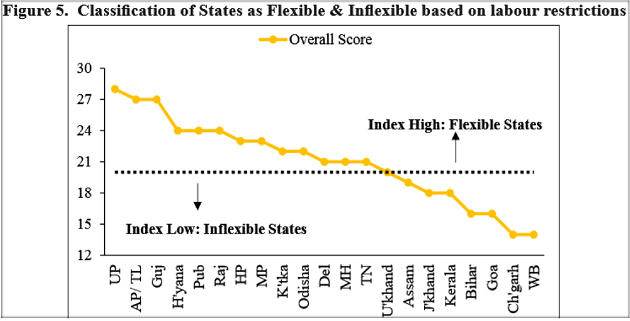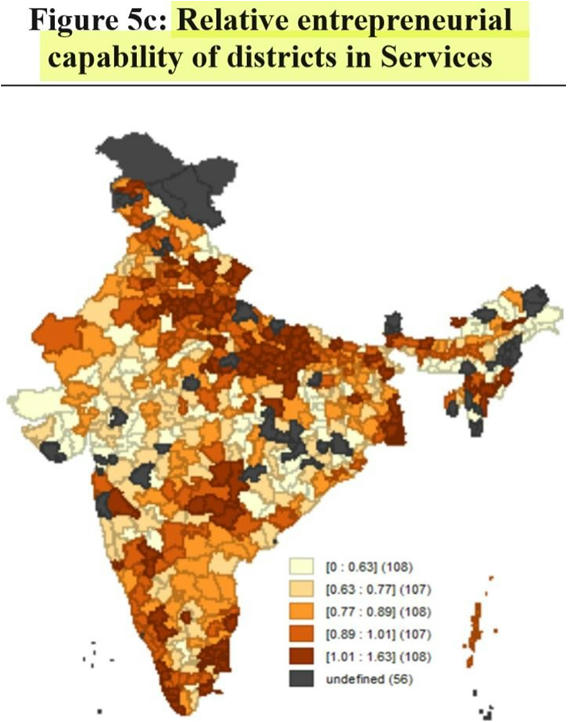 Entrepreneurial activity in the Services sector is highest in the regions of Delhi, Mizoram, Uttar Pradesh, Kerala,  Andaman and Nicobar, and Haryana.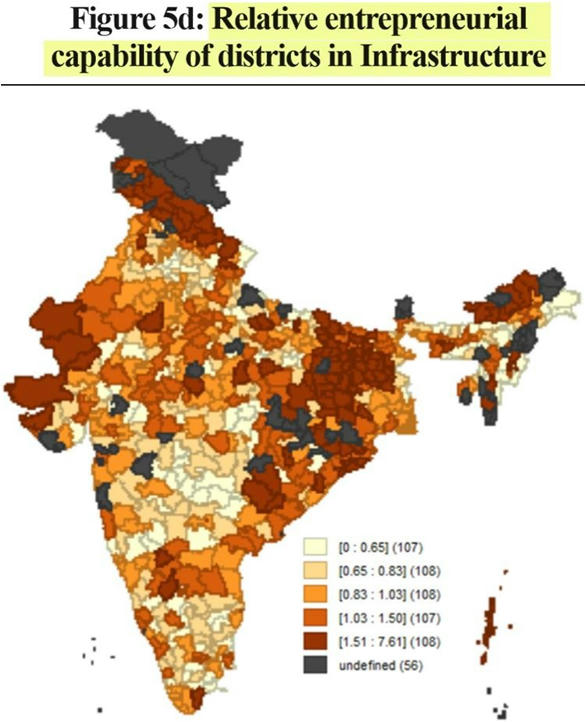 Entrepreneurial activity in the Infrastructure sector is highest in the states of Jharkhand, Arunachal Pradesh,  Himachal Pradesh, Mizoram, Jammu and Kashmir and Bihar.
DETERMINANTS OF ENTREPRENEURIAL ACTIVITY
The focus is on two key sets of district-level  attributes that drive the level of entrepreneurial  activity in the district –
Social Infrastructure.
Physical infrastructure.
SOCIAL INFRASTRUCTURE
It largely relate to the general education levels in the district.
Higher education levels in a district enable the development of better human capital that relates to increased supply of ideas  and entrepreneurs.
Higher education also increases the supply of talent available to entrepreneurs for managing & growing their companies.
Thus, districts with better education levels will have higher  entrepreneurial activity.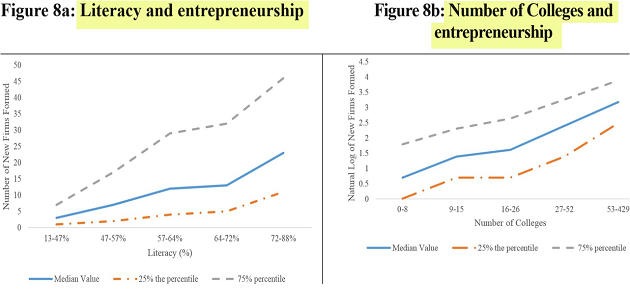 PHYSICAL INFRASTRUCTURE
Physical infrastructure include- Access to basic physical infrastructure in the district.
As well as physical connectivity.
The access to physical infrastructure in a district is measured using the proportion of villages in a district that is  connected by tar roads.
Physical connectivity is measured as the mean distance from a population centre that has at least 500,000 people.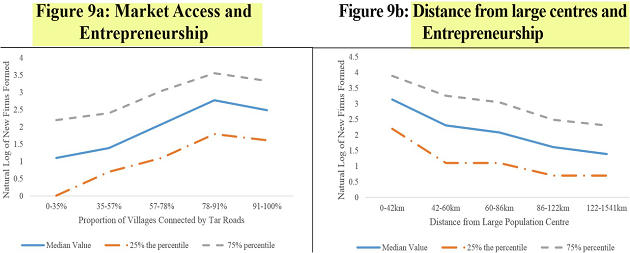 SUGGESTION FOR MORE ENTREPRENEURIAL ACTIVITY
Increase the literacy levels rapidly through the institution of more schools and colleges.
Better connectivity of villages through tar roads. But first priority should be education.
Policies that foster ease of doing business and flexible labour