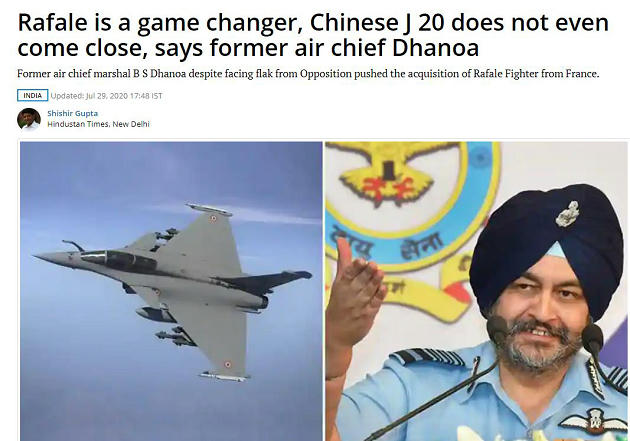 QUESTIONS OVER CHINESE AIRCRAFTS
" If Chinese equipment was so good, then why did the Pakistanis only use F-16 aircraft to attack NangiTekribrigade in Rajouri sector on February 27, 2019 with Chinese JF-17 merely giving air defence cover to Mirage 3/5 bombers. The Mirage 3/5 dropped the H 2/4 bombs from a safe distance with the JF 17 in a supportive role providing Air Defence to these aircraft! Why does Pakistan use Swedish early air warning platforms up north and keep Chinese AWACS in the south? Why is Pakistan mounting European radar (Selex Gallelio) and Turkish targeting pod on Chinese JF-17 ? The answer is quite evident," the former Chief said.
CHINESE AIR FORCE
PLAAF operates a range of fighter planes, including Sukhoi SU-27, SU-30MKK and SU-35S, Chengdu J-7 and Chengdu J-10.
But since Rafale is one of the most technologically advanced aircraft of the IAF, it is only fair to compare it with the Chengdu J-20, China's most advanced fighter aircraft.
CHENGDU J-20
The Dassault Rafale is a French twin-engine, canard delta wing, multi-role fighter aircraft and considered to be in the 4.5 generation category. The J-20 is a single-seat, twin-jet, all-weather, stealth, 5th generation fighter aircraft developed by China's Chengdu Aerospace Corporation.
FIFTH-GENERATION JET FIGHTER
The exact characteristics of fifth-generation jet fighters are controversial and vague, with Lockheed Martindefining them as having all-aspect stealth even when armed, low-probability-of-intercept radar (LPIR), high-performance airframes, advanced avionics features, and highly integrated computer systems capable of networking with other elements within the battlespace for situation awareness.
DETAILS
The J-20 is the world's third operational fifth-generation stealth fighter aircraft after the
F-22 and F-35.
The Sukhoi Su-57 is slated for delivery to the Russian Air Force in 2020.
J-20'S STEALTH TECH
The J-20 is claimed to be a fifth-generation aircraft by the Chinese, which means it has stealth capability. But Stealth doesn't have a huge impact.
The US had claimed that their F-22 raptor fighter aircraft had the edge over others due to stealth technology. However, during a mock drill in UAE, in 2009, a Rafale had successfully tracked and targeted an F-22 raptor.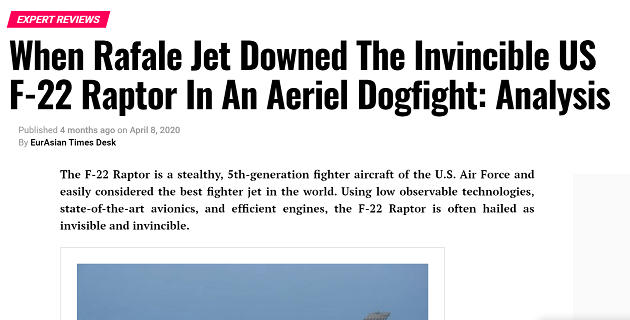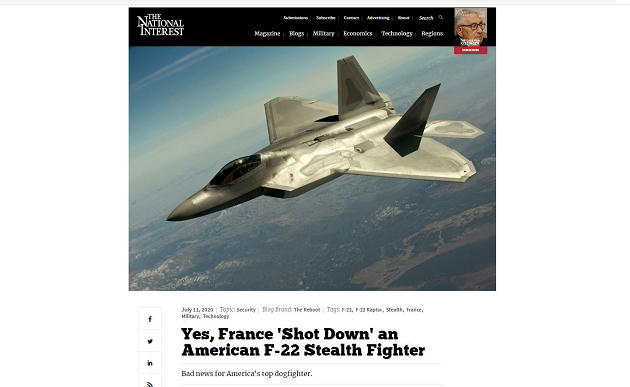 4.5-GENERATION FIGHTER AIRCRAFT
The United States defines 4.5-generation fighter aircraft as fourth-generation jet fighters that have been upgraded with AESA radar,high-capacity data-link, enhanced avionics, and "the ability to deploy current and reasonably foreseeable advanced armaments".
4.5-GENERATION FIGHTER AIRCRAFT
Contemporary examples of 4.5-generation fighters are the Sukhoi Su-30SM/Su-34/Su-30MKI/Su-35, the Shenyang J-11D/J-15B/J-16, the Chengdu J-10B/C, the Mikoyan MiG-35, the Eurofighter Typhoon, the Boeing F/A-18E/F Super Hornet, the Lockheed Martin F-16E/F, McDonnell Douglas F-15E,
TejasMark 1A, JF-17 block III, the Saab JAS 39 Gripen, the Mitsubishi F-2, and the Dassault Rafale.
RAFALE VS J-20 -RADAR & AVIONICS
Radar systems are used to detect enemy aircraft or any other targets. China has not provided any official information on the radar used in the J-20.
Although, according to reports, this fighter plane uses an Active Electronically Scanned Array (AESA). The same radar system is used by the Rafale as well. AESA is considered one of the most advanced radar technologies in the world.
SO WHAT MAKES RAFALE SPECIAL?

DETAILS

RAFALE VS J-20
Weapons
The Chinese J-20's equivalent of the Rafale'sMeteor is the PL-15 missile, which according to a report published by the International Institute for Strategic Studies in early 2018 'would be the most capable air-to-air missile in the PLAAF inventory.'
METEOR (MISSILE)
Operational range
In excess of 100 km (54 nmi) No-Escape Zone of 60 km (32 nmi)
China Claims 300km range for PL-15
Butthisrangeforlargeaircraftslikerefuelling aircrafts and transport aircrafts, not for small nimble fighter jets