UPSC IAS (Mains) LIVE Public Administration Optional - Batch 1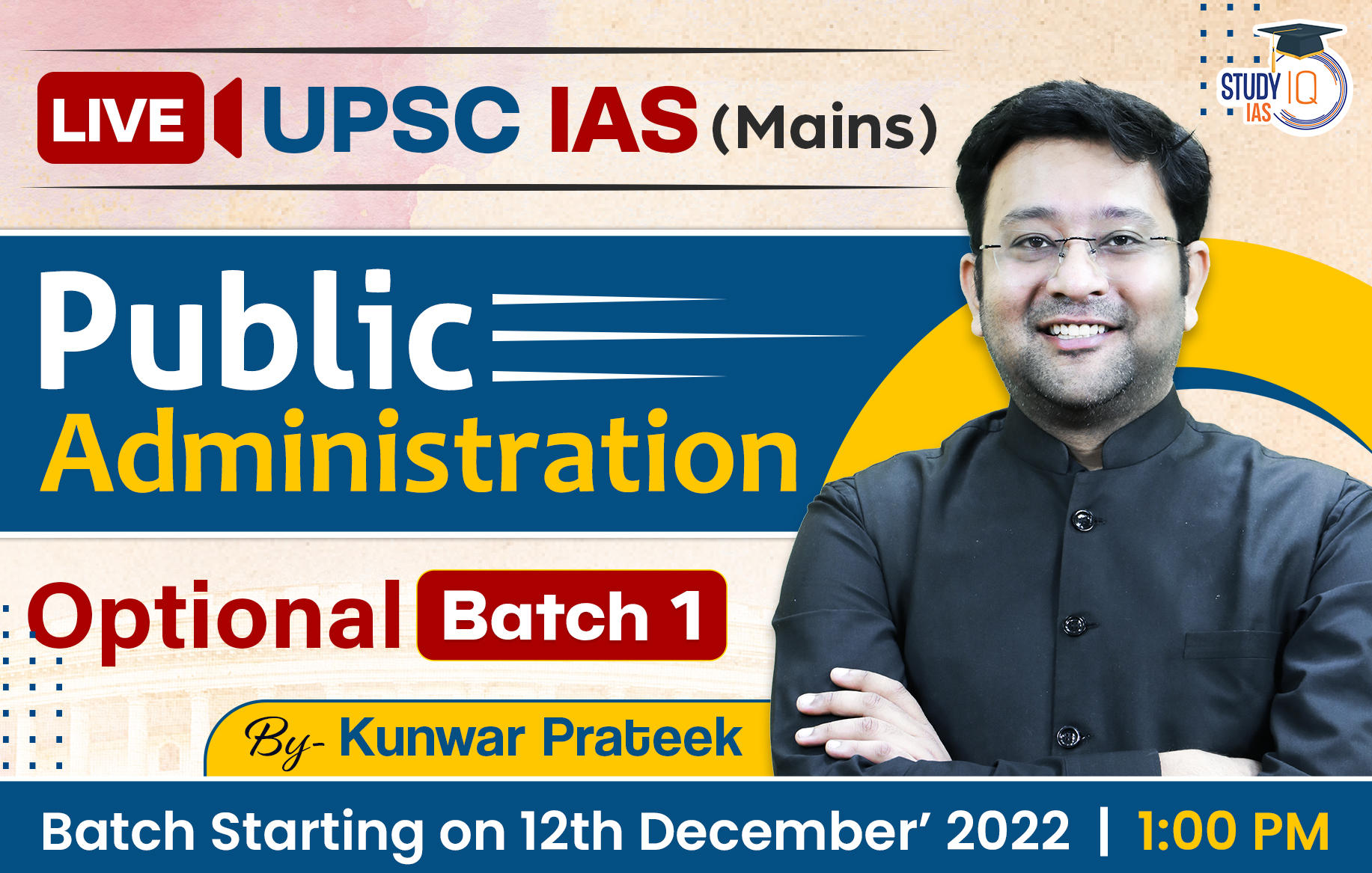 * Prices will increase after 7th December 2022
Course Details
Batch starting on 12th December 2022 | Timing - 1:00 PM

For further queries please call on 08068973353

It is said that Optional determines the destiny of UPSC journey. It is the most important weapon to conquer this exam. To get into the final list, one must ace the optionals.
StudyIQ is here with its Public Administration optional Course. Let's start with understanding the merits of Public Administration optional.
1. Most overlapping subject for GS optional - GS paper 2, GS paper 4 (500 marks)
2. Helps in writing answers in GS mains examination by giving better understanding of the questions
3. Scoring subject due to availability of resources
4. Government reports and policy analysis helps you to prepare for personality test
5. Very popular among other aspirants hence availability of peer group learning
6. Helps you even after preparation i.e during the foundation course at LBSNAA

Features of the course -

1. 400+ hours of live lectures spread over 5 months
2. Comprehensive coverage through high-quality lecture notes
3. Handwritten notes and handwritten model answers
4. Live answer writing program under the guidance of faculty
5. Previous Year Questions discussions
6. Public Administration Current affairs to keep the aspirant updated
7. Doubt clearing sessions by the faculty
8. Static Session
Note : The notes and other content of the optional class will be provided only in English
Frequently Asked Questions
They can contact us on our Support and our team will help them upgrade to the Live Course at a nominal cost. You can call us at 9580048004.
Yes, existing users will continue to get Current Affair Updates, doubt sessions and other course related updates.
Current affairs will be done through our CAP module. The CAP module will have high quality PDF which covers topics from multiple sources. The PDF will be explained through a video which will be available 9.30P.M daily (Monday - Saturday)
Prelims test series will be both online and offline(Postal based). Tests would be conducted weekly from August onwards. These are a set of 40+ tests which include both General studies and CSAT.
After teaching every Mains-related topic, faculty will give a question for practice. Discussion will be done the next day. The student can evaluate the answer by themselves after the discussion from the faculty.
MCQs can be solved on the StudyIQ App.