Complete History Live Batch by Dr. Vipan Goyal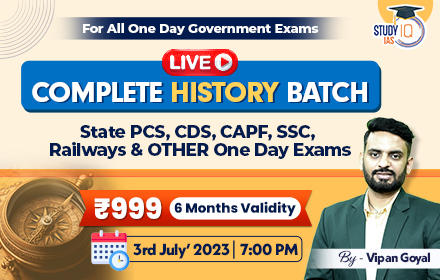 * Prices will increase after 6th December
Course Details
Batch Start Date - 3rd July 2023 I Class Timing 7:00 PM
For queries please call on : 080-6897-3353
• Complete Coverage of Ancient, Medieval & Modern History for State PCS, CDS, CAPF, SSC, Railways, & Other One Day Exams
• Duration of the Course 45 Days.
• Course will be Bilingual (Hindi & English)
• PPTs, notes will be provided in English

Frequently Asked Questions
Current affairs will be done through our CAP module. The CAP module will have high quality PDF which covers topics from multiple sources. The PDF will be explained through a video which will be available 9.30P.M daily (Monday - Saturday)
After teaching every Mains-related topic, faculty will give a question for practice. Discussion will be done the next day. The student can evaluate the answer by themselves after the discussion from the faculty.
MCQs can be solved on the StudyIQ App.
Every week on Sunday you will be given a revision test. Number of questions will be 50. Syllabus - past 1 week Static & Current topics
The communication medium will be Hinglish. The lecture handouts will be in English and Hindi. The MCQs will also be bilingual
Group mentorship sessions will be done by experts, senior bureaucrats to guide the aspirants.