INDIA SRILANKA
India helping out Sri Lanka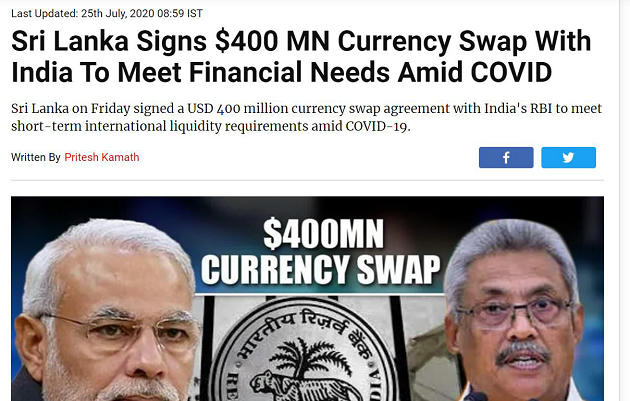 INDIA'S SOLAR PUSH
Other than the currency swap
India will build a solar power plant in Sri Lanka
India plans to build a solar power park in Sri Lanka as part of a strategy to project its presence in the Indian Ocean Region (IOR) amid Chinese attempts to lure nations into its 'Belt and Road' initiative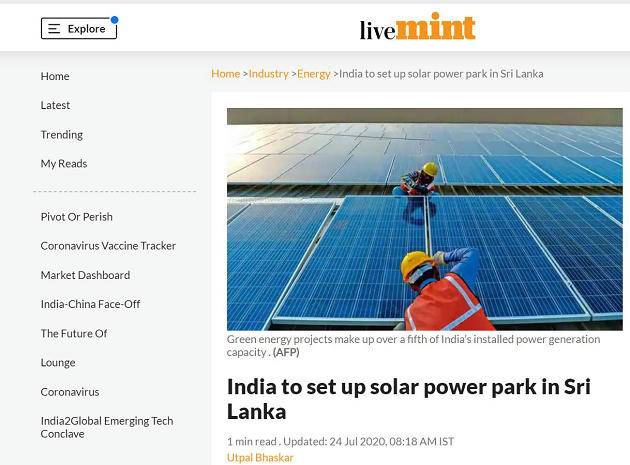 Leveraging its solar expertise, India's largest power generation utility NTPC Ltd plans to set up this project in the island nation under the aegis of International Solar Alliance (ISA).
INDIA'S SOLAR EXPERTISE
BhadlaSolar Park
BhadlaSolar Park is the world's largest solar park located in India which is spread over a total area of 10,000 acres (40 km2) in Bhadla, Phaloditehsil, Jodhpur district, Rajasthan, India.
The park has total capacity of 2,245 MW
PAVAGADASOLAR PARK, KARNATAKA
The southern state of Karnataka is home to the PavagadaSolar Park, which is the second-largest in the country with 2,050 MW of projects in operation. Located in the Tumakurudistrict, the entire solar project capacity in the park was operational by December 2019 and was developed by the Karnataka Solar Park Development Corporation Limited.
INTERNATIONAL SOLAR ALLIANCE
The move is one of several such contracts being pursued to help build 10 GW solar capacity in ISA member nations

DETAILS
India is also exploring laying an overhead electricity link with Sri Lanka as part of efforts to create a new-energy ecosystem in the South Asian neighbourhood. China is already one of the biggest investors in infrastructure projects in Sri Lanka.
The solar park is NTPC's second foray after Colombo scrapped a proposal to set up a $500 million coal-fuelled power project in Trincomalee over environmental concerns in 2016.
BIGGER THINGS TO COME

BIG THINGS TO COME
India's ministry of new and renewable energy may move the Cabinet note for inviting comments for the bank, to be set up to disburse around $50 billion to ISA member countries over the next ten years.