Atmanirbhar Bharat Abhiyan
 Strong supply-side push by boosting availability of capital on easy terms
Keep income and wage support schemes to the minimum üEmpower: farmers and workers to businesses
Keep the damage to the fisc as low as possible
The pillar on which the package rests is liquidity support so that businesses can crank up again and set the economic cycle back in motion.
The option of a demand-side stimulus through a resort to deficit financing seems to be reserved for a future date if the infection does not subside or a second wave begins prompting another lockdown.
A fiscal stimulus could have been fitted into the overall package.
The government has done well in increasing the budget for MGNREGA by two-thirds, adding another ₹40,000 crore.
The demand of States for higher borrowings limit has been granted but with clear reform milestones that they have to meet.
The government has also used the opportunity to unleash some much-needed reforms. India Inc has reason to be disappointed
The government's much-awaited economic package appears to have let India Inc. down.
It was billed as an exercise that would offer relief worth ₹20 trillion, and an outer count of the money that may potentially be available over time does add up to that sum, or more.
But the Centre's actual fiscal bill would go up by only about a tenth of that figure.
No direct compensation was offered to companies forced to suspend operations, not even those hardest hit by the corona disruption.
Nor did it place enough cash in people's hands to stimulate demand for products and services in the short-run, which is crucial to pull the economy out of a recession.
Kiran Mazumdar-Shaw: lost opportunity to create demand.
Tourism and hospitality sector: expressed shock, by the package's lack of direction and fiscal support to the industry.
An association of retailers stated that it did not address their current challenges of working capital, wage sustainability and debt.
Loan funding was expected to bear the main burden of hauling India's economy out of its deepest ever slump on record.
Banks and a few state-owned institutions were drafted to push money into the economy.
Some of this will surely happen. However, given the weak balance sheets of lenders, the usual paperwork delays and widespread risk aversion, with or without backstops, its impact on economic outcomes is likely to be muted—and slow.
A set of structural reforms were announced, too.
These could draw investment and turn various markets more efficient, but may takes years to show results.
Under the circumstances, a good way to relieve the economy would have been to provide instant cash to those who saw their flows snapped off by the country's lockdown.
With demand and supply both gasping to recover, such an approach could yet have a dramatic effect.
The reality of shrunken markets would probably deter companies from investing any further money.
Companies would explore ways to downsize operations and seek to reduce the debt on their books
Crunched demand for loans could render our liquidity measures far less effective than hoped.
Worse, we would be at risk of a vicious cycle setting in, with reduced commercial activity resulting in even lower earnings, compounding the crisis.
As of now, India's gross domestic product looks headed for a sharp contraction this year.
In a bad-case scenario, it might shrink by 5%, as some estimates say.
 Faking danger
The frequency with which journalists have been arrested since the outbreak of the COVID-19 pandemic is quite disturbing.
The arrest of Dhaval Patel, editor of a news portal in Gujarat, on the serious charge of sedition.
The case concerned an article speculating that State Chief Minister Vijay Rupani may be replaced by the BJP for his alleged inept handling of efforts to combat the pandemic. The report had even named a possible successor.
Mr. Patel has also been charged under Section 54 of the Disaster Management Act for allegedly spreading panic through a false alarm concerning a disaster.
In Coimbatore, police arrested a news portal founder following a report on alleged corruption in food distribution as part of the local administration's efforts to handle the fallout of the pandemic.
In Delhi, a reporter was summoned in response to a report that claimed that an audio clip purportedly containing a speech by the head of the Tablighi Jamaat was doctored.
While asking a journalist to join the investigation may not by itself be illegal, the police should not use the power of summons to intimidate reporters or extract details of the source.
Darling Buds of May
May in America is Commencement month.
It is the time millions of students graduate.
The education system churns out nearly 20 million students each year.
Million foreign students includes 2 lakh from India.
Although some students return home to India after graduating, for the majority, the U.S academic journey is premised on continuing pursuit of the "American dream"
Their f-1 student visa allows a one-year (three years in case of STEM students) paid Optional Practical Training (OPT) that usually results in a full-time job, typically on a H1B visa.
Separately, tens of thousands of skilled Indian whitecollar professionals minted in India also come to the U.S on H1B visa for short- and long-term projects that often turn into life-long employment and stay in the U.S.
Over decades, these two streams have combined to form the core of a thriving Indian-American community of more than 4 million people that is America's besteducated and highest-earning ethnic group.
Their misery is compounded by rising nativist, xenophonic, anti-immigrant sentiment from a Trump base that sees foreign students and guest workers "stealing" American jobs at a time the pandemic.
The U.S. by itself does not produce enough qualified graduates, particularly in STEM fields, to meet the needs of its industries and corporations.
American giants need global talent.
A composite internationalist work force also gives US companies a foothold into new markets.
According to the National Academies of Sciences, Engineering and Medicine, while 16 percent of the U.S. workforce is foreign born, immigrants account for nearly 25 percent of physicians and dentists, 20 percent of engineers and 23.5 percent of computer specialists and almost 30 per cent of scientists.
The skills that H-1B workers bring with them can be critical in responding to national emergencies, argues the American immigration Council, pointing out that over the past decade eight companies currently trying to develop a coronavirus vaccine—Gilead Sciences, Moderna Therapeutics, GlaxoSmithKline, Inovio, Johnson and Johnson Pharmaceuticals, Regeneron, Vir Therapeutics, and Sanofi—received approvals for 3310 biochemists, biophysicists, chemists, and other scientists through the H-1B program.
Reform WHO
With the 73rd World Health Assembly – the decision-making body of WHO – underway via teleconference.
The international response to the Covid-19 pandemic is taking centrestage.
WHA is taking up a motion backed by more than 120 countries, including India, that calls for a "stepwise process of impartial, independent and comprehensive evaluation" of WHO coordinated international response to Covid-19.
It also calls for the identification of the zoonotic source of the coronavirus and its transmission to human populations.
True, the motion refrains from mentioning China or Wuhan.
But its implementation will necessarily have to include investigation into China's handling of the outbreak in the initial days.
A probe into the origin of the coronavirus is important to understand how it mutated and spread so quickly.
But China has been objecting to such a probe and even threatened Australia with trade repercussions for trying to drum up international support for an investigation.
But with the WHA motion getting the backing of a majority of nations, China may not have a choice but to go along with it.
That said, the fundamental issue here is WHO's limited ability to tackle a pandemic like Covid-19.
The global health body can only issue advisories and has no enforcement powers.
This has to change and WHO should be reformed to play a more active role in preventing global health threats.
With India taking over the chair of the WHO executive board, it should push for new crisis management protocols and give the global health body some teeth.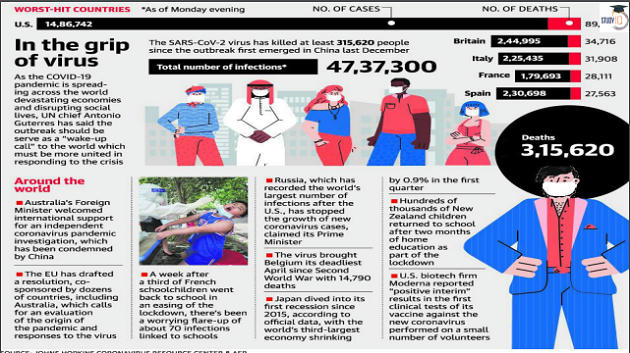 NEWS
Odisha, West Bengal brace for Amphan
Oxford vaccine fails to shield monkeys from virus
A high-profile potential vaccine for COVID-19 being tested by researchers at Oxford University failed to protect vaccinated monkeys from being infected by the virus. However, the test animals appeared to be protected from pneumonia.
83 LCA-MK1A deal high priority: IAF chief
The Indian Air Force (IAF) will set up the second squadron of indigenous Light Combat Aircraft (LCA) Tejas by month-end, said Air Chief Marshal (ACM) R.K.S. Bhadauria on Monday, while the "high priority" deal for 83 LCA-MK1A jets was expected to be signed in three months.
Stimulus fails to cheer equity markets
Punjab rules out inter-State buses till May 31
Haryana eases curbs, buses to ply from today
Rajasthan to reopen shops
New technique for lung treatment of newborns launched in Jaipur
The LISA procedure has yielded encouraging results
A recent medical technique, known as less invasive surfactant administration (LISA), has been started at J.K. Lon Government Children's Hospital here for treatment of lung disease or respiratory distress syndrome among premature babies.
The procedure, started initially for newborn children with the birth weight of less than 1,500 grams, has yielded encouraging results.
Public transport back in Karnataka today
Telangana relaxes restrictions
J&K notifies rules for domicile certificates
Eligible non-locals can also now apply
The J&K administration on Monday notified the J&K Grant of Domicile Certificate Procedure Rules, 2020 and set a fast-track process in motion to issue the certificates within a stipulated time of 15 days.
"These rules provide a simple time-bound and transparent procedure for issuance of domicile certificates in such a manner that no category of person is put to any inconvenience. There is a timeline of 15 days for issuance of certificates," government spokesman and J&K's Principal Secretary (Power) Rohit Kansal said.
"Domicile certificates have now been made a basic eligibility condition for appointment to any post under the Union Territory of J&K following the amendments in the previous Act," Mr. Kansal said.
'Moving into summer months, India could get hit very hard'
U.S. virologist expresses concern about India's crowded urban areas in low-income neighbourhoods where people are forced to live in proximity
USAID to fund 200 ventilators for India
The devices will arrive in May and June, but the final delivery schedule will be notified next week
The ventilators, which will be paid for by the United States Agency for International Development (USAID), will arrive in May and June and the final delivery schedule notified next week, the sources said.
Download Free PDF – Daily Hindu Editorial Analysis