Chinese 5G | ToI
India banned Chinese apps, now other like-minded countries are doing the same.
5G is a big umbrella under which, apps, investments and government could operate.
China's four heavens

BRI
The ambitious Digital Silk Route plan
Made in China 2025
Chinese Standards 2035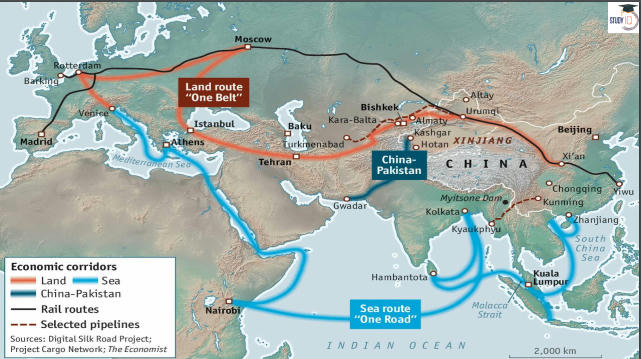 Using AI, China can gather global data.
Based on this global data it can create products.
This will help its Made in China and Standard setting dream.
Standards "in China for China" will eventually be "by China for the world".
A strategic, societal and demographic wave of change is under way in China.
The country's robust economic growth has meant rising wages and loss of the title China has held for so long, "the factory of the world", over which the sun has begun to set.
Deglobalisation – Covid-19 is the unexpected eclipse during the sunset – has seen China's growth sink to an estimated 1% in 2020, the lowest in decades.
US and Japan are looking for non-Chinese 5G network.
European countries are re-looking at 5G contracts with Chinese companies.
In this scenario, China will do everything in its capacity to bring India to the table for 5G negotiations.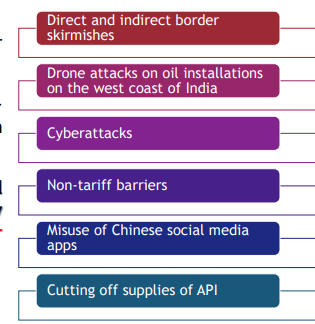 Imports from EU 5G equipment manufacturers will be the only option left on the table.
Long pending India-EU FTA should be given oxygen
D10 club by the UK: G7 + India + South Korea + Australia.
What the WTO couldn't achieve, the potential boycott of Chinese 5G equipment from a majority of G20 countries could well accomplish, if the deprived 600 million of China take to the streets.
None gains
6-July-2020: USA notifed UN that it wants to withdraw its membership from WHO.
29 May: Trump announced on his decision to halt funding and pull out of the global health body.
WHO being China-Centric
There is a possibility that Congress or Court might reserve the withdrawal.
Already, Democratic challenger Joe Biden has promised to revoke it if elected President.
The departure of the U.S. will be a significant blow to the WHO in terms of loss of technical expertise and, according to Mr. Trump, an annual funding of about $450 million.
The 2005 revision of the International Health Regulations made it mandatory for countries to notify the WHO of all events that may constitute an international public health emergency and to "respond to requests for verification of information regarding such events".
WHO has limited power to ensure compliance.
There will be a big valley between research by USA and world.
Owning up to criminalisation in politics
February 2020 Supreme Court judgment on criminalisation in politics may have far-reaching consequences for Indian democracy.
It will first be implemented in the coming Bihar elections in October 2020.
The Court has asked the political parties to state "the reasons for such selection, as also as to why other individuals without criminal antecedents could not be selected as candidates." If a political party fails to comply, it would be "… in contempt of this Court's orders/directions."
The Court has said that "winnability" cannot be cited as a reason.
In other words, the political party and its leadership would for the first time have to publicly own up to criminalisation of politics. They had been denying it all these years.
The judgment notes that "In 2004, 24% of the Members of Parliament had criminal cases pending against them; in 2009, that went up to 30%; in 2014 to 34%; and in 2019 as many as 43% of MPs had criminal cases pending against them."
India is the only democratic country with a free press where we find a problem of this dimension.
As politics dominates the bureaucracy, and reins in business, civil society and the media, we need governance that is free of the "criminal" virus.
Horse trading is making mockery of election outcomes.
Electoral bonds bring secrecy back into political funding.
Lack of enforcement of laws and judgments.
Voters also need to be vigilant about misuse of money, gifts and other inducements during elections.
Till we realise that people who bribe us for votes cannot be trusted, change will be very slow.
Fortunately, an ever-growing number of voters and organisations are joining in this work of cleansing politics.
Politics for now has been captured by those who want power for its own sake.
But all these steps are required, however insignificant they may seem.
All the dozen and more Supreme Court judgments on electoral reforms since 2002 are in fact responses to citizen initiatives.
NEWS
India Global Week 2020: Theme 'Be the Revival: India and a Better New World'.

Prime Minister Narendra Modi says, India is performing, reforming, transforming and offering new economic opportunities.
He said, this is an India which is adopting a human centric and inclusive approach for the development.
Mr. Modi said, India is playing a leading role in the global revival and the country is ready to do whatever it can to further global good and prosperity.
We in India belong to the culture where Mother Nature is worshipped by everyone. It is believed in India that the Earth is our Mother and we are her children.
"In these times, it is natural to talk about  revival . It is equally natural to link global revival  and India. There is faith that the story of global revival  will have India playing a  leading role. I see this closely linked with two factors. The first is- Indian talent. World over, you have seen the contribution of India's  talent-force."
He said, India is a power-house of talent that is eager to contribute and Indians are natural reformers who have overcome social or economic challenges.
On the Covid-19 pandemic, Mr. Modi said, India is fighting a strong battle against the global pandemic with an increased focus on people's health and the country is equally focused on the health of the economy.
The Prime Minister invited global companies to invest in India. He said, India is one of the most open economies in the world and invite global companies to come and establish their presence in India.
He assured that very few countries will offer the kind of opportunities India provides today. He said, there are many possibilities and opportunities in India like agriculture, MSME, Defence, Space and Pharma sectors.

The Health Ministry said that India has effectively dealt with the Covid-19 pandemic and the country has the lowest caseloads and deaths in terms of its population in comparison to other nations.

It said, there is no community transmission in the country.
India has 538 cases per million in comparison to the global average of 1497.
In terms of death rate, India has 15 deaths per million compared to the global average of 69.3

Defence Minister Rajnath Singh today inaugurated six new bridges built by the Border Roads Organisation (BRO) in the Jammu Division of the Union Territory of Jammu and Kashmir through Video Conference.

Minister of State, PMO, Dr. Jatinder Singh, Chief of the Army Staff M. M. Naravane, Defence Secretary Ajay Kumar and other senior officers were present during the occasion in New Delhi.
Six bridges have been built at the cost of around 43 crores rupees.
Of the six bridges, four bridges are in Akhnoor sector and two in Jammu-Rajpura area.
Last month, the Central government had approved an additional 1,691 crore rupees for highway works by the BRO in Jammu and Kashmir and Uttarakhand.

The 15th meeting of the India-European Union Summit will be held in virtual mode on 15th July.

The Summit will be co-chaired by Prime Minister Narendra Modi, President of European Council Charles Michel and President of European Commission Ursula von der Leyen.
Briefing media virtually this evening, External Affairs Ministry spokesperson Anurag Srivastava said the Summit will review India-EU cooperation covering political and security relations, trade and investment and economic cooperation.
Prime Minister Narendra Modi will dedicate the 750 MW Solar Project set up at Rewa in Madhya Pradesh to the nation.

This Project comprises of three solar generating units of 250 MW each located on a 500 hectare plot of land situated inside a Solar Park.
The Solar Park was developed by the Rewa Ultra Mega Solar Limited.
The Rewa Project has been acknowledged in India and abroad for its robust project structuring and innovations.
It has received World Bank Group President's Award for innovation and excellence.
Download Free PDF – Daily Hindu Editorial Analysis