It also seeks to amend three laws:-
The Reserve Bank of India Act, 1934
The Securities and Exchange Board of India Act, 1992
The Multi-State Co-operative Societies Act, 2002.
WHY THERE IS A NEED FOR SUCH A BILL?
Ponzi schemes are banned under the Prize Chit and Money Circulation (Banning) Act, 1978.
Though it is a Central Act but the respective State government are the enforcement agency of this law.
In 2016 The Securities and Exchange Board of India (SEBI) told the Supreme Court that banned Ponzi schemes do not fall under its regulatory purview.

 PURPOSE OF THE BILL
The bill aims to protect investors from fraudulent investment schemes, such as Ponzi schemes.
Thus it provides for a mechanism to ban unregulated deposit schemes.
HISTORY OF PONZI SCHEMES
Ponzi schemes are named after Charles Ponzi, an Italian-American who launched an investment scheme in Boston, US, in 1919, promising to double investors' money—first in 90 days and then in 45 days.
Ponzi, however, had no business model to double the money in such a short time. All he did was use money being brought in by the new investors to pay off the old investors.
 The scheme ran until the money being brought in by the new investors was more than the money being paid to the old investors.
Once this equation reversed, the scheme collapsed.
MAJOR PONZI SCAMS
Pearl Chit Fund of ₹49,000 cr. affected 5.5 crore depositors.
The Oscar Chit Fund had deposits from 1.2 lakh people.
Rose Valley
Saradha
Stock Guru
Speak Asia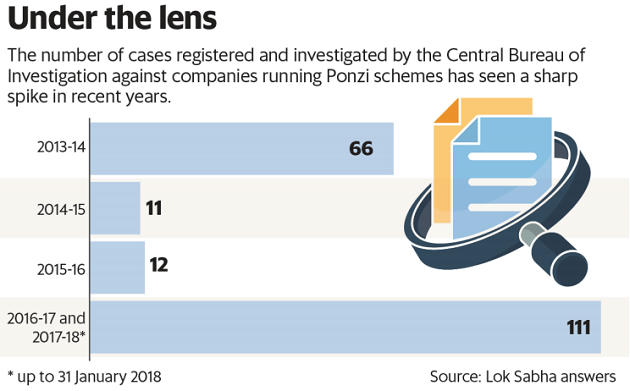 PROVISIONS OF THE BILL
Definition of Deposit-
The Bill defines a deposit as an amount of money received through an advance, a loan, or in any other form, with a promise to be returned with or without interest. •
Further, the Bill defines certain amounts which shall not be included in the definition of deposits such as amounts received in the form of loans from relatives.
Currently, 9 regulators oversee and regulate various deposit-taking schemes like- RBI, SEBI, Ministry of Corporate Affairs, State govt.

For example, RBI regulates deposits accepted by nonbanking financial companies, SEBI regulates mutual funds, state governments regulate chit funds.
 All deposit-taking schemes are required to be registered with the relevant regulator.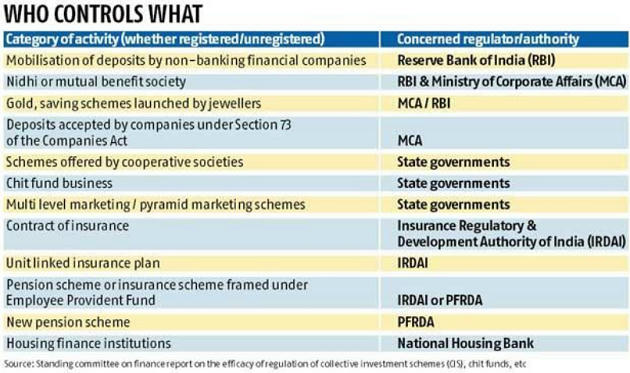 Unregulated deposit scheme:-
A deposit-taking scheme is defined as unregulated if it is taken for a business purpose and is not registered with the regulators listed in the Bill.
The Bill bans unregulated deposit schemes.
Competent Authority:-
The Bill provides for the appointment of one or more government officers, not below the rank of Secretary to the state or central government, as the Competent Authority.
Police officers receiving information about offences committed under the Bill will report it to the Competent Authority.
Designated Courts:-
The Bill provides for the constitution of one or more Designated Courts in specified areas.
This Court will be headed by a judge not below the rank of a district and sessions judge, or additional district and sessions judge.
The Court will seek to complete the process within 180 days.

 Central database:-
The Bill provides for the central government to designate an authority to create an online central database for information on deposit takers.
All deposit takers will be required to inform the database authority about their business.
Offences and penalties:-
The imprisonment ranges between 2 to 10 years for different offences.
Along with a fine ranging from Rs 3 lakh to 5 crore rupees.
Rashtriya Janata Dal's Manoj Kumar Jha, while supporting the bill, said that the bureaucracy should not be given unbridled power that might create a state within a state, that might create problems later.
He called for action on such deposits at the beginning itself.
WAY FORWARD
The law helps to speed up the process of justice after a scamster is caught.
But it is more important is to nip these schemes at early stage itself.
For this, the officers of SEBI & RBI need to be more vigilant than they are.
They need to be aware of Ponzi schemes while they are getting popular and spreading.