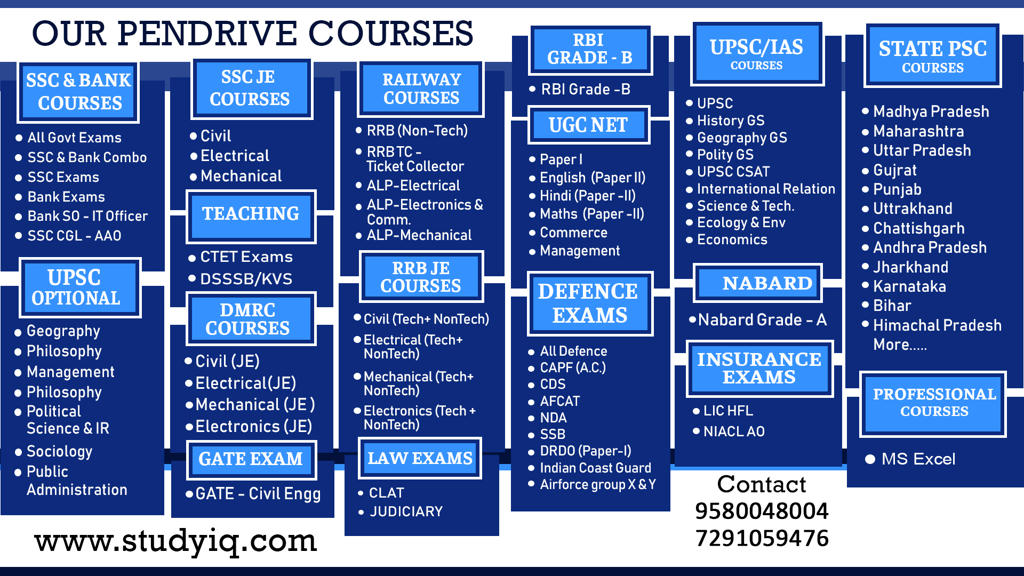 GOLDEN JUBILEE YEAR OF  BANK NATIONALISATION
2019 GOLDEN JUBILEE YEAR OF BANK  NATIONALISATION
Nationalization refers to the transfer of public sector assets to be operated or owned by the  state or central government.
NUMBER OF BANKS IN  GLOBAL TOP 100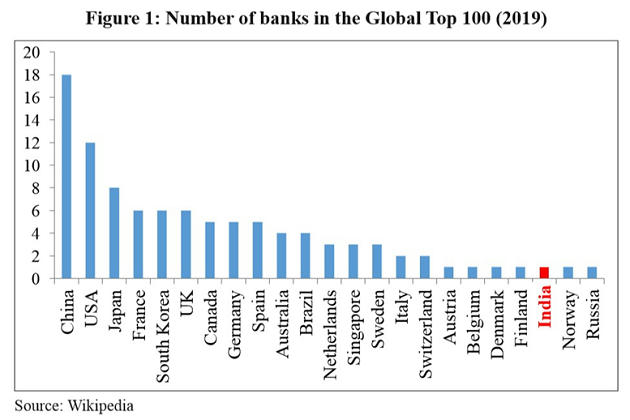 BANK CREDIT GROWTH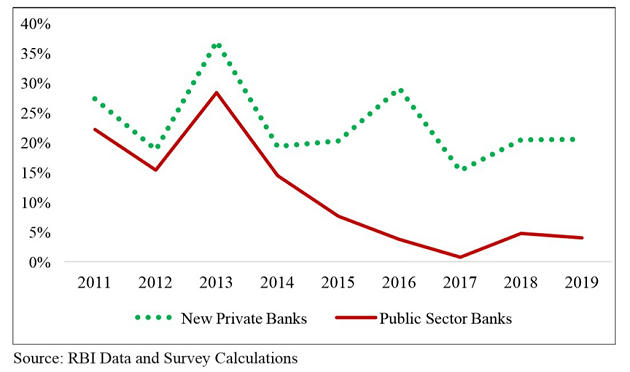 COMPARISON – PSBs & NPBs
PSBs are inefficient compared to their peer  groups on every performance parameter.
In 2019, investment for every rupee in PSBs, on average, led to the loss of 23 paise, while in  NPBs it led to the gain of 9.6 paise.
Credit growth in PSBs has been much lower  than NPBs for the last several years.
FINANCIAL INTERMEDIATION
The microfinance sector, especially given its transformation since 2000, provides a good illustration of  how social goals can be achieved at scale using business  models that are different from that of PSBs.
Most microfinance institutions (MFIs) started as not-for- profit institutions. Post 2000, while their objective  remained poverty alleviation via inclusive growth and  financial inclusion, MFIs moved from purely pursuing  social goals to the double bottom-line approach of  achieving social and financial returns.
The emphasis on social impact at the "bottom of the pyramid" combined with good financial returns of some of the leading MFIs, brought many mainstream  commercial entities into the sector.
For instance, some banks partnered with MFIs by lending to MFIs for on-lending the money to this segment and  thereby fulfil their priority lending obligations.
The United Nation's declaration of Microfinance year in 2005 highlighted the role of MFIs in poverty alleviation.
Some MFIs have transformed themselves into banks as Figure A shows the exponential growth in the impact  that MFIs have had since 2000.
As of 2016, 97 per cent of the borrowers were women with SC/ST and minorities accounting for around 30 per cent and  29 per cent of the borrowers.
This shows that the loans given by these MFIs primarily cater to the marginal sections of the society.
SBI
India's largest PSB.
55th largest bank globally.
Founded as bank of Calcutta in 1806.
Took the name of imperial bank of India in
Became a state owned bank in 1955.
BENEFITS OF NATIONALISATION
Allocation of banking resources to rural areas agriculture & priority areas .
Rural bank branches increased .
Credit to rural areas increased
ENHANCING EFFICIENCY OF PSB : WAY FORWARD
Employee Stock Ownership Plan (ESOP) for PSBs' employees.
Representation on boards proportionate to the blocks held by employees to incentivize employees and align  their interests with that of all shareholders of banks.
Creation of a GSTN type entity that will aggregate data from all PSBs and use technologies like big data,  artificial intelligence and machine learning in credit  decisions for ensuring better screening and monitoring  of borrowers, especially the large ones.