Introduction
Tax Proposals
Urban Landscape
Transport Infrastructure
Industries
Financial Sector
Water & Sanitation
Universal Health Coverage
Education
Skills, Employment & HRD
Agriculture
Environment & Forest
Gender Budgeting & Elderly
Northeast Development
 Introduction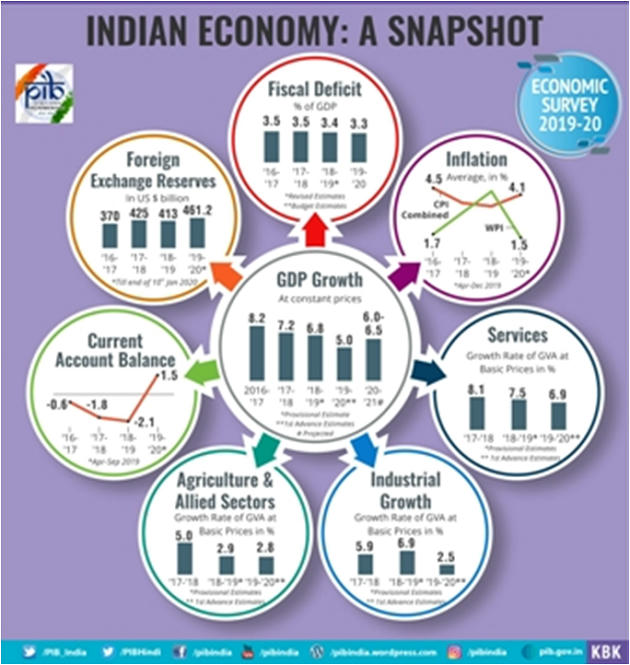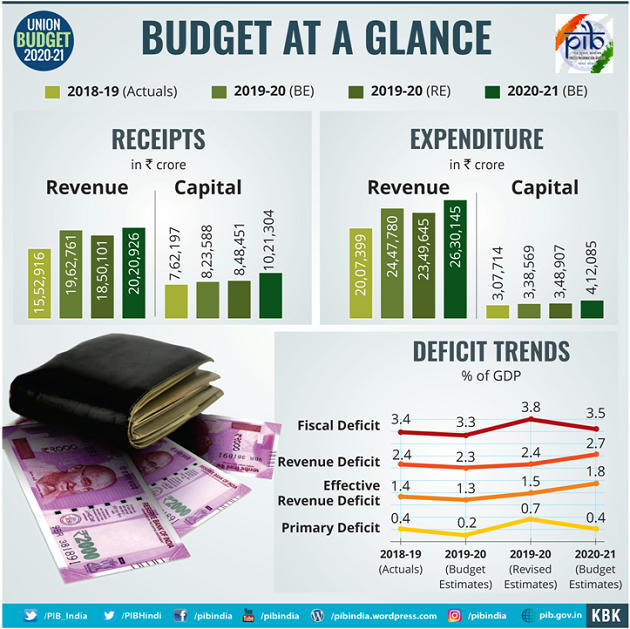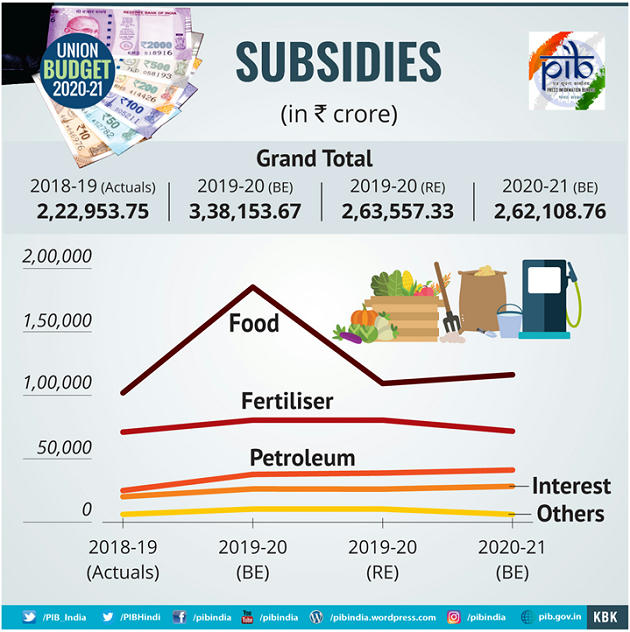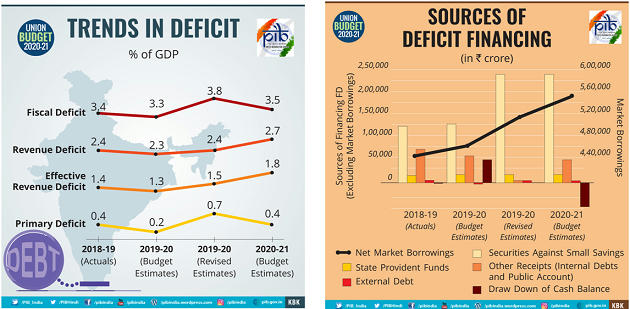 Tax Proposals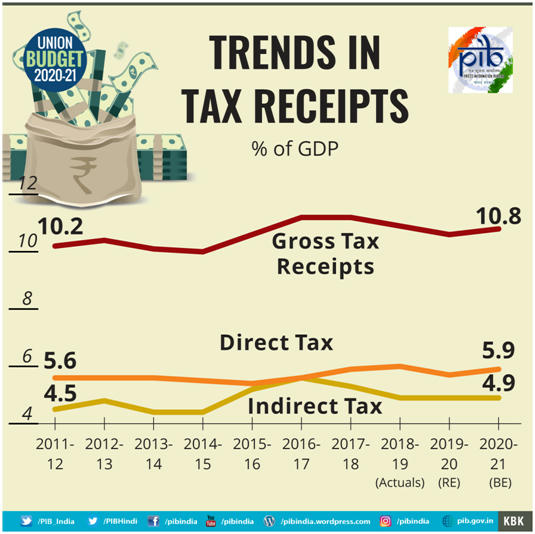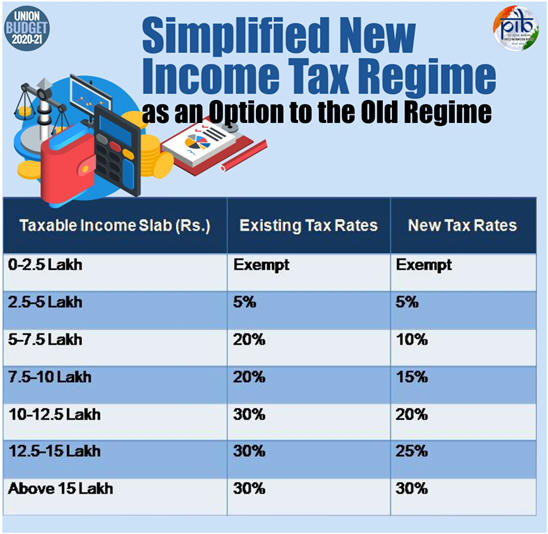 Others | Direct Tax
Dividend Distribution Tax (DDT) removedmaking India a more attractive investment destination
Start-ups with turnover up to Rs. 100 crore to enjoy 100% deduction for 3 consecutive assessment years out of 10 years.

Tax payment on ESOPs deferred

Cooperative societies exempted from Alternate Minimum Tax (AMT) just like Companies are exempted from the Minimum Alternate Tax (MAT).
Tax concession for foreign investments:

100% tax exemption to the interest, dividend and capital gains income on investment made in infrastructure and priority sectors before 31stMarch, 2024 with a minimum lock-in period of 3 years by the Sovereign Wealth Fund of foreign governments.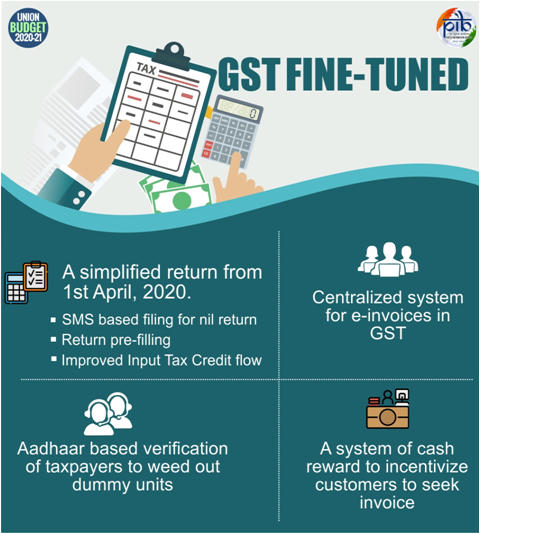 Others | Indirect Tax
Excise duty proposed to be raised on Cigarettes and other tobacco products, no change made in the duty rates of bidis.
Customs Act being amended to enable proper checks of imports under FTAs.
Anti-dumping duty on PTA abolished to benefit the textile sector.
Provisions for checking dumping of goods and imports of subsidized goods being strengthened.
Q #1
Vivad Se Vishwas' scheme is aimed at reducing litigations in:

direct taxes
indirect taxes
Both 1 & 2
Neither 1 nor 2
3. Urban Landscape
Story in numbers
Urban Population

Currently – 34%
By 2030 – 40%
By 2050 – 50%

Urban share of GDP

2009-10 – 62-63%
2030 – 75%
Urbanization Strategy of India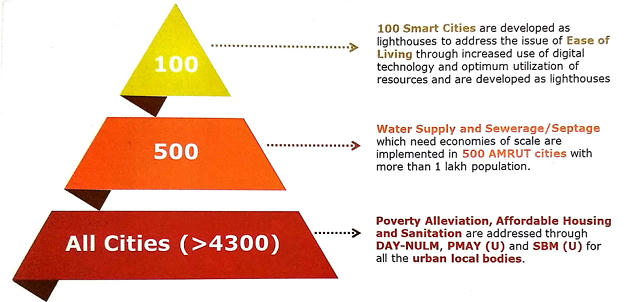 Overall Investment in Urban Rejuvenation
Progress | SBM
B/w 2014 & 2020

10 Cr toilets in rural areas
65 L household toilets + 6 L public toilets in urban areas
60% municipal wards practice source segregation (from 41%)

All cities of 35 States/UTs => ODF
699 districts, 2.5 L GPs and 6 L villages => ODF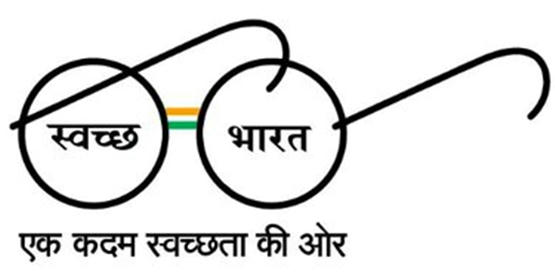 AMRUT
Focuses on ensuring:

water supply, sewerage and septage management
storm water drainage
urban transport
availability of green and open spaces
reform management and support
capacity building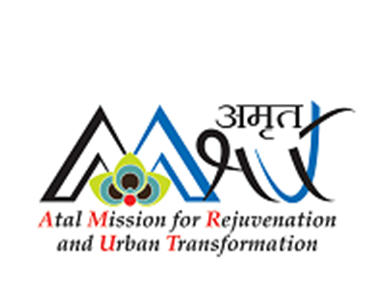 Progress |AMRUT
Key figures:
More than 5000 projects under construction/completion
64% urban households have tap water supply
On track to achieve 62% sewerage coverage by 2020
Key reforms:
Online Building Permission System in more than 1500 ULBs
Replacement of streetlights with LED lights (74 Lakh)
Credit Rating (36 cities have A and higher rating)
Municipal Bonds worth Rs. 3300 Cr issued

Ahmedabad, Amravati, Bhopal, Hyderabad, Pune, Surat & Vizag

Jal Shakti Abhiyan – Urban (July 2019) – for water conservation
Progress | SCM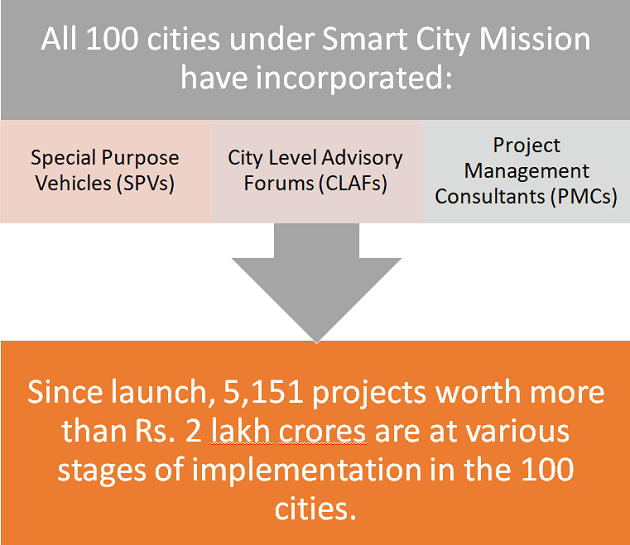 Progress | SCM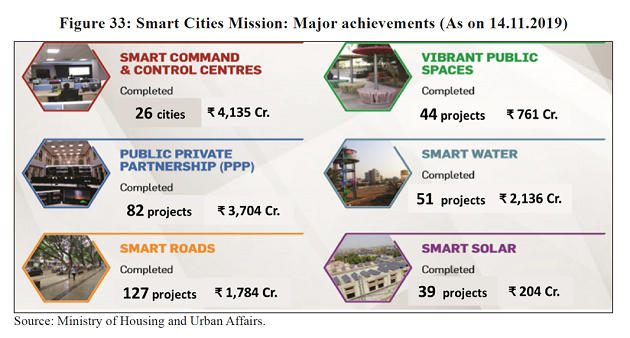 PMAY (U)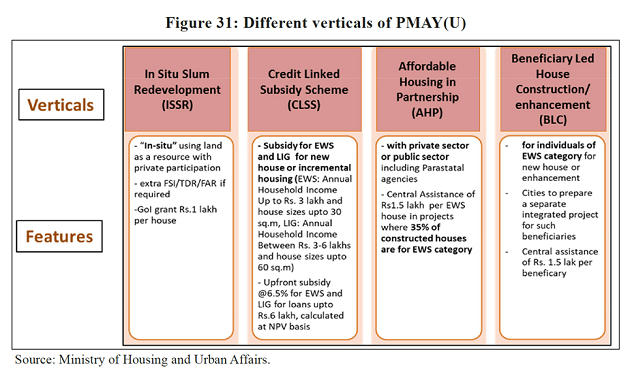 Progress | PMAY (U)
It is rapidly moving towards achieving the vision for providing a pucca house to every household by 2022.
Out of 1.03 crore houses approved, 60 lakhs have been grounded for construction, of which 32 lakh houses have been completed and delivered.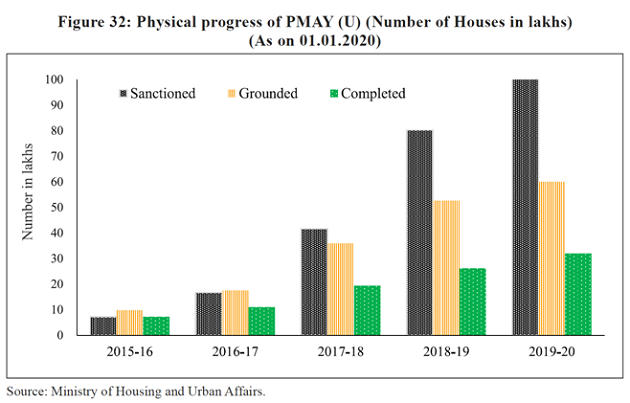 Progress | EODB
Budget announcements
National Infrastructure Pipeline

103 lakh crore worth projects; launched on 31st December 2019 for the period 2020-2025.
More than 6500 projects across sectors, to be classified as per their size and stage of development.
16% has been earmarked for urban rejuvenation

1-year internships to fresh engineers in all ULBs in order to enhance the skill of the youth
4. Transport Infra
Context
To achieve the GDP of $5 trillion by 2024-25, India needs to spend about $1.4 trillion (` 100 lakh crore) over these years on infrastructure
Roads
Road transport is the dominant mode of transportation in terms of its contribution to Gross Value Added (GVA) and traffic share.

As per Govt. report, in 2011-12, road transport is estimated to handle 69% and 90% of the countrywide freight and passenger traffic

As on Mar 2018, India had a road network of about 59.64 lakh km. The total length of NHs was 1.32 lakh km as on Mar 2019.
The pace at which roads have been constructed has grown from 17 kms per day in 2015-16 to 29.7 kms per day in 2018-19.

However, the pace seems to have moderated to 12 kms per day in 2019-20.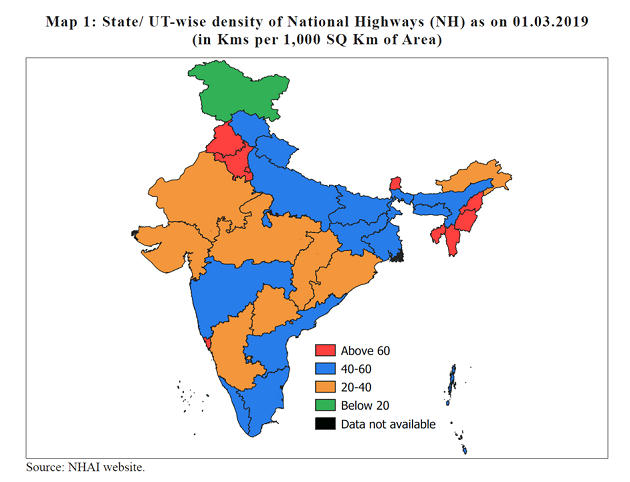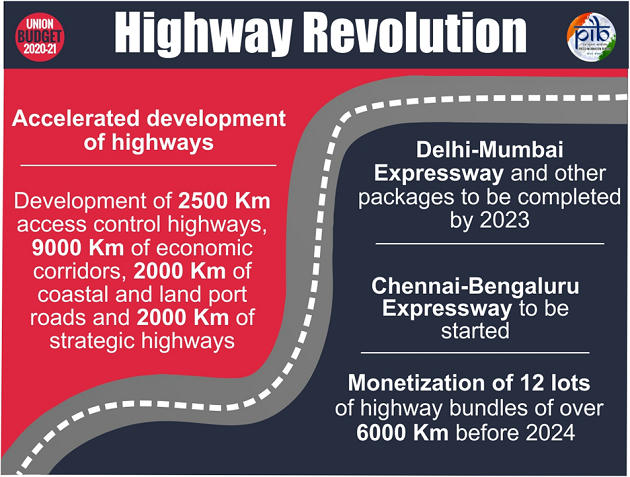 Railways
Indian Railways (IR) with over 68,000 route kms is the third largest network in the world under single management.
During 2018-19, it carried 120 crore tonnes of freight and 840 crore passengers making it the world's largest passenger carrier and 4th largest freight carrier.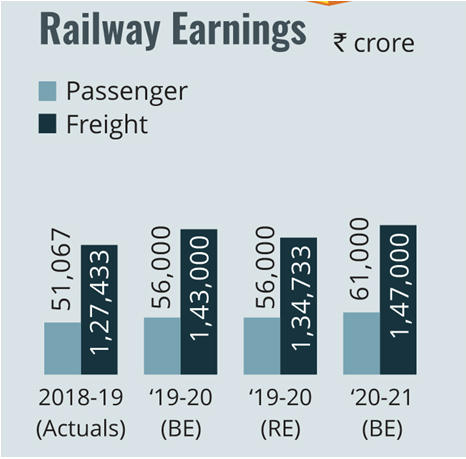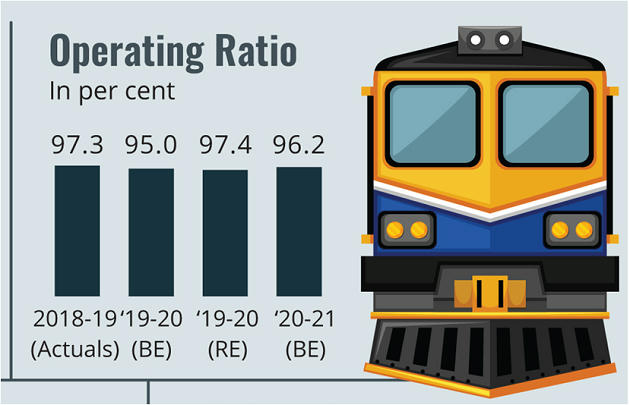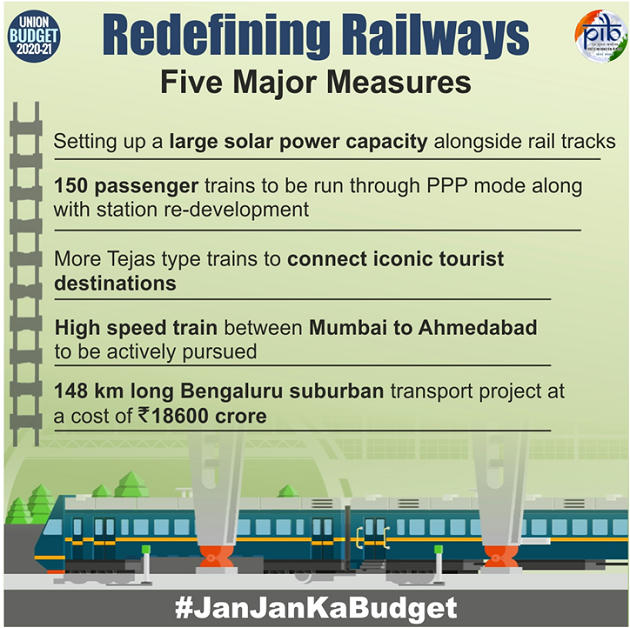 Critical Challenges in Railways Modernization
Fundamentals of how PPPs would be encouraged
R&D for indigenous manufacturing of Rolling Stock
Aviation
India is the 3rd largest domestic market for civil aviation in the world.
India has 136 commercially-managed airports by AAI and 6 under PPP for Operation, Maintenance and Development of airports.

A total of 43 airports have been operationalized under UDAN

To ease the strain, 100 more airports are to be made operational by FY 2023-24
To bring in efficiency and resources, 6 airports (Ahmedabad, Guwahati, Jaipur, Lucknow, Mangalore, and Thiruvananthapuram) have been taken up for development under PPP mode
Focus areas in Aviation
Increasing capacity and service levels in top 30 airports via PPP
Increasing no. of airports to about 100 and ensuring that all tier II and tier III cities have their own airports

Attracting PPPs in lower tier cities is difficult because of viability – may need VGF / subsidies to make workable
AAI is fallback option but concerns about AAI managing many loss-making airports is there
Shipping
Around 95% of India's trade by volume and 68% in terms of value is transported by sea.
Despite one of the largest merchant shipping fleet (> 1400) among developing countries, India's share in total world dead weight tonnage (DWT) is only 0.9% as on January 1, 2019 according to Institute of Shipping Economics and Logistics.
Issues highlighted by Professor G Raghuram
Sagarmala is not proceeding at the pace envisaged – a part of the problem is environment but there is also a problem of need

Capacity additions may not be needed unless for captive purposes
There could possibly be a situation of excess capacity in container domain

Could also be the case for coal – as power sector moves towards renewables

Some earlier PPPs not able to perform well due to restrictive concession agreements

Need restructuring of regulatory regime
Connectivity issues on land side, esp. rail, should improve with DFCs and formation of Indian Port Rail Corp. Ltd. (formed in 2015)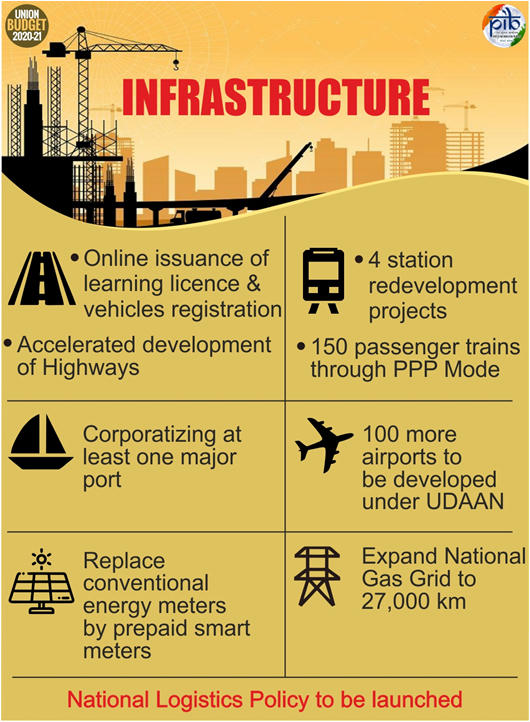 Air & Rail for Farm
Krishi Udaanto be launched by the Ministry of Civil Aviation:

Both international and national routes to be covered.
North-East and tribal districts to realize Improved value of agri-products

Kisan Railto be setup by Indian Railways through PPP:

To build a seamless national cold supply chain for perishables (milk, meat, fish, etc.
Express and Freight trains to have refrigerated coaches.
Money?…….National Infrastructure Pipeline
Launched on 31 Dec 2019, would commence in phases from 2020-21 to 2024-25
103 lakh crore worth projects

Energy = 24%
Urban = 16%
Roads = 19% | Railways = 13% | Airports = 1.3% | Ports = 1%

More than 6500 projects across sectors, to be classified as per their size and stage of development.
Central Govt. (39%) and State Govt. (39%) will have equal share in funding followed by Private Sector (22%).

It is expected that private sector share may increase to 30% by 2025.

Q #2
Vivad Se Vishwas' scheme is aimed at reducing litigations in:

direct taxes
indirect taxes
Both 1 & 2
Neither 1 nor 2
5. Industries
Industry, Commerce & Investment
Investment Clearance Cellproposed to be set up:

To provide "end to end" facilitation and support
To work through a portal

National Technical Textiles Missionto be set up:

With four-year implementation period from 2020-21 to 2023-24.
At an estimated outlay of Rs 1480 crore.
To position India as a global leader in Technical Textiles.

New scheme NIRVIKto achieve higher export credit disbursement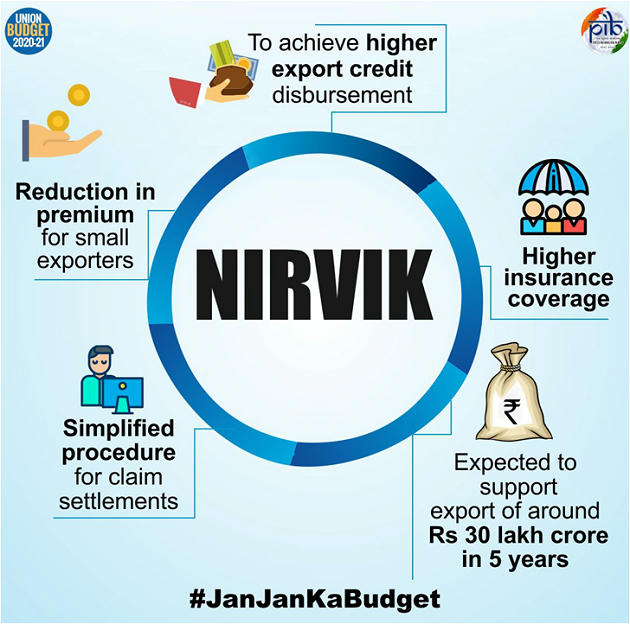 Industry, Commerce & Investment
Turnover of Government e-Marketplace (GeM) proposed to be taken to Rs 3 lakh crore.
Scheme for Revision of duties and taxes on exported products to be launched.

Exporters to be digitally refunded duties and taxes levied at the Central, State and local levels, which are otherwise not exempted or refunded.

All Ministries to issue quality standard orders as per PM's vision of "Zero Defect-Zero Effect" manufacturing.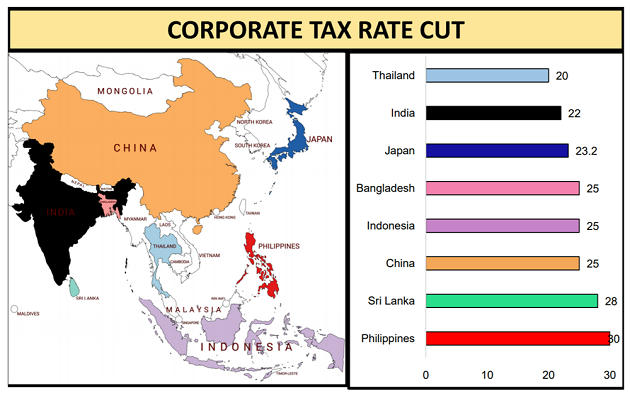 Infrastructure
100 lakh crore to be invested on infrastructure over the next 5 years
National Logistics Policy to be released soon:

To clarify roles of the Union Government, State Governments and key regulators.
A single window e-logistics market to be created
Focus to be on generation of employment, skills and making MSMEs competitive.

National Skill Development Agency to give special thrust to infrastructure-focused skill development opportunities.
Project preparation facility for infrastructure projects proposed.

To actively involve young engineers, management graduates and economists from Universities.

infrastructure agencies to involve youth-power in start-ups.
Infrastructure | Connectivity
To take advantage of new technologies:

Policy to enable private sector to build Data Centre parks throughout the country to be brought out soon
Fibre to the Home (FTTH) connections through Bharatnet to link 100,000 GPs this year
6000 crore proposed for Bharatnet programme in 2020-21
Startups
A digital platform to be promoted to facilitate seamless application and capture of IPRs.
Knowledge Translation Clusters to be set up across different technology sectors including new and emerging areas.
Mapping of India's genetic landscape- Two new national level Science Schemes to be initiated to create a comprehensive database.
Early life funding proposed, including a seed fund to support ideation and development of early stage Start-ups.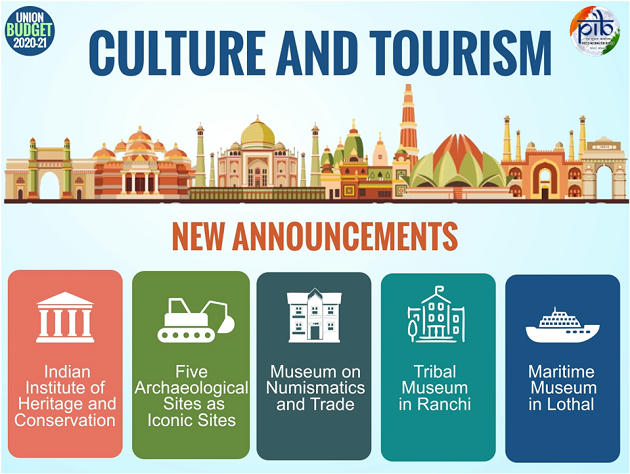 Financial Sector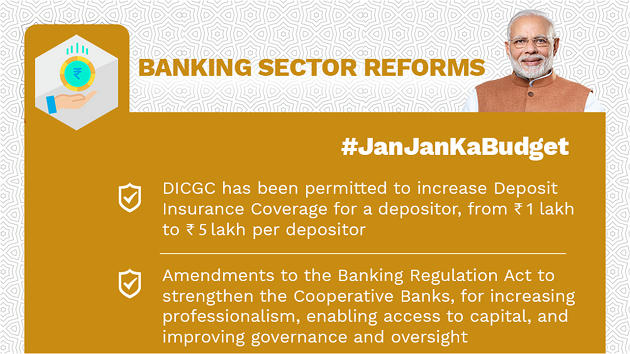 Q #3
Vivad Se Vishwas' scheme is aimed at reducing litigations in:

direct taxes
indirect taxes
Both 1 & 2
Neither 1 nor 2
7. Water & Sanitation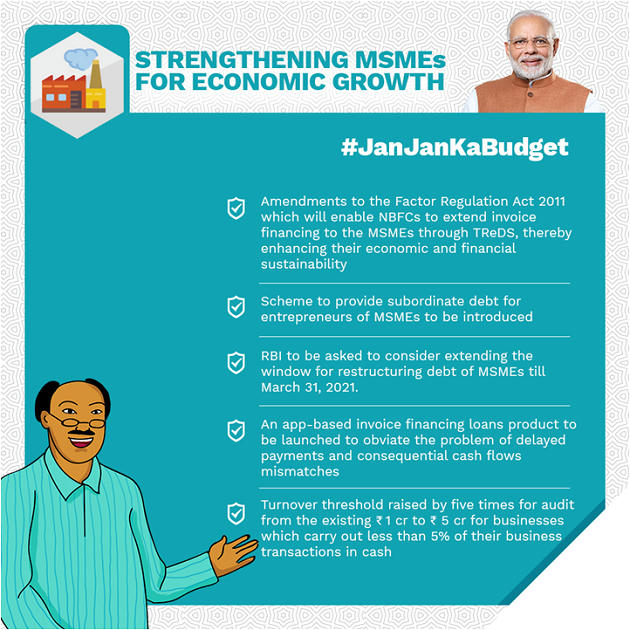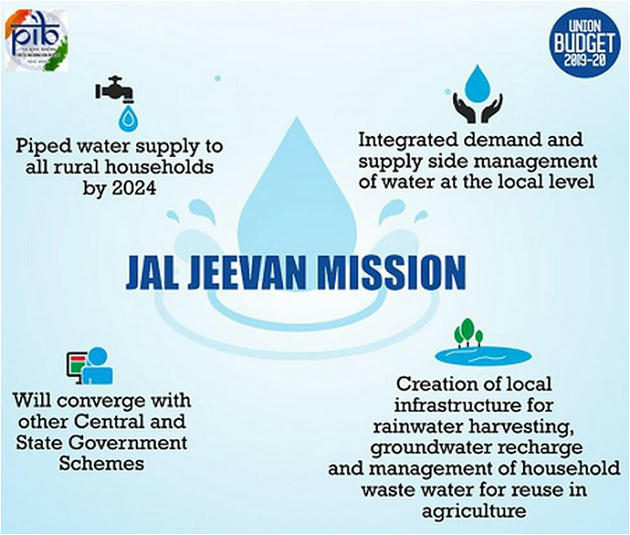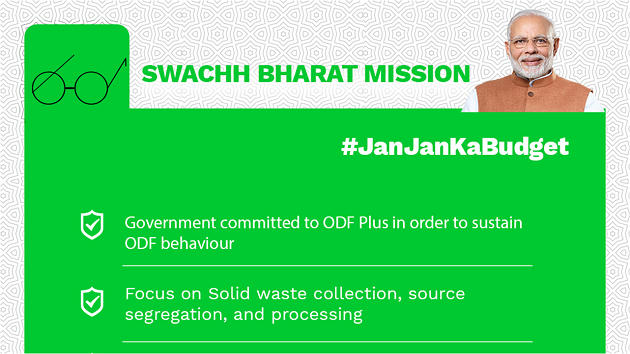 Protocols
ODF protocol – independent third party certifies a city as ODF on satisfying certain requirements. To prevent it from slippage, the certification has to be renewed every 6 months.
ODF+ protocol – to track maintenance of acceptable levels of cleanliness in community/public toilets so that they are functional and actually used by citizens. 739 cities are ODF+.
ODF++ protocol – to track what was happening to faecal sludge being discharged from the toilets => for complete sewage and faecal sludge management. 292 cities are ODF++.
SBM Water+ focuses on ensuring that no untreated wastewater is discharged into the open environment.
8. Universal Health Coverage
Q #4
Vivad Se Vishwas' scheme is aimed at reducing litigations in:

direct taxes
indirect taxes
Both 1 & 2
Neither 1 nor 2
9. Education
10. Skills, Employment & HRD
Q #5
Vivad Se Vishwas' scheme is aimed at reducing litigations in:

direct taxes
indirect taxes
Both 1 & 2
Neither 1 nor 2
11. Agriculture
12. Environment & Forest
Q #6
Vivad Se Vishwas' scheme is aimed at reducing litigations in:

direct taxes
indirect taxes
Both 1 & 2
Neither 1 nor 2
13. Gender Budgeting & Elderly
14. NE Development
Q #7
Vivad Se Vishwas' scheme is aimed at reducing litigations in:

direct taxes
indirect taxes
Both 1 & 2
Neither 1 nor 2