What exactly does 'Youth' mean?
▪ The term 'Youth' as defined by the UNESCO(The United Nations Educational, Scientific and Cultural Organization) – is "best understood as a period of transition from the dependence on childhood to adulthood's independence and awareness of our independence as members of a community. Youth is more a fluid category than a fixed age group.
" UNESCO is a specialized agency of the United Nations (UN) based in ____
Bonn
Geneva
Washington
Paris
Which site has been inscribed as India's first mixed heritage site in UNESCO World Heritage List?
Ellora Caves
Khangchendzonga National Park
Sun temple
Elephanta Caves
World Press Freedom Day event that was held from May 1-4 in Jakarta, Indonesia.
Which Indian movie was screened there?  
A.Gulaal B. Azaad C. Kasaav D. Kranti
Answer ▪ Azaad –  Rahul V. Chittella's short film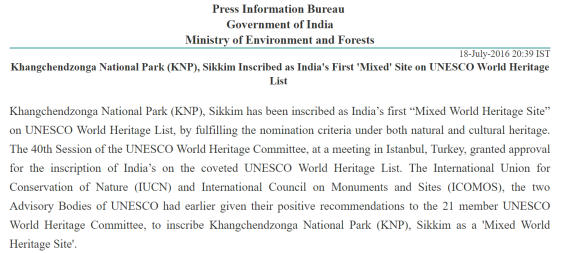 ▪ World press Freedom Day – 3 rd May
▪ World Press Freedom Day is celebrated by UNESCO to celebrate the principle of     freedom of  the press.
▪ The theme for this year's edition of World Press Freedom Day is "Critical Minds for          Critical Times: Media's role in advancing peaceful, just and inclusive societies".
 Coming back to Youth Empowerment Why is empowering Youth Important?
As per the annual report of the Ministry of Youth Affairs & Sports(Department of Youth Affairs), 2016-17, the youth make up to be most enthusiastic segment for any institution for governance.
The United Nations defines "Youth" as 15–24 years and in the Commonwealth, it is 15–29 years.
 Notes from the article written by the Secretary, Youth Affairs
India comes across as a young nation with nearly 65%q percent of its population falling under the rough age bracket of "under 35", thus making it a largely young nation.
It is expected that by the year 2020, the population of India q would have a median age of 28 years only as against 38 years for US, 42 years for China and as high as 48 years for Japan.
The Indian population under the age group of 15-29q comprises 27.5% of the total population giving India a favorable demographic profile.
The Rashtriya Yuva Sashaktikaran Karyakram has been launched by which ministry?
Ministry of Skill Development and Entrepreneurship
Ministry of Youth Affairs and Sports
Ministry of Rural Development
Ministry of Science and Technology
 Answer – B
The Ministry of Youth Affairs and Sports has a new umbrella Scheme called 'Rashtriya Yuva Sashaktikaran Karyakaram' (RYSK) ▪
Which of the following schemes are merged into a new 'umbrella' scheme called 'Rashtriya Yuva Sashaktikaran Karyakram (RYSK)'?
Nehru Yuva Kendra Sangathan 2.
National Youth Corps
National Programme for Youth and Adolescent Development
National Discipline Scheme
 Government wants 40 crore skilled Indians by 2022
▪ Modi Government's schemes for that
▪ Pradhan Mantri Kaushal Vikas Yojana
▪ The aim of the scheme is to encourage aptitude towards employable skills and to increase working efficiency of probable and existing daily wage earners
▪ The scheme has a target to train 1 crore Indian youth from 2016-20.
▪ Stipend – 8000 or more (if finishes training then certificate and bank loan)
Seekho aur Kamao
▪ Reduce the unemployment rate of minorities during 12th Plan period (2012-17).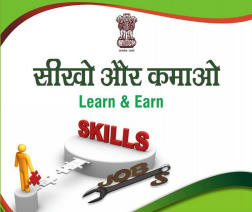 Nai Manzil
▪ It seeks to provide trade basis skill training in four courses at the same time of formal education,
in field of
(i) Manufacturing
(ii) Engineering
(iii) Services
(iv) Soft skills.
▪ It intends to cover people in between 17 to 35 age group from all minority communities as well as Madrasa students.
▪ The World Bank has extended a $50-million loan for the 'Nai Manzil Education and Skills Training for Minorities' project.
▪ The total project size is $100 million, out of which $50 million will be available as International Development Association (IDA) credit, and the balance funding from the Union Budget.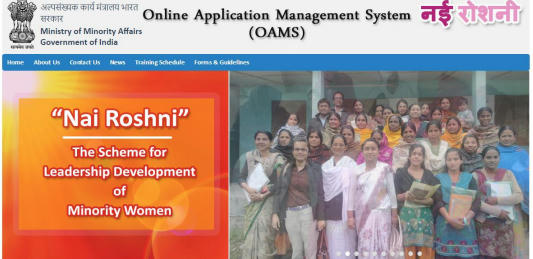 The Morarji Desai National Institute of Yoga
▪ Location – New Delhi, Delhi, India
▪ The Institute is established by the Department of AYUSH, the Ministry of Health and Family Welfare, Government of India.
Distance And Online Entrepreneurship Education in India