Yojana July 2020
Content

Ethical wealth creation for Self reliant India
Export Strategy for Self reliance
JAM trinity and Self reliance
Farmers and Self reliance – Only facts
Other factual information
Note:

Subramania Bharathi
Gandhi and Self reliance (Both covered as separate topics)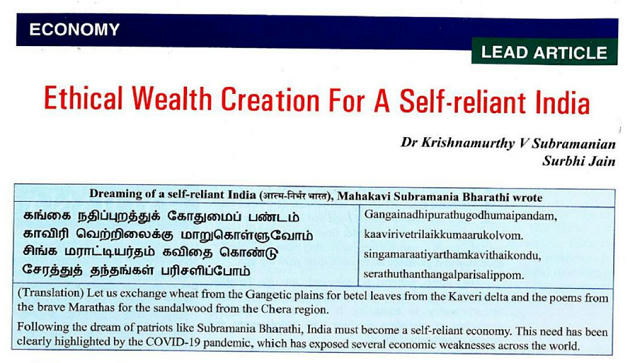 Ethical Wealth Creation For A Self-reliant India
Self-reliant Citizens For Self-reliant India

A self-reliant India will be built by self-reliant citizens.
For Indians to be self-reliant, a social compact between the government and citizens has to be one where government actively supports personal responsibility.
Ex: Do self reliant citizens need subsidies?
Ethical Wealth Creation For A Self-reliant India
No self reliance without inclusive growth and no inclusive growth without employment

GDP growth cannot be the sole objective of economic development.
Trickledown economics simply does not seem to work. It leads to inequality.
Employment  generation  is  central  to  inclusive
Ethical Wealth Creation For A Self-reliant India
Ethical Wealth And Skill development through PPP

Self-reliance does not mean a return to the "License Permit Raj", nor does it mean that Government itself will once again occupy the "Commanding Heights."
Self reliance needs that govt and private sectors go hand in hand.
The current covid pandemic has clearly shown the need of complementary roles of the private sector and the government.
Ethical Wealth Creation For A Self-reliant India
Self reliance calls for produce For The Bottom Of The Pyramid

Self-reliance means that Indian firms focus on producing goods and services that cater to the needs of our huge population.
The business models that Indian firms generate must cater to the needs of the poor not just in India but also help to tap into markets in many underdeveloped economies in Asia and Africa .
Focus should be on increasing productivity  and  output  in  the  agricultural  sector, frugal innovation and sustainable development.
Ethical Wealth Creation For A Self-reliant India
Self-Reliance is not Doing Everything Yourself..!!!

Building a self-reliant economy does not mean building an economy in isolation.
Self-reliance means building the necessary capability to be independent at the most vulnerable times.
It requires delineating sectors that are strategically critical to the nation and investing in these sectors so that our dependence during vulnerable times is minimized.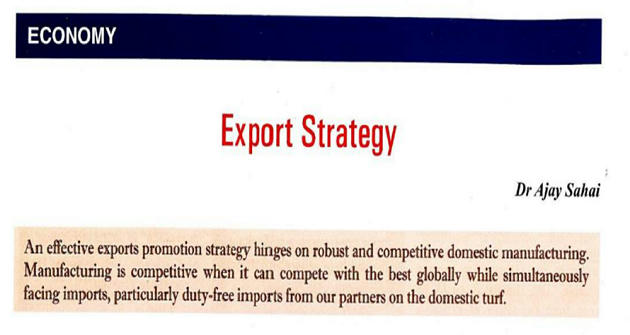 Export Strategy
The word  "Atmanirbhar"  refers  to  both  self-reliance  and  self sufficiency.

Self reliance has a pragmatic positive connotation aimed at developing capabilities indigenously without shunning imports.
Self sufficiency is unpragmatic, inward  looking  and  has  a  negative denotation.
Export Strategy
Strategies to Promote Export
Optimise FDI-Tariff Linkage
Level Playing Field to Domestic Manufacturer
Transition from relatively low value products to high value-high tech
R&D and Product Innovation
Agri production and export
Support MSMEs
Tourism, financial services and transport services
FTA and regional agreements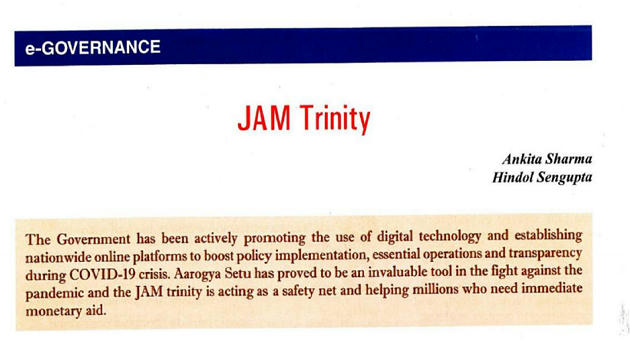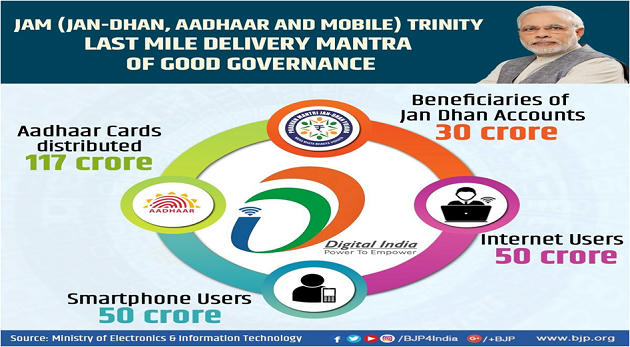 Why the Jan Dhan-Aadhaar- Mobile (JAM) Trinity is so Powerful?
The JAM trinity has given a boost to the DBT programme and  expanded its coverage  from partial to everywhere.
It has eliminated the need  for  middlemen and minimised  avenues  of  corruption, irregularities and pilferages.
It has also promoted the ease of doing business.
Covid-19 and promotion of online transactions among the beneficiaries.
In the longer run, JAM will make the rural population get familiar with the concept of 'saving'  thus contributing to the GDP of the country as a whole.
Info from Yojana July
Making farmers self reliant

PM Fasal Bima yojana
MSP
eNAM / FPO promotion
PM Matsya sampada yojana
PM Kisan sampada yojana
PM KISAN (Kalia, MM Krishi aashirwad yojana, Rythu Bandhu etc)
Facts from Yojana July
iFLOWS: Flood Warning System

It is state-of-the-art Integrated  Flood  Warning  System   will  help  make  Mumbai become more resilient, by providing early warning for flooding especially during high rainfall events and cyclones.
It is developed by the Ministry of Earth Sciences (MoES), in coordination with the Municipal Corporation of Greater Mumbai (MCGM).
Using this, it will be possible to have an estimate of the flood inundation 3 days in advance, along with 3 hours-6 hours Nowcast (immediate weather updates).

JAM & Relief to Fight COVID-19

JAM has helped in cash transfer to more than 31 crore beneficiaries under the financial assistance scheme Pradhan Mantri Garib Kalyan Yojana(PMGKY).
JAM has assisted in benefitting 93 crore farmers through the Pradhan Mantri Kisan Samman Nidhi(PM-KISAN) to help farmers tide over the COVID-19 crisis.
JAM has helped to disburse Rs. 1,400 crore to about 2.82 crore old age person, widow and disabled people under the National Social Assistance Programme(NSAP).
Through JAM, 16 crore  construction  workers  received  financial  support  from  the  Building  and  Construction  Workers' Fund managed by state governments.
JAM has assisted the government in providing  free  LPG refills for the  next three months to  over  3  crore poor  women under the Ujjawala scheme.