TOPICS
1. DIGITAL SERVICES, INFRA & EMPOWERMENT
2. TRACKING SCHEMES THROUGH GIS
3. LEVERAGING TECHNOLOGY FOR EDUCATION
4. NATIONAL POLICY ON SOFTWARE PRODUCTS
5. E-SERVICES FOR DIFFERENTLY ABLED
6. DEVELOPMENT OF METRO RAILS IN INDIA
7. TOWARDS A NATIONAL DIGITAL HEALTH ECOSYSTEM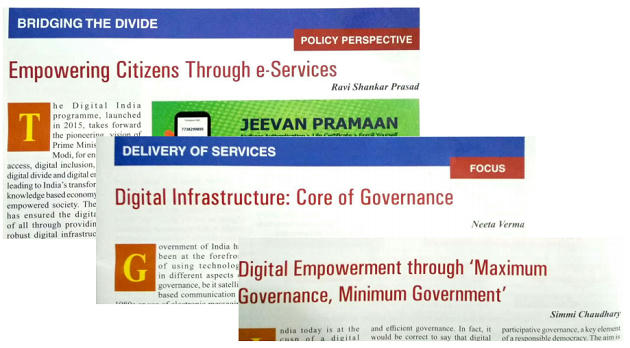 MAJOR INITIATIVES: DIGITAL-LED DEVELOPMENT
1. Digital India Programme (2015)
2. Direct Benefit Transfer Scheme
– Saved > 80k Cr; Implemented > 400 schemes
3. Government e-Marketplace
4. Financial Inclusion via JAM trinity
5. GST Network
6. Unified Payment Interface & BHIM App
7. Others: PRAGATI, SWAYAM, UMANG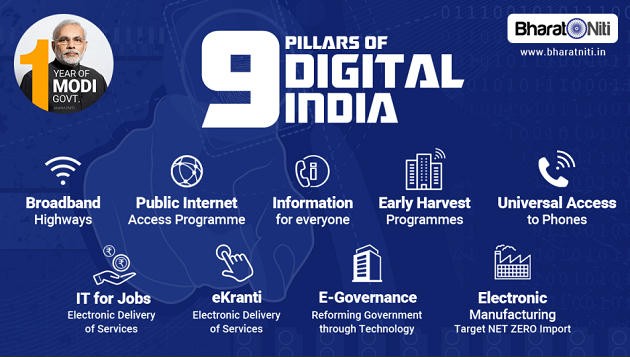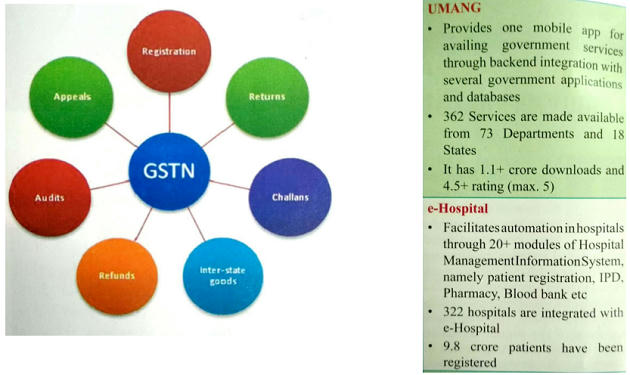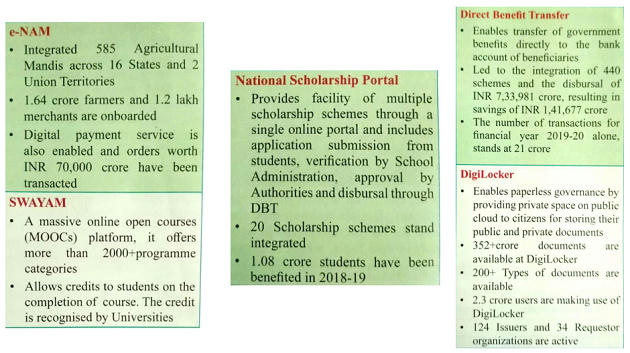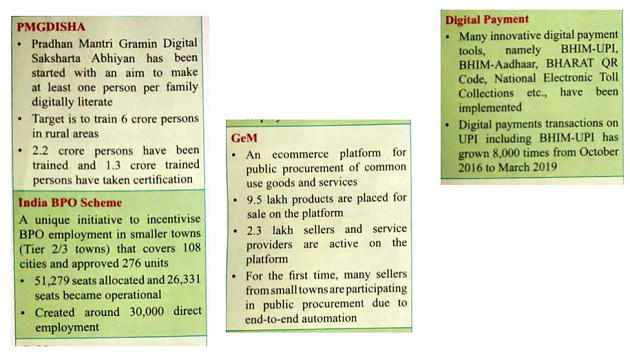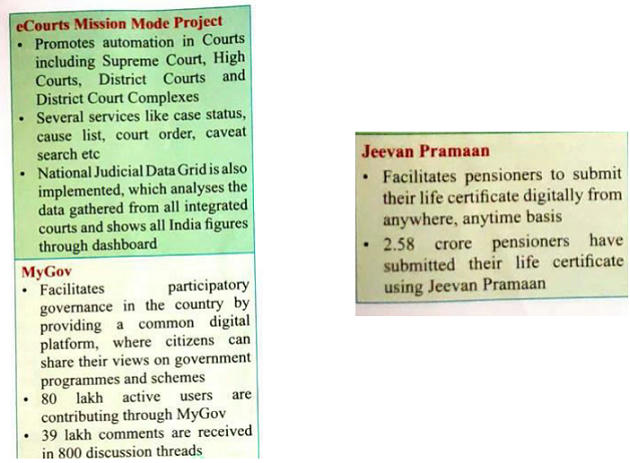 DIGITAL DELIVERY OF SERVICES | PHYSICAL INFRA
Common Service Centres
– 3 Lakh CSCs across 2 Lakh GPs delivering 300+ services
– Created jobs for 12 Lakh people
– Promoted rural entrepreneurship (esp. for women)
 ~60k Active Women Village Level Entrepreneurs (VLEs)
– Implement Stree Swabhiman Initiative for menstrual health
– Micro BPO units are being set up in CSCs (5 to 10 jobs)
– PMGDISHA to e-literate 6 Cr rural households
DIGITAL DELIVERY OF SERVICES | DIGITAL INFRA
 Bharat Net
– Aim: to provide high speed internet in rural areas
– How: by building optical fiber network connecting 2.5 L GPs
 National Knowledge Network
– Network to promote knowledge collaboration/exchange
– E.g. Virtual classrooms, NPTEL, various Grids, etc.
 National Cloud: Meghraj
 Geospatial Technology: Bharat Maps
 Email Services: X400
DIGITAL DELIVERY OF SERVICES | BACKBONE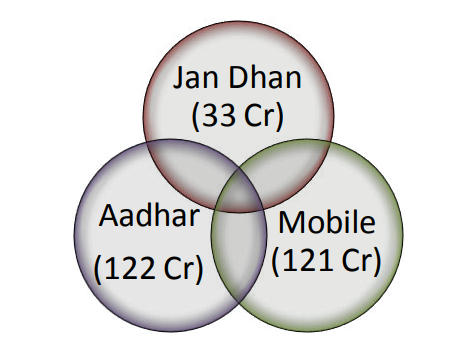 STORY IN NUMBERS
BHIM-UPI => > 2000 Cr worth transactions in 2017-18
UMANG => multilingual app offers > 350 govt. services
PMGDISHA => benefitted 2.2 Cr persons
JAM-DBT => > 7 L Cr disbursed as of Mar 2019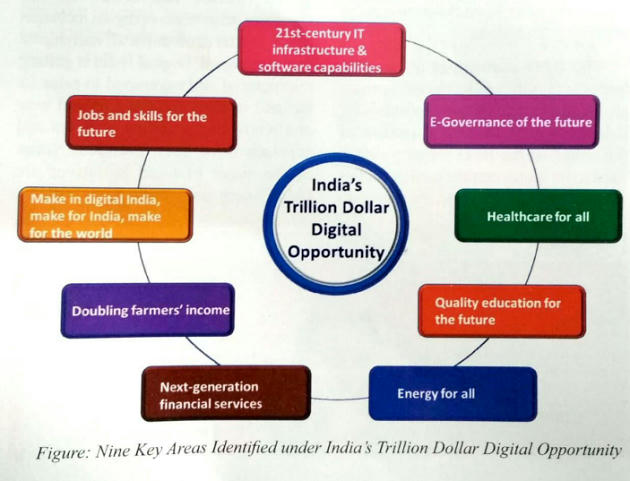 MCQ #1
National Programme on AI is led by:
A. NITI Aayog
B. Ministry of S&T
C. Prime Minister's Office
D. Prime Minister's S&T Advisory Council

INTRODUCTION
Location based information is vital to plan and monitor the developmental programs
The use of GIS is a critical component of e-Kranti pillar under DIP
To leverage GIS under DIP, MEITY launched National Centre of Geo-Informatics (NCoG) in Dec 2015
ABOUT NCOG
NCOG platform is a single source GIS platform for sharing, collaboration, location-based analytics and decision support system, catering to government.
Currently, more than 200 web applications and 30 mobile applications are at various stages of operationalisation under NCoG platform.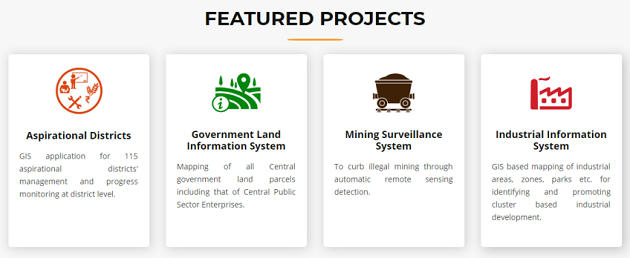 WAY FORWARD
Government is working on integrating emerging technologies such as Blockchain, AI-ML, IoT and Big Data Analytics with GIS to give further boost to developmental planning and good governance.
MCQ #2
The word API is very commonly used in our digitallyconnected world. What does P in API stand for?
Provider
Protocol
Programming
None of the above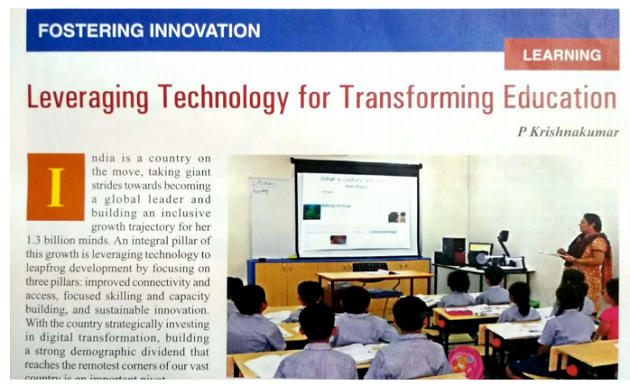 ROLE OF TECHNOLOGY IN TRANSFORMING EDUCATION
1. Providing Access & bridging the divide
2. Capacity building of teachers
3. Need to adapt to varying needs
 Providing Access & bridging the divide
– Portable devices & internet augmented scale of connectivity
– Availability of MOOCs (e.g. NPTEL) to one and all
– Technology for translating into multiple languages
– Collaboration b/w different institutions at all levels
 Capacity building of teachers
– Release from Techno phobia
– Equip teachers with ICT devices + knowledge
– Collaboration & sharing of best practices
– Train through Common Service Centres
– New & innovative ways of delivering lectures/materials
 Need to adapt to varying needs
– Technology can break one-size fits all model
– Personalized learning models adjusted to different skill sets
– Mapping skill sets with employability
MCQ #3
Neuralink, recently unveiled by Elon Musk, is a:
A. Medicine for treatment of Brain cancer
B. Device to connect humans and computers
C. High speed vacuum-based transportation system
D. None of the above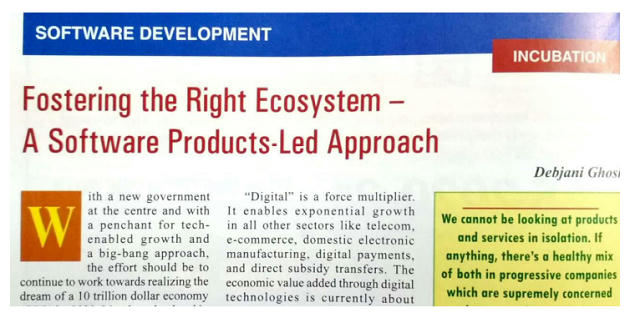 NATIONAL POLICY ON SOFTWARE PRODUCTS
 Aim:
– To develop India as the global software product hub:
 Driven by innovation, improved commercialisation, sustainable Intellectual
Property (IP), promoting technology startups and specialized skill sets.
– To align with other Government initiatives
 Such as Start-up India, Make in India and Digital India, Skill India etc.
– To create Indian Software products Industry of USD ~70-80 billion:
 With direct & indirect employment of ~3.5 million by 2025.
EXPENDITURE ON THE POLICY
 For the next 7 years an outlay of Rs 1500 crore has been envisaged.
 This fund would be divided in two categories:
– Software Product Development Fund (SPDF)
– Research & Innovation fund
MISSIONS UNDER THE POLICY
1. Sustainable Indian software product industry
– This would be driven by intellectual property (IP)
– This would lead to a ten-fold increase in India's share of the Global Software product market by 2025.
2. Nurturing startups:
  – To nurture 10,000 technology startups in software product industry.
  – This would include 1000 such technology startups in Tier-II and Tier-III towns.
  – This would generate direct and in-direct employment for 3.5 million people by 2025.
MISSIONS UNDER THE POLICY
3. Creating a talent pool:
– Up-skilling of 1,000,000 IT professionals
– Motivating 100,000 school and college students
– Generating 10,000 specialized professionals that can provide leadership.
4. Building a cluster-based innovation driven ecosystem:
– Development of 20 sectoral and strategically located software product development clusters.
5. National Software Products Mission
– This would be set up with participation from Government, Academia and Industry.
– It would monitor the implementation of the programme and work for its evolution.
LIMITATIONS
 There is no roadmap for the schemes, initiatives and projects to be formulated under this policy.
Roles and responsibilities of different stakeholders, under the policy, is not defined.
National Software Products Mission:
– Eligibility of different members is not mentioned in the policy.
No concrete measure to address skill gap in the workforce:
– Sharda Prasad Committee (2017) has highlighted major shortcomings in the PMKVY and has recommended for structural reforms in NSDC.
– Thus this policy should have provided concrete way to ensure skill development rather than relying on skill India mission.
MCQ #4
Vikings are associated with which region of the world:
A. Australia
B. Scandinavia
C. Africa
D. Caribbean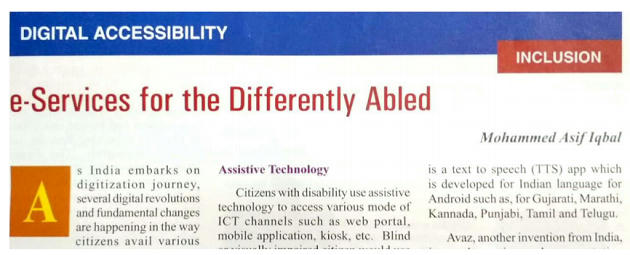 E-SERVICES FOR THE DIFFERENTLY-ABLED
 Government initiatives:
– Accessible India Campaign
 To create universal accessibility for PwDs
– Assistance to Disabled Persons (ADIP)
 E.g. Cochlear Implant Programme
– Deendayal Disabled Rehabilitation Scheme
 Financial assistance to NGOs running rehabilitation schemes
– Smart City Mission – ICT be digitally accessible
– Section 42 of PWD Act 2016
 Requires all content in audio, print and electronic format to be accessible and that there is access to electronic media by providing audio descriptions, sign language and close captioning.
E-SERVICES FOR THE DIFFERENTLY-ABLED
 Some private sector initiatives:
– Avaz – generates speech from limited muscle movements
– Non-visual display access – screen reading software in multiple languages
– Kabi – assists speech impaired for quick communication by selecting pictograph image on their hand held device
– Blee watch – smart watch for hearing impaired ; sounds generate vibrations
– Apps for finding life partners ; book taxi, etc.
MCQ #5
Which of the following cities is also called as the Equator City?
A. Quito in Ecuador
B. Libreville in Gabon
C. Kampala in Uganda
D. Pontianak in Indonesia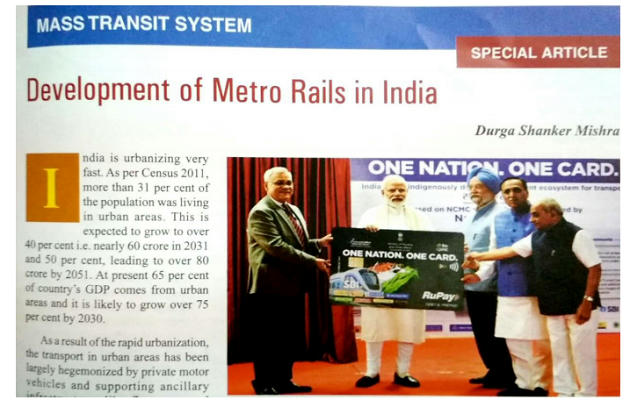 CHALLENGES
Urban population – 40% by 2031 & 50% by 2051
Vehicle CAGR – 11% since 1951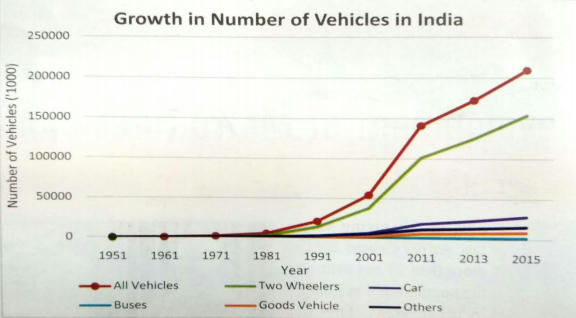 NUTP 2006
To address:
– NUTP 2006 – people occupy centre stage and that focus should be on moving people and not vehicles
– MRTS is being implemented, amongst other solutions in pursuance to above policy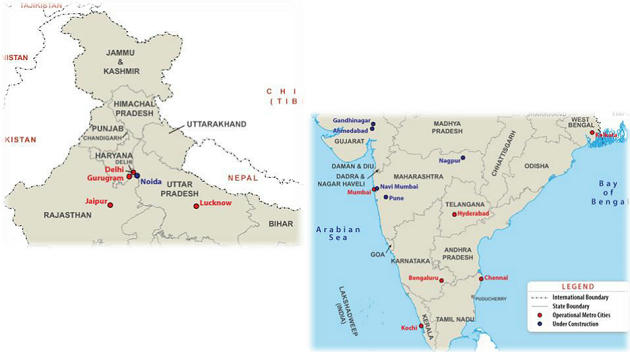 CHALLENGES OF EXISTING METRO SYSTEMS
 It is capital intensive systems so requires huge money
Technology available is not standardized yet resulting higher costs of construction and operations
Lack of last mile connectivity
 Parking lots and roads leading to many stations remain poorly lit. Security issues.
 Non availability of demand forecasts for metro projects.
ADDRESSING THE CHALLENGES
Metro Rail Policy 2017 – lays down financial models
Value Capture Financing Policy Framework 2017
– Betterment levy, vacant land tax, etc.
 Standardization of Metro Components
 National Transit Oriented Development Policy 2017
– To integrate land use and transport planning within 500-800 m
 National Common Mobility Card
 Setting up Unified Metropolitan Transport Authority
 Multi modal integration e.g. Gurgaon Rapid Metro, feeder bus
WAY FORWARD
18 (1L+) cities have operating metro systems while in 9, it is at various stages of development.
Metro Rail Bill (Construction, Operation & Maintenance) is under way
MCQ #6
Raga Bhairavi is best listened to at what time of the day?
A. Morning
B. Afternoon
C. Evening
D. Night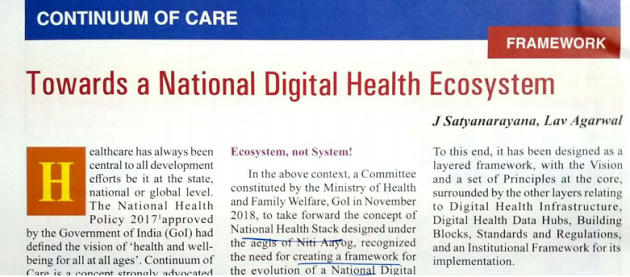 Committee, constituted to create an implementation framework for the National Health Stack (NHS) proposed by NITI Aayog, has come up with the National Digital Health Blueprint.
'Think Big, Start Small, Scale Fast'
OBJECTIVES OF NDHB
Establishing and managing the core digital health data and the infrastructure required for its seamless exchange;
Promoting the adoption of open standards by all the actors in the National Digital Health Eco-system;
Creating a system of Personal Health Records, based on international standards, and easily accessible to the citizens and to the service providers, based on citizen-consent;
Following the best principles of cooperative federalism while working with the States and Union Territories for the realization of the Vision;
OBJECTIVES OF NDHB
Promoting Health Data Analytics and Medical Research;
Enhancing the efficiency and effectiveness of Governance at all levels;
Ensuring Quality of Healthcare.
Leveraging the Information Systems already existing in the health sector
NDHB PRINCIPLES
From the domain perspective, Universal Health Coverage, Inclusiveness, Security and Privacy by Design, Education and Empowerment of the citizens, and
From the technology perspective, Building Blocks, Interoperability, a set of Registries as Single Sources of Truth, Open Standards, Open APIs and above all, a minimalistic approach.
Key Building Blocks
 
NDHM ACTION PLAN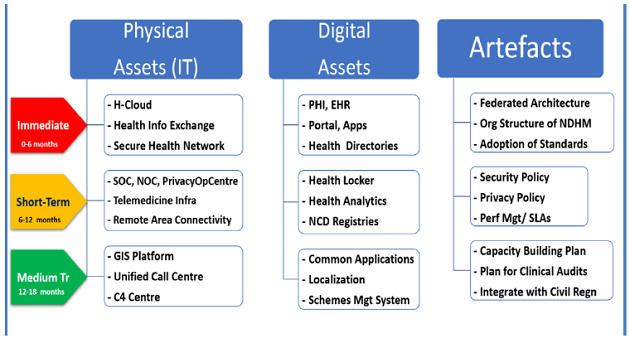 IMPLEMENTATION
A new entity, National Digital Health Mission (NDHM), is recommended to be established as a purely government organization with complete functional autonomy adopting some features of some of the existing National Information Utilities like UIDAI and GSTN.
MCQ #7
Who was the first Editor of Yojana magazine?
A. Khushwant Singh
B. R K Narayan
C. Mulk Raj Anand
D. None of the above