Key Question 
Discuss the Kayakalp initiative and its performance.
About Kayakalp
Launched in 2015 to complement the efforts of SBM.
Aim: To promote cleanliness, hygiene and infection control practices in public health facilities
How?

By incentivizing and recognizing such facilities that show exemplary performance in adhering to standard protocols
By inculcating a culture of ongoing assessment and peer review of performance

6 themes of Kayakalp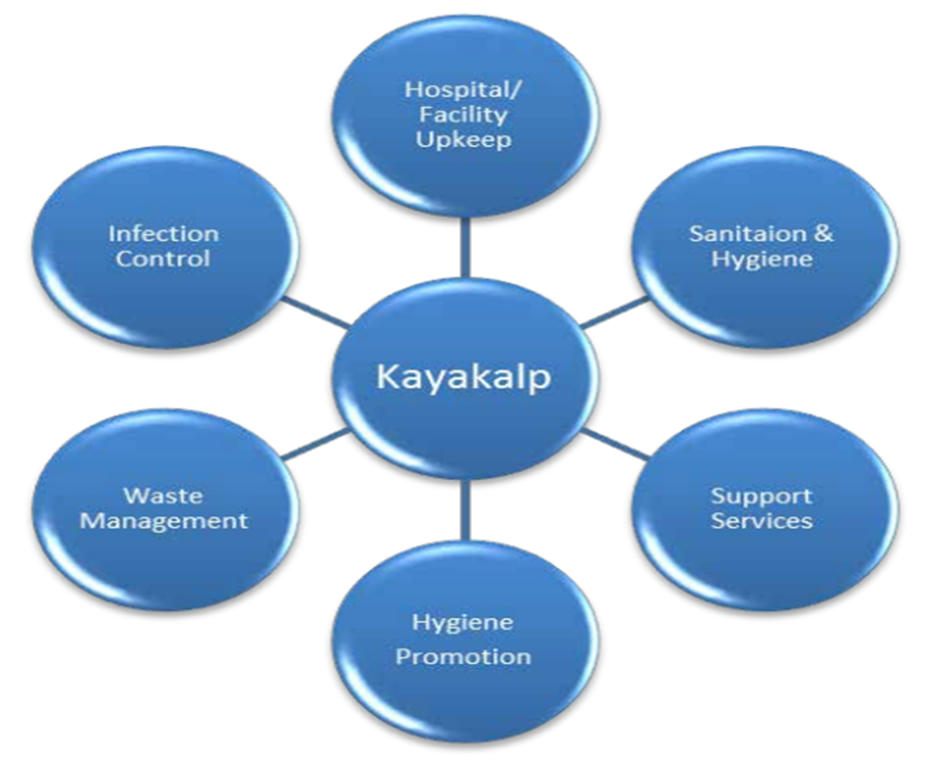 How are awards given?
After health facilities undertake their own assessment, they work on improvements.
Subsequently, those showing improvements go through peer assessment followed by external assessment to validate the Kayakalp score.
Winner facility receives a cash prize with a citation. Certificate and cash prize are given to all facilities scoring more than 70%.
Performance
It began with District Hospitals but within 3-4 years, lower levels have been brought under its ambit.
More than 25k PHFs have participated

Kayakalp has facelifted public health facilities
Helped changed public behaviour
Reflected in number of satisfied patients in Mera Aspataal

It has now been introduced in Ayushman Bharat's Health & Wellness Centres
It has also been extended to private sector health facilities

QCI through NABH conducted assessment in 653 private hospitals out of which 635 were found compliant
Key initiatives for Urban Sanitation
Swacch Bharat Mission (Urban)
AMRUT + Smart Cities Mission
North Eastern Region Urban Development Programme (NERUDP)
Geotagging of toilets in association with Google
Scaling & Sustaining Sanitation
ODF Protocols
ODF protocol-independent third party certifies a city as ODF on satisfying certain requirements. To prevent it from slippage, the certification has to be renewed every 6 months.
ODF+ protocol – to track maintenance of acceptable levels of cleanliness in community/public toilets so that they are functional and actually used by citizens. 739 cities are ODF+.
ODF++ protocol – to track what was happening to faecal sludge being discharged from the toilets => for complete sewage and faecal sludge management. 292 cities are ODF++.
SBM Water+