Discussion via Questions
List some of the initiatives by ISRO in the field of education.
What is AI? Discuss opportunities and challenges.
List important events in providing education for the blind.
What are some of the key govt. initiatives in Education?
What are threats to our cyberspace? What can we do to protect us against cyber attacks?
What are the challenges in Higher education in India?
List some of the initiatives by ISRO in the field of education.
Initiatives
Satellite Instructional Television Experiment (SITE)
EDUSAT
DHRUV Programme
'Young Scientist Program' aka Yuvika
'Samwad With Students' Programme
Satellite Instructional Television Experiment (SITE)
SITE was a sociological experiment performed by ISRO in 1975-76 aimed at connecting rural folk to satellite television.
In this experiment, they took 2400 villages out of 6 states and installed 10 feet diameter chicken mesh antennas capable of receiving signals, along with special TV sets, in every
Programs related to health, hygiene, lifestyle, family planning agriculture etc. were broadcasted through America's ATS-6 Satellite.
This proved to be a successful experiment as rural India started to be more aware of day to day activities & this gave them a moral boost.
EDUSAT
During 1990s the student and teachers' programs had increased to an extent that the government was convinced that education needs a separate satellite.
As a result, GSAT-3 or EDUSAT, a dedicated satellite for education purposes, was launched into the orbit by ISRO using indigenous GSLV.
Dhruv Programme
DHRUV is a part of Pradhan Mantri Innovative Learning Program that has been started to identify talented children and enrich their knowledge.
The front runners in the school will be identified, mentored and polished by renowned experts in concerned field.
The students will act as a beacons and will inspire 33 crore students of India.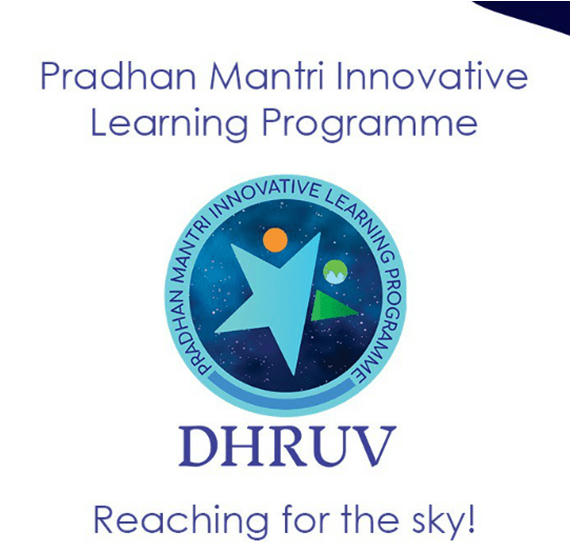 Young Scientist Program' aka Yuvika
Students who've cleared 8th standard exam and excel in educational and co-curricular activities will attend a 2-week Residential program at ISRO centers where they'll learn about space research and its applications from pros in the field.
The first batch of 110 students participated in May 2019.
ISRO's 'Samwad With Students' Programme
Students from rural and semi-urban townships can directly interact with the best scientists of the country and have a dialogue.
This will enable students to understand the field more closely and it will also benefit scientists when they hear young innovative ideas.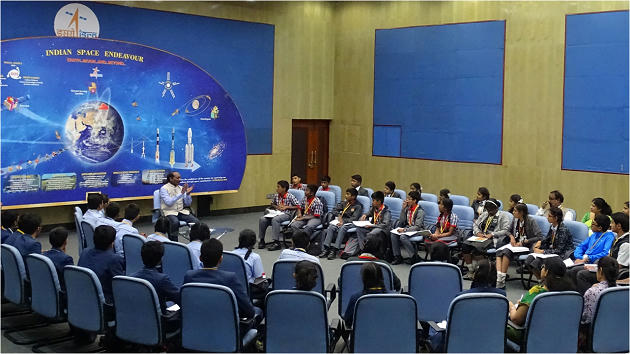 What is AI? Discuss opportunities and challenges.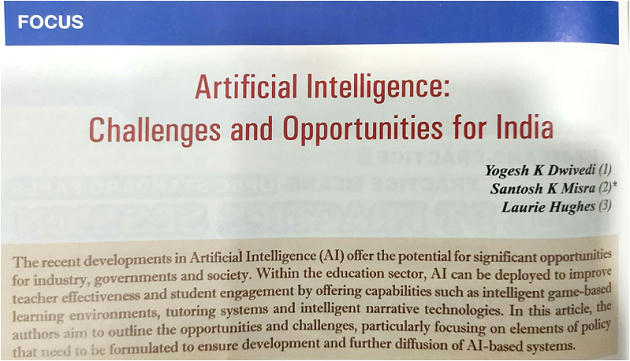 What is AI?
Artificial intelligence(AI) is the ability of a computer program or a machine to think and learn.
It is also a field of study which tries to make computers "smart". They work on their own without being encoded with commands.

John McCarthy came up with the name "artificial intelligence" in 1955.

The ideal characteristic of AI is its ability to rationalize and take actions that have the best chance of achieving a specific goal.
Opportunities | Education
Personalization of education
Gamification
AI bots
Automated OMR grading systems
AI based analytics
Opportunities | Healthcare
analysis of complicated medical data / Reducing doctor's burden
personalized medicine
help select the correct, individually customized treatment path
developing predictive analytics solutions
Precision Medicine/Surgery
Wearable health trackers
Opportunities | Agriculture
AgriculturalRobots
Predictive Analytics
Crop & Soil Monitoring
AIsensors can detect and target weeds
Challenges
Skilled manpower
Data collection, storage and security
Data Privacy
Awareness
Potential job losses
AI lacks ethical considerations
List important events in providing education for the blind.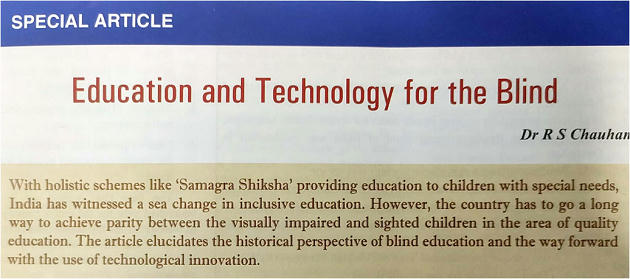 Timeline of Important Events
1887 – A facility for blind was launched in Amritsar.
1944– Lt. Col. Sir Clutha Mackenzie played a major role in writing Government of India report on blindness.
1947– A unit for Blind at Ministry of Education was setup.
1951– uniform Braille codes for various Indian languages.

Brailleis a system of touch reading and writing for blind persons in which raised dots represent the letters of the alphabet.

1952– First ever Braille printing plant established in Dehradun.
1954– Braille appliances manufacturing unit setup.
1959– Govt. sets up first school for Blind children at Dehradun.
1960– Four regional centers for teachers of blind were setup.
1974– Integrated Education for Disabled Children (IEDC)
1981– Observance of International Year of disabled persons
1983-92- The UN decade for Disabled.
2016– Rights of Persons with Disabilities Act passed.
What are some of the key govt. initiatives in Education?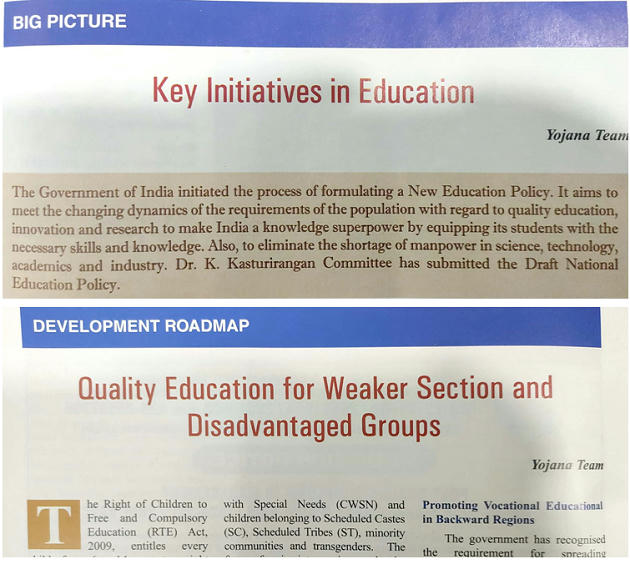 Discussion
For WS & differently abled
For School Education
For Higher Education
For WS & differently abled
RTE Act, 2009

Section 8(c) – govt. to ensure that children from WS are not discriminated and prevented from pursuing elementary education on any grounds
Section 12(1)(c) – all specified schools + unaided schools shall admit at least 25% children from WS in Class I and provided free & compulsory education

Samagra Shiksha

Free uniforms, textbooks, special training of out-of-school children for children with special needs

Padhe Bharat Badhe Bharat

Promote early reading and writing with comprehension skills in children and basic numeracy skills.

Navodaya Vidyalaya Scheme

one JNV in every district to bring out the best in rural talent
For School Education
National Initiative for School Heads' & Teachers' Holistic Advancement (NISHTHA)
standardized teacher training courses at national level
States can contextualize the training modules
PM Innovative Learning Program (DHRUV)
This program was launched to identify and encourage talented prodigies of the country to enrich their skills and knowledge base.
Brings all online portals related to education at one junction
The portal will connect 92 Lakh teachers and 26 crore students.
Common people can directly give feedback on schools
Unified District Information System for Education Plus (UDISE+)
Launched to provide location and salient features of more than 15 lakh schools through GIS based mapping
Digital Infrastructure for knowledge Sharing (DIKSHA) 2.0:
Aims to connect teachers to their community, discuss their struggles and challenges and train themselves better in order to provide quality education. Over 67000 content pieces have been hosted on DIKSHA by now.
Operation Digital Board (ODB):
Aims to provide atleast two smart classrooms for ever Secondary & Senior Secondary School. A total of 1,46,588 schools including government schools, KVs, JNVs etc have been targeted.
For Higher Education
Five Year Vision Plan 'Education Quality Upgradation and Inclusion Programme' (EQUIP):

It is a vision plan aimed at ushering total transformation of India's HEI in 5 years (2019-2024). Focus is on access, inclusion, quality, excellence and enhancing

Institute of Eminence (IoE):

10 institutions in private and 10 in public section will be declared as IoEs and they'll be eligible to receive ₹1000 crore during next five years for development.

Swayam 2.0:

This is an enhanced version of Swayam which provides online degrees by top ranking institutes.

SWAYAM PRABHA:

Telecast educational program through 32 DTH Channels in order to reach out widely to students who don't have easy and good learning options and that too at nominal cost.

PARAMARSH:

It's a scheme formulated to keep a check and mentor institutions that request accreditation from Accreditation Council.
What are threats to our cyberspace? What can we do to protect us against cyber attacks?

Did you know?
In 2016, there were a total of 758 million online attacks worldwide – i.e. around 2 million in a single day.
Threats to Cyberspace
Cyber Warfare

unauthorized invasion by a govt. into the systems or networks of another, aiming to disrupt those systems, to damage them partially, or to destroy them entirely e.g. Attacks on websites of Estonia in 2007 and of Georgia in 2008

Cyber Espionage

Governments can invade the systems of their rivals to steal sensitive information. Ex: Operation Shady RAT – world's biggest hacking ever – for five years hackers had access to 70 govt. and private agencies around the world

Cyber Terrorism

websites spreading extremist propaganda, recruiting terrorists, planning attacks, and otherwise promoting terrorists' political and social objectives
Threats to Cyberspace
Cybercrime

crimes that target computers directly;

Computer viruses
Denial-of-service attacks
Malware (malicious code)

crimes facilitated by computer networks or devices, the primary target of which is independent of the computer network or device

Cyber stalking
Fraud and identity theft.
Phishing – act of attempting to acquire information such as usernames, passwords, and credit card details (and sometimes, indirectly, money) by masquerading as a trustworthy entity in an electronic communication
Spam – use of electronic messaging systems to send unsolicited bulk messages (spam), especially advertising, indiscriminately.
Distribution of Child pornography
Protection against Cyber Attacks
People are advised to limit the amount of information disclosed in social media.
Don't befriend strangers.
Don't blindly trust a flashy news on internet.
Customize the privacy options to the best of your interests.
Beware of 3rd party apps as they can be phishing apps.
Secure you systems with anti viruses and softwares like that.
Use strong passwords.
Don't use same password for every account.
Use multi-factor authentication system.
Don't share OTP or any data with others.
What are the challenges in Higher education in India?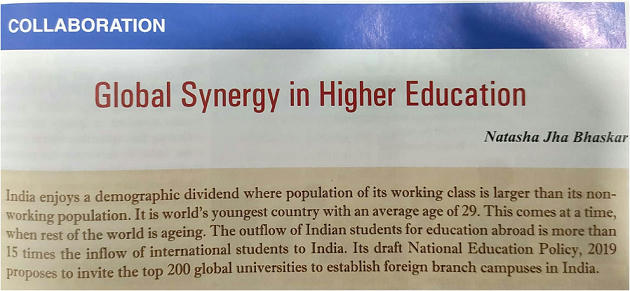 Story in Numbers
Currently the GER in Higher education stands at 26.3%.
Draft NEP aims at increasing it to 50% before
Challenges
If proper environ is not provided to such a large young population, it may create a demographic burden on India and it'll be a disaster.
Privatization of Education:
Currently, 39% of universities are managed by private entities. Out of close to 40,000 colleges in India, 78% are privately owned.
This shows that the government colleges, that are main source of education for students from poor background, are contributing very little as compared to the expectations.
The rise in social aspirations of people has led to education divide between rural and urban India. The level of education on both sides is also very different from one another and India needs uniformity in this.
Uneven Distribution of Colleges:
Some states have abundance of colleges while many have scarcity. For instance, Bihar has college density of 7 per 1000 people whereas Karnataka has 58. This divide can affect people for whom migration is not an option.
Cost of Higher Education:
There have been innumerable measures by government to make basic education free but little has been done for higher education.
India's status as education provider is not on a good side. As of 2018-19, India hosted 47,427 foreign students from foreign countries while countries like China and Germany hosted 400000 and 300000 students.
Towards Global Cooperation
MHRD has developed 5-year plan called EQUIP (Education Quality Upgradation and Inclusion Program) for higher education – which envisages strong cooperation with foreign universities
Draft NEP calls for inviting 200 top universities to establish remote centres in India
NITI Aayog has proposed creation of Exclusive Education Zones in few select cities in Bengaluru, Hyderabad, Ahmedabad, Pune, etc.
Global Initiative Of Academic Networks (GIAN) – tap foreign professors + diaspora
Visiting Advanced Joint Research (VAJRA) Faculty scheme – PIOs collaboration with Indians here
Ramalingaswami Re-entry Fellowship – for biotech