Topics
Overview
Water with a Capital 'W'
Transforming Urban India
Health Services
Women Empowerment
Transport Infrastructure
Other Sectors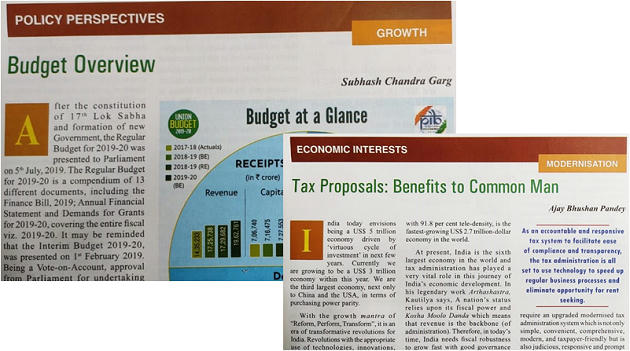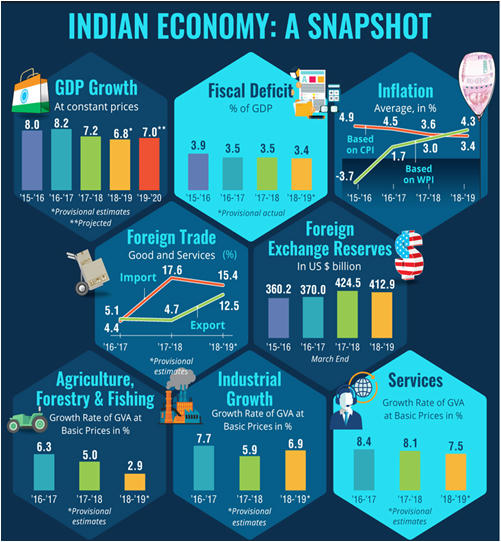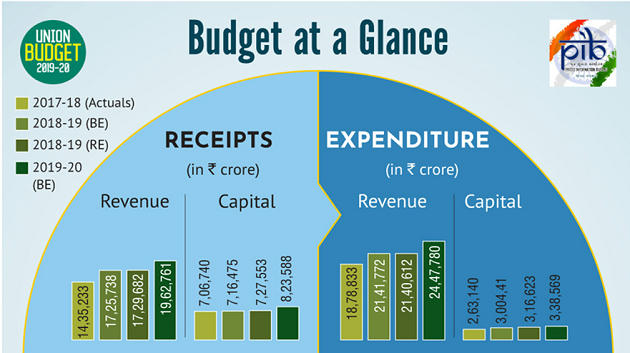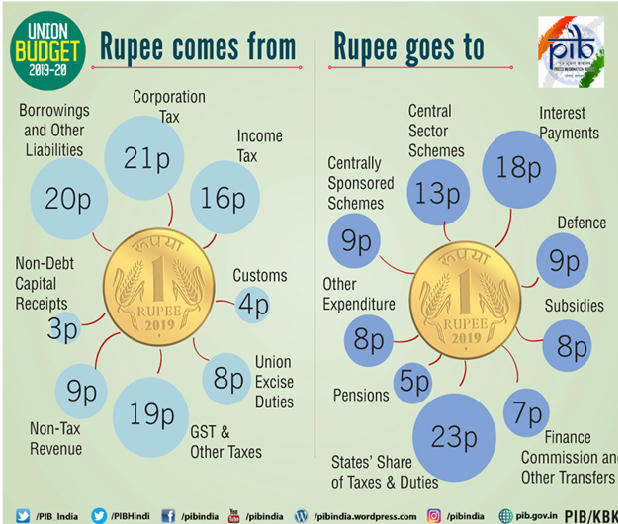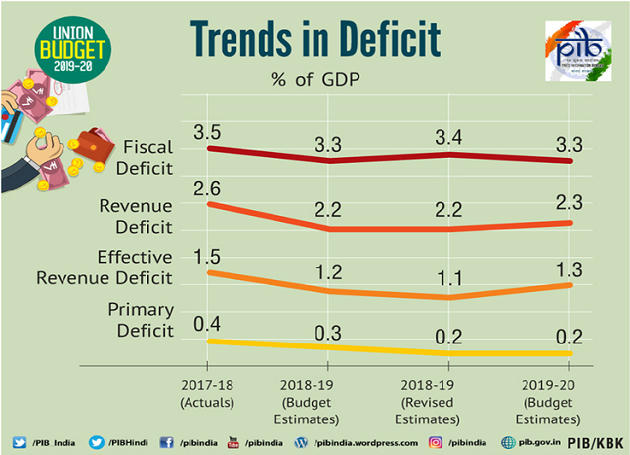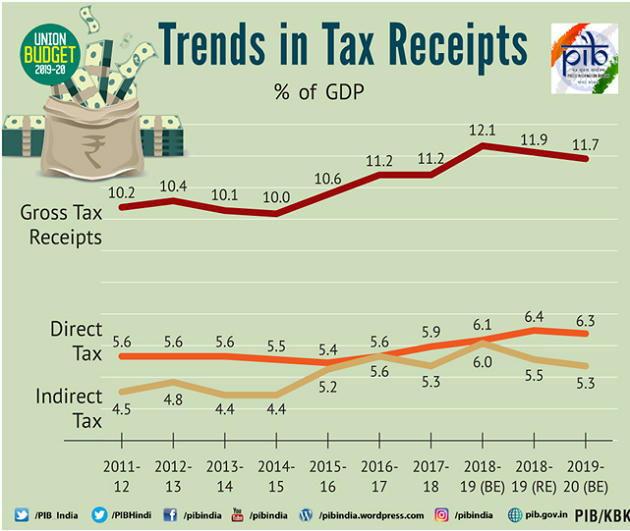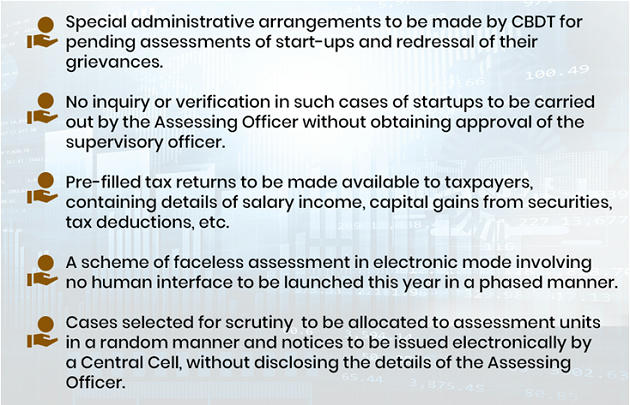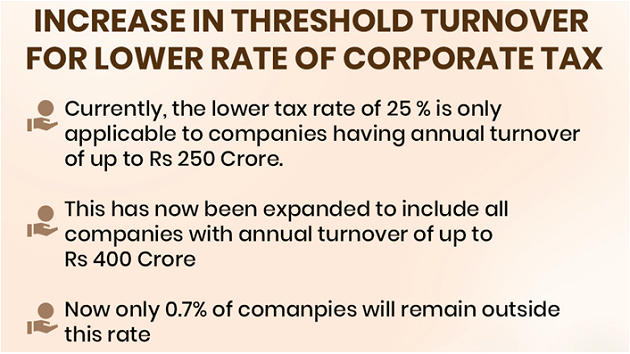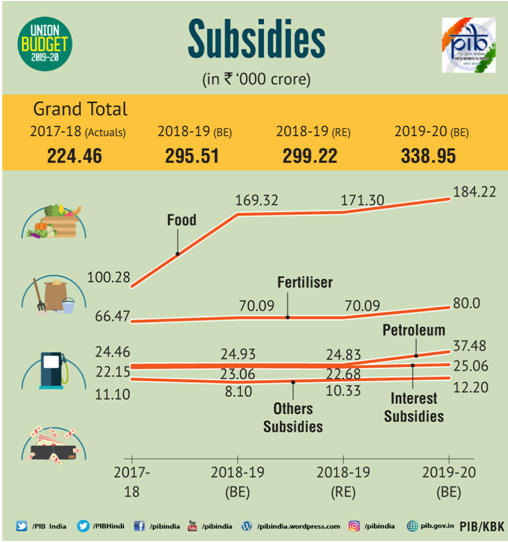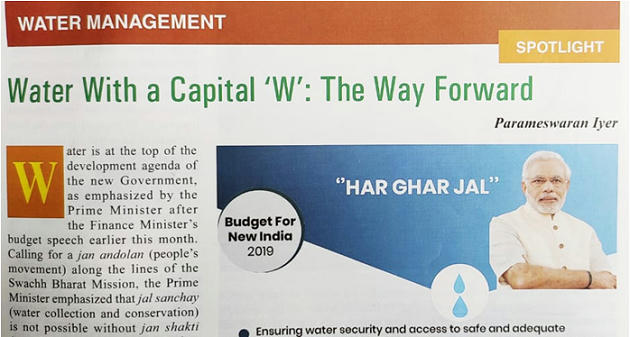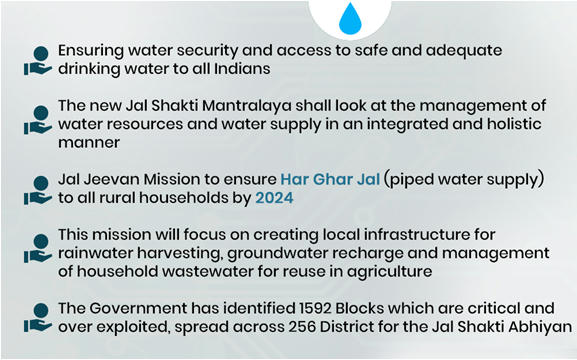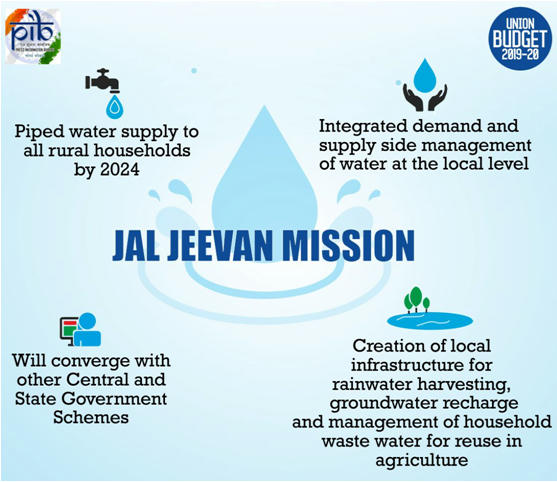 Background
Earlier fragmentation in management
–7 ministries + more than 10 departments
NITI Aayog's Integrated Water Management Index was a good start but Jal Shakti Mantralaya is big reform
Demand will be twice supply by 2030 => potential losses of 6% of GDP by 2050
–Cities like New Delhi, Bengaluru, Chennai & Hyderabad completely running out of GW
–India captures only 8% of annual rainfall, among the lowest in the world
–Lack of proper infra results in loss of 40% of piped water in urban areas
–Treatment and reuse of grey water is almost non-existent
Israel – treats 100% of its used water and recycles 94% of it meeting more than 50% of it's irrigation through it
80% of all habitations have access to 40 lpd through same source, only 18-20% of rural households have piped water supply
Target: to provide piped water supply to all rural households by 2024 in a sustainable manner
–Achieve through decentralized, integrated water resource management and service delivery
Jal Shakti Abhiyan
Centre is set to initiate the Jal Shakti Abhiyan to ramp up rainwater harvesting and conservation efforts in 255 water-stressed districts from July 1, in line with the government's promise to focus on water.
Though water is a State issue, the campaign will be coordinated by 255 central IAS officers of Joint or Additional Secretary-rank.
The campaign seems to follow the model of last year's Gram Swaraj Abhiyan, where central officials monitored the implementation of seven flagship development schemes in 117 aspirational districts across the country.
The campaign will run from July 1 to September 15 in States receiving rainfall during the south-west monsoon, while States receiving rainfall in the retreating or north-east monsoon will be covered from October 1 to November 30.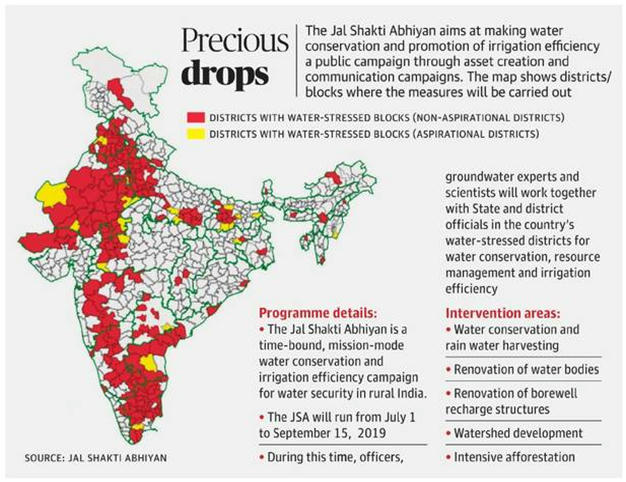 Way forward
Developing infra for collection/treatment of non-faecal waster water, kitchen or bathing waste water – which is 80% of by-product of all domestic water
Increasing water use efficiency
Nuture army of grassroots Swacchagrahis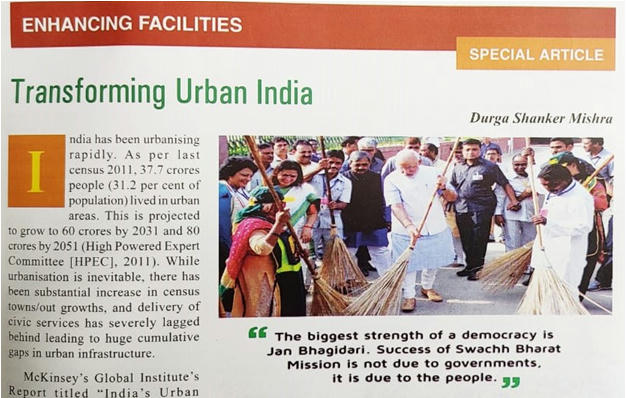 3-Level Strategy of Urbanization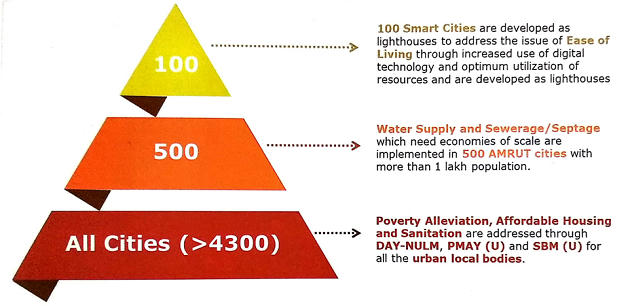 Strategy of Smart City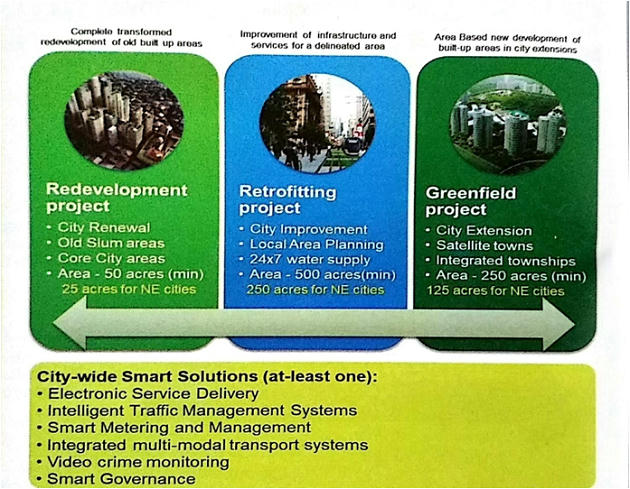 Components of AMRUT
–water supply, sewerage and septage management
–storm water drainage
–urban transport
–availability of green and open spaces
–reform management and support
–capacity building
Other important initiatives
–Metro Rail Policy 2017
–Indigenization – 75% to be manufactured in India
One Nation One Card for mobility
SBM –
–24 states + > 95% of cities are ODF
–90% of wards are under D2D collection with 56% processing
Housing for All by 2022 – PMAY (Urban)
MCQ #7
Who was the first Editor of Yojana magazine?
A.Khushwant Singh
B.R K Narayan
C.Mulk Raj Anand
D.None of the above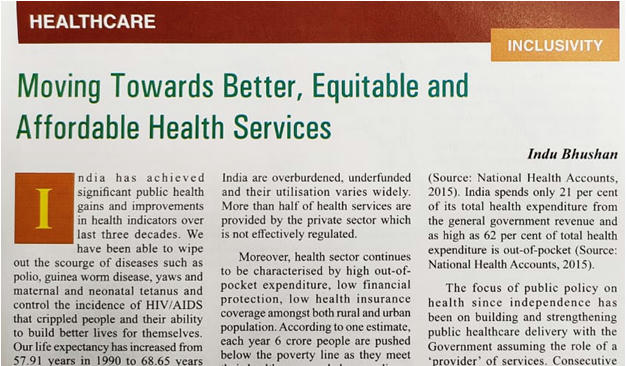 Major Problems
Health situation is being shaped by 4 factors:
–Epidemiological transition – infectious still at 30%; NCDs at 53%
–Demographic transition – children < 15 are 35% => health => education => growth
–Nutrition transition -> more protein rich diets
–Equity and access – 2/3rd health expenditure is out of pocket
Public vs. Private debate
Low insurance coverage
Ayushman Bharat
2 pronged approach for Universal Healthcare
–Health & Wellness Centres – for primary health care
1. 5 L Health & Wellness Centres by 2022 – covering maternal and child health services, screening for NCDs, free essential drugs.
It will also conduct yoga sessions to promote wellness.
–PM Jan Arogya Yojana
PM Jan Arogya Yojana | Overview
5 L insurance cover per family per year for secondary/tertiary care;
–For bottom 40% of poor and vulnerable population (~100 mn) based on SECC
–Benefit on floater basis – can be used by one or all members (and portable)
–No cap on family size and age of members
–All pre-existing diseases covered by 1st day
–For NE + 3 Himalayan – 90:10
–For UTs with Legislation and other States – 60:40
–For UTs without Legislation – 100 (Centre)
At least 1 Medical College for every 3 Parliamentary Constituencies
At least 1 Government Medical College in each State of the country
Subsumes: RSBY + Senior Citizen Health Insurance Scheme (SCHIS)
PM Jan Arogya Yojana | Implementation
Insurance Mode – state appoints an insurer at defined premium rate; 9 states have chosen this.
Trust Mode – state creates a State/District Health Agency which will pay the claims of hospitals as per actual utilisation. The risk of health protection lies with the State. 17 States have chosen this.
Mixed Mode – state uses a combination of above – where low cost procedures are managed by insurer and high cost by State Trust. 6 states have chosen this.
Future
Shift in thinking – govt. as purchaser of services rather than provider.
With greater demand, private sector will expand in Tier 2/3 towns; while govt. ones can prioritize poor patients.
Need for setting standards for health assurance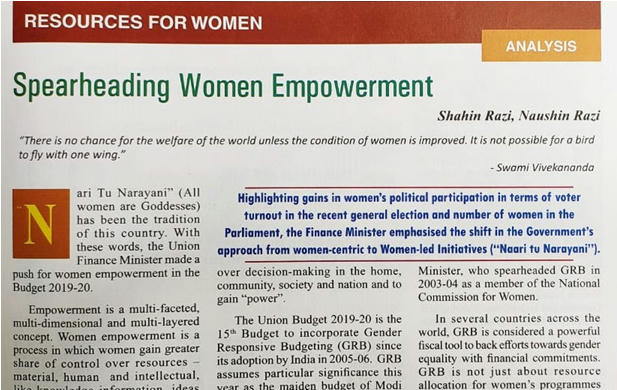 Concept of Empowerment
Empowerment – having control over one's life
Women Empowerment – equal control over their lives and opportunity to take important decisions
–At individual level
–At household level
–At community level
–At societal level
Empowerment in – political, social & economic spheres
Major Announcements
15th Budget to incorporate Gender Responsive Budgeting since its adoption in 2006-06.
–5% of total expenditure
FM has proposed a Committee to evaluate GRB and suggest way forward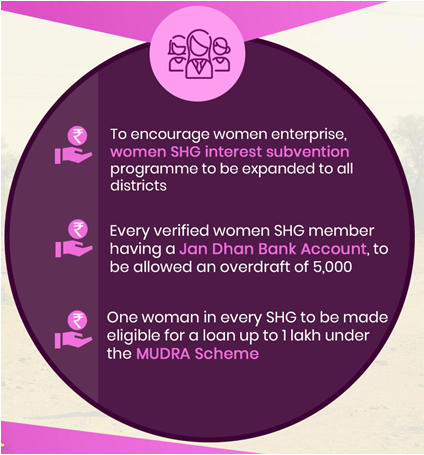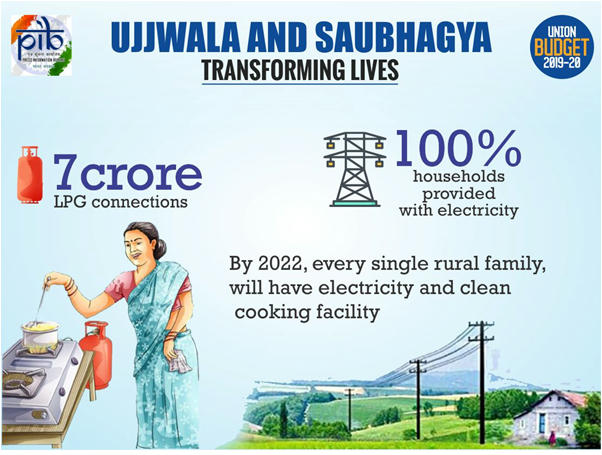 Maternity Care
PM Surakshit Matritva Abhiyan – checkup on 9th of every month
PM Matritva Vandana Yojana – Rs. 5000 in 3 installments
Mother & Child Tracking System
Janani Suraksha Yojana – Rs. 1400 for institutional delivery
Janani Shishu Suraksha Karyakram – no-expense delivery
Laqshya – Labour Room Quality Improvement Initiative
Mothers' Absolute Affection (MAA) Program – for breastfeeding
National Nutrition Mission (NNM) – (0-6 yrs + PLM)
Village Health & Nutrition Days (VHND)
Stree Swabhiman – promote menstrual hygiene through CSCs
Planned Pregnancy
Mission Parivar Vikas – for access to contraceptives
–Promoting adequate spacing b/w children
–Home delivery of contraceptives by ASHAs – Nayi Pehel
–Counseling to newly weds by ASHAs
Health & Nutrition
POSHAN Abhiyan – a convergence framework
Integrated Child Development Services
National Health Mission- including RMNCH + A
Janani Suraksha Yojana + Matritva Sahyog Yojana
Swachh Bharat Mission
National Rural Drinking Water Programme
SABLA for adolescent girls
Mid Day Meals Scheme + Targeted PDS
National Food Security Mission
Mahatma Gandhi NREGS + National Rural Livelihood Mission
Economic Empowerment
Self Help Groups (NABARD)
Start up India (MoC&I), Stand up India (MoF)
PM Kaushal Vikas Yojana (MoSDE)
Support to Training and Employment Program (MoWCD)
Min of MSME:
–PM Mudra Yojana
–Trade Related Entrepreneurship Assistance & Development (TREAD)
–Entrepreneurship Development Programs (MoMSME)
–Mahila Udyam Nidhi & Mahila Vikas Nidhi (SIDBI)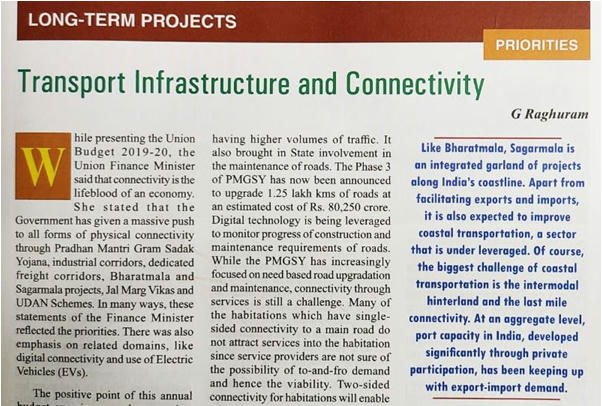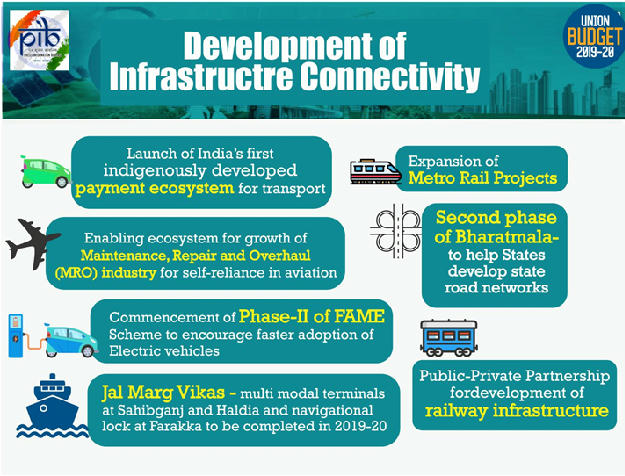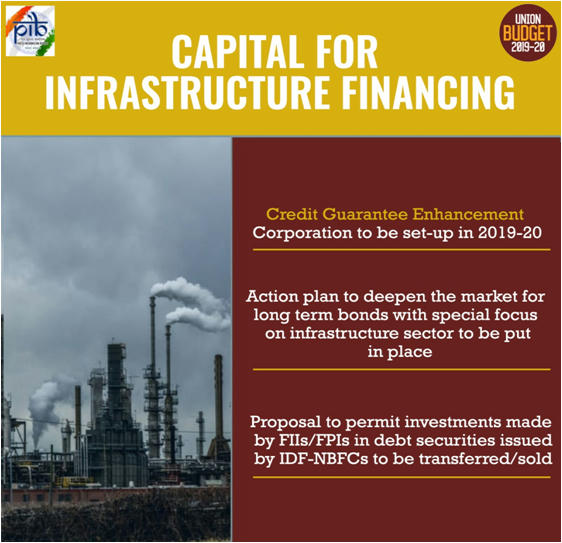 Major Waterways Initiatives
National Waterways Act 2016 – 106 new NWs (+5 old)
Jal Marg Vikas Project (JMVP) – NW 1 (Mar 2014)
Launch of state-of-art Vessel Design (Aug 2018)
IWT for Social congregations
Promoting River Tourism
Other NWs
Jal Marg Vikas Project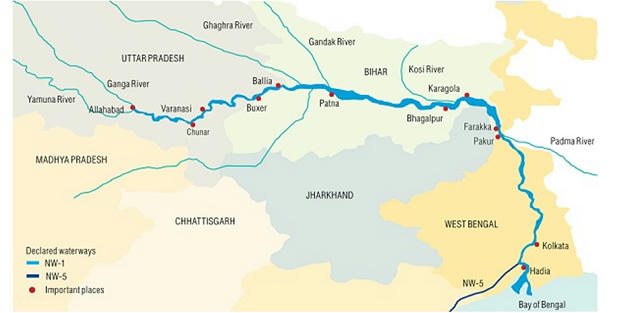 Jal Marg Vikas Project
Financial & technical support of World Bank
Development of fairway with 3 meters depth b/w Varanasi and Haldia (Phase-I) (1380 km)
–Construction of multimodal terminal at Varanasi
–Construction of multimodal terminal at Sahibganj
–Construction of new navigation lock at Farakka
UDAN = Ude Desh ka Aam Nagrik
Aim: boost regional connectivity via unused airports
Provisions:
–Financial stimulus + VGF to selected airlines to operate in tier-2/3
–Demand driven scheme as airlines selected via competitive bidding
–Subsidy for 50% of the seats on UDAN routes (min 9, max 40 seats)
–Fares capped at 2500 per seat per hour or ~500 km
–Exclusive route monopoly for 3 years
–Other concessions (cheaper fuel, no airport charges)
VGF is funded by levy on departures in Metro cities
Result: UDAN has added 34 airports
Successes
Shimla airport doing good
Nanded in Maharashtra
Vidyanagar in Karnataka
Jharsuguda in Odisha
Pakyong in Sikkim
Jagdalpur in Chhattisgarh
Road Infra
1998: National Highways Development Programme
–Golden Quadrilateral
–N-S & E-W Corridors
Oct 2017: Bharatmala Pariyojana (2017-2022)
–Govt. approved Phase I covering 24800 km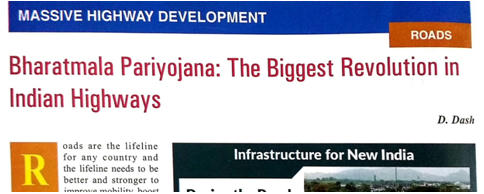 Bharatmala Pariyojana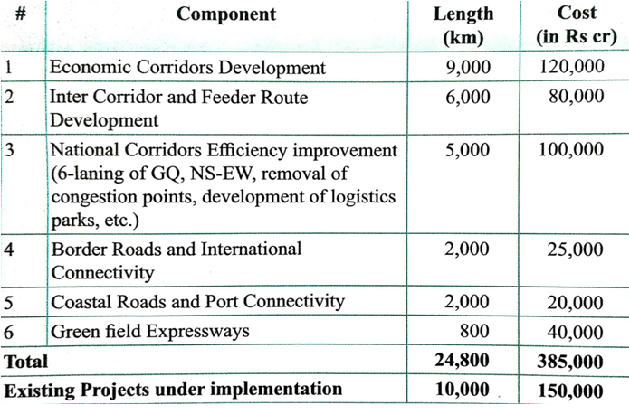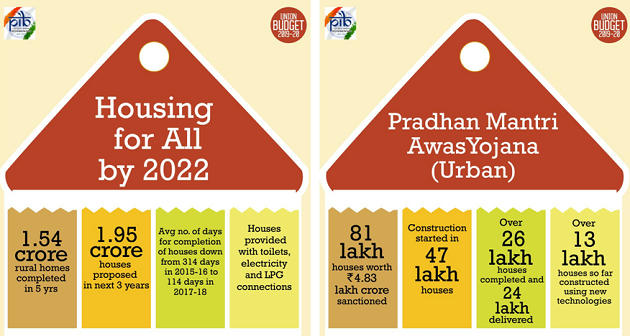 Other sectors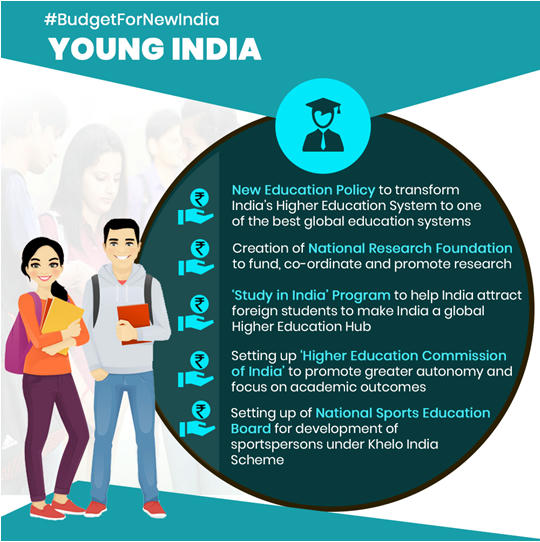 PM Kaushal Vikas Yojana
Deendayal Antyodaya Yojana
– NRLM + NULM
 SWAYAM + GIAN + IMPRINT + ASPIRE
 Khelo India Scheme
What is government doing?
PM Kaushal Vikas Yojana
Deendayal Antyodaya Yojana
–National Rural Livelihood Mission (includes DDU-GKY)
–National Urban Livelihood Mission
National Skill Development Agency
National Skill Development Corporation