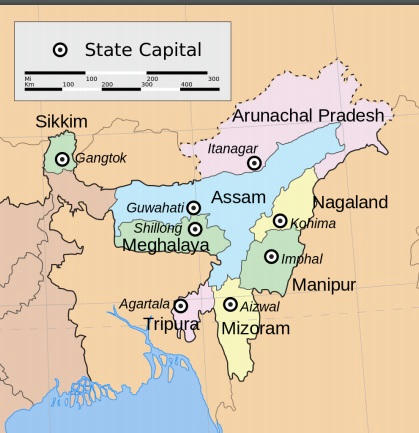 HISTORICAL
British => mass extraction of raw materials
Partition in 1947 => – Constrained connectivity – Trade links ended with East Pakistan
Indo-China War 1962 => investor fear
Indo-Pak War 1971 => migration GEOGRAPHICAL – Hills => 70% area => connectivity issues – Floods, landslides in Brahmaputra & Barak Valleys
 INFRASTRUCTURAL – Poor state of transport infra
Rail network only 4% of India's rail network
Gauge conversion under progress AGRICULTURAL – Untouched by => Green Revolution – Lack of credit/warehouse/markets/power – Jhum => deforestation, soil erosion & fertility loss
 INDUSTRIAL
– Lack of good quality coal
– Ban on felling of trees by SC 1995 => Industry loss
– Globalization + Act East Policy => difficult to compete SOCIAL
– Internal migration => Brain drain
– Local-migrant and ethnic conflicts
– Substance addiction (30% youth) + HIV/AIDS
GOVERNANCE
Assam (70% NER pop.) pulls whole NE down
Weak state capacity => – Non utilization of funds (10% GBA) – Lack of supervision => Poor outcomes
Endemic overstaffing => – High non plan expenditure due to huge Group C/D staff
Culture of 'bandhs' in Assam, Manipur & Nagaland MCQ #1
Q1. Pakyong airport is in which State?
Sikkim B. Mizoram C. Nagaland D. Arunachal Pradesh
Q2. HOW TO DEVELOP INDIA'S NE REGION?
 GOVERNANCE
Ministry of Development of NE Region (2001) – North East Council (1971) => planning – NE Development Finance Corp. Ltd. (NEDFCL) – NER Agricultural Marketing Corp. Ltd. (NERAMAC) – NE Handlooms & Handicrafts Development Corp.
Capacity building of local self governments
 INFRASTRUCTURE
Bharatmala Project => NE as Economic Corridor
NE Special Infrastructure Dev.
Scheme
Special Accelerated Road Dev. Program in NE
Kaladan Multi Modal Transit Transport Project
Development of Barak river for shipping
Border Haats
 AGRICULTURE
Tap huge water resources for irrigation
Piggery, poultry, duckery, fishery and dairy
Organic tea & food, mushroom and honey
 INDUSTRY | SERVICES
Agro-based => bamboo, cane, jute, paddy husk
Electronics => pollution free atmosphere • IT => English speaking youth
 EDUCATION
Tribal majority States (MEGHALAYA, MIZORAM, NAGALAND & ARUNACHAL) – Ekalavya Model Residential Schools – Pre/Post Matric Scholarship – National Fellowship and Scholarship Scheme
One Medical College per State (AYUSHMAN BHARAT)
SKILL DEVELOPMENT
Skill mapping of each State – E.g. Rubber-Tripura, Tourism-Meghalaya, IT-Assam
Outcomes-based approach
Tap International markets – E.g. Pran foods of Bangladesh selling Litchi juice in NE
Vocationalisation of school education
Tackling infrastructural constraints
WOMEN EMPOWERMENT NERCORMP
NER Community Resource Mgmt. Project – Joint initiative of MoDoNER, NEC and IFAD (UN
) • To improve livelihoods of vulnerable groups:
– Self Help Groups (SHGs)
– Natural Resource Mgmt. Groups (NRMGs)
MCQ #2
Q2. Which committee looked into issues faced by migrants from NE India?
Bezbaruah Committee B. Lyngdoh Committee C. Sachar Committee D. Xaxa Committee
Q3. HOW BAMBOO CAN BE A TOOL FOR PROSPERITY IN NE INDIA?
KEY FACTS • NE India => 8% area but 25% forests – 2/3rd area of NE India is forests
Bamboo => essential component of forests/life – India has 30% of world's bamboo (70% in NE) – But contributes only 4% to global market
Nov 2017 => Bamboo became 'grass' from 'tree' – Relaxation in felling, transit and processing USES
Agriculture: Land protection, soil improvement, water retention and grain storage
Small Industry: pickle, vinegar, incense, furniture, baskets, ornaments, etc.
Bio-refinery: Numaligarh refinery in Assam
Food: Bamboo shoots
Construction: scaffolding
NATIONAL BAMBOO MISSION (RESTRUCTURED)
Aim: Holistic development + farm-market linkages
Focus:
– Bamboo Technology Parks
– Bamboo Bazaars in rural India
– Cluster-based approach to development
– Grassroots institutional structure to self-manage
– Guidance for post-harvest management & treatment
MCQ #3
Q3. Hornbill festival is celebrated in which state?
Arunachal Pradesh B. Manipur C. Nagaland D. Mizoram
Q4. DISCUSS THE MAIN PROBLEMS PLAGUING INDIAN RAILWAYS.
SLOW PACE
IR had added only 10,000 km since 1947
Only 1/3rd routes have double/multiple tracks
Infrastructure has reached a saturation point SAFETY
Accidents due to human errors and negligence
Lack of modern technology & management
Tracks are old and outdated
FISCAL PROBLEMS
Cross-subsidization => high freight charges
Routes decided politically, not commercially
Travel without tickets => Rs. 5 Cr loss/yr
High revenue expenditure + low investment WHAT CAN BE DONE???
MCQ #4
Q4. Dhola-Sadiya bridge connects which states?
Assam-Arunachal Pradesh B. Arunachal Pradesh-Nagaland C. Nagaland-Manipur D. Manipur-Mizoram
ECONOMIC SURVEY & WORLD BANK
Tariff rationalization
Station Redevelopment
Safety =>
✓ Independent safety regulator
✓ Ditch lights, bright yellow train, fire extinguishers
✓ High visibility clothes, footwear and helmets ✓ Painted level crossings and paths
Q5. HOW CAN INDIA REAP BENEFITS OF ARTIFICIAL INTELLIGENCE?
WHAT IS AI?
Ability of a machine to perform cognitive functions we associate with human mind – Learning + Reasoning – Perceiving + Interacting – Problem solving + Creativity
AI…….a $15.7 trillion opportunity!!! HISTORY OF AI
1950 => Alan Turing published a paper with an aim to create a machine that can mimic mind
1960-70 => rapid rise of digitization – 1965 => development of deep learning algorithms
Since then => high Computing + big Data
AI milestones: – 1996-97 => Deep Blue beats Garry Kasparov at 'chess' – 2011 => Watson beats top players in 'Jeopardy'
HOW CAN AI HELP INDIA?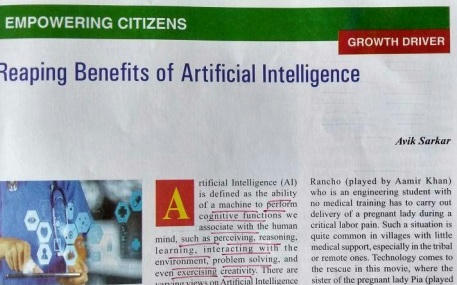 AI Doctor
AI Agriscientist
AI Judge
AI Educator
AI Journalist
AI Engineer HOW CAN INDIA HELP AI?
Computers
=> IT Revolution
=> IT Professional
s – WILL AI REVOLUTION LEAD TO AI PROFESSIONALS ???
MULTI STAKEHOLDER PARTNERSHIPS
– UNIVERSITIES
– STARTUPS
+ LARGE COMPANIES
– POLICY MAKERS •
NATIONAL PROGRAM ON AI (NITI AAYOG)
 

Q7. Discuss the main provisions of Fugitives Economic Offenders Bill.
\