EARLY LIFE
Velupillai Prabhakaran was born in the northern coastal town of Valvettithurai on 26 November 1954, the youngest of four children, to Thiruvenkadam Velupillai and his wife Vallipuram Parvathy
Thiruvenkadam Velupillai was the District land Officer in the Ceylon Government. He came from an influential and wealthy family who owned and managed the major Hindu temples in Valvettithurai.
LTTE
Angered by the discrimination against Tamil people by su ccessive Sri Lankan governments, Prabhakaran joined the student group Tamil Youth Front (TYF) during the standardisation debates.
In 1972, he founded the Tamil New Tigers (TNT), In the early 1970s, United Front government of Sirimavo Bandaranaike introduced the Policy of standardisation which made the criteria for university admission lower for the Sinhalese than for the Tamils.
On 5 May 1976, the TNT was renamed the Liberation Tigers of Tamil Eelam (LTTE), commonly known as the Tamil Tigers. The LTTE by the 1980s operated in more attacks against police and military forces.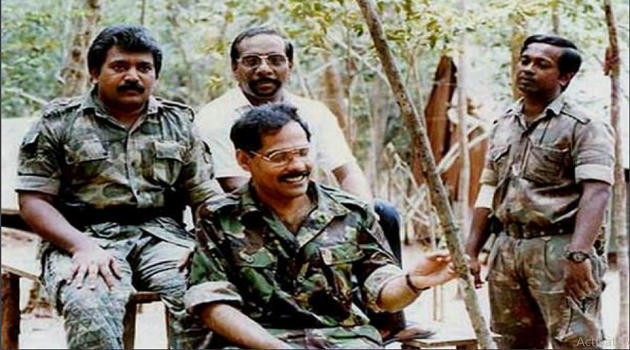 CIVIL WAR
On 23 July 1983, the LTTE ambushed an army patrol and killed 13 Sri Lankan soldiers in Thirunelveli, Sri Lanka.
As a response to this were one of the worst government sponsored anti-Tamil riots held (the event known as Black July) resulting in the destruction of Tamil houses and shops and death of hundreds of Tamils and making over 150 000 Tamils homeless.
As a result of the riots were several Tamils joining the LTTE and the LTTE marked the beginning of the Eelam War I.
The LTTE were allegedly involved in the assassination of Rajiv Gandhi, the ex-prime minister of India in 1991.
DEATH
When the Sri Lankan military rapidly advanced into the last LTTE held territory in the final days of 2008–2009 SLA Northern offensive, Prabhaka leadership retreated Fierce fighting occurred between LTTE and the Sri Lanka Army during these last few days.
At 12:15 pm on 19 may army commander Sarath Fonseka officially announced Prabhakaran's death on TV. At around 1:00 pm his body was shown in Swarnavahini for the first time.