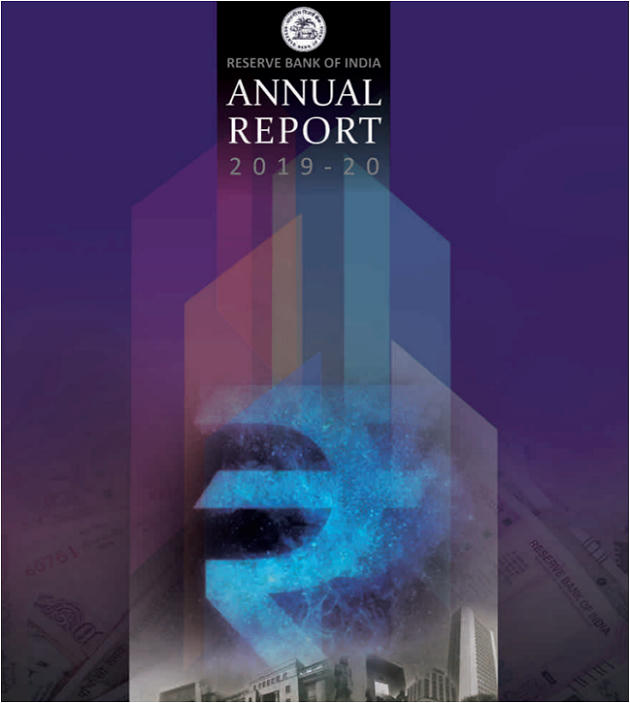 The central bank follows a July-June financial year
The balance sheet grew about 30% to Rs 53.3 lakh crore in fiscal year 2020, from Rs 41 lakh crore the year before.

Assets = Liabilities + Owners Equity
Asset side
The increase on the asset side was due to increase in domestic and foreign investments by 4% and 27.3%, respectively.
Increase in loans and advances by 8% and increase in gold by 52.9%.
Foreign currency assets and gold constituted 71.25% of the RBI's total assets while domestic assets constituted the rest.
Liability side
On the liability side, the increase was due to increase in notes issued, other liabilities and provisions, and deposits by
5 percent, 30.5 percent and 53.7 percent, respectively.
RBI's income
The RBI's income for the year stood at Rs 1.5 lakh crore while expenditure stood at Rs 92,540 crore (inclusive of Rs 73,615 crore towards transfer to a contingency fund).
The surplus of Rs 57,128 crore was transferred to the central government.

Banks reported more frauds
The value of frauds (of over Rs 1 lakh) reported by banks more than doubled to Rs 1.85 lakh crore and the number of cases went up by 28%.
Banks, on an average, took two years to detect fraud after it had occurred.
Public sector banks accounted for 80% of the reported frauds, most of which were related to loans.
Economy will continue shrinking
The contraction in economic activity will continue due to the lockdowns imposed by various states.
"Upticks that became visible in May and June after the lockdown was eased … appear to have lost strength." Inflation will remain high due to disruption in supply chains.
Consumer confidence
Consumer confidence was at an all-time low in July and it will take time for Indians to start spending because of the pay cuts, job losses and behavioural restraints.
While government spending will support the economy during the pandemic,
It is private consumption that will have to drive any economic recovery once the coronavirus threat eases.
₹2,000 notes
Not even a single Rs 2,000 currency note was printed in 2019-20.
The overall supply of banknotes was also lower by 23% than in the previous year due to the disruptions caused by the lockdown.