The New Education policy (NEP) 2020 shares ideas to revamp education, teaching and assessment systems in schools, colleges.
1968
1986
School Education
Language
Higher Education
Technology
Finance
Implementation
School system
The 10+2 system will be divided into 5+3+3+4 format.
1 Foundation stage  –
5 years total
3 years of pre-primary school *
2 years of classes 1 and 2.
2 Preparatory stage –
3 Years – Classes 3 to 5
3 Middle stage –
3 years of classes 6 to 8
4 Secondary stage –
4  years of classes 9 to 12.
Student's choice of subjects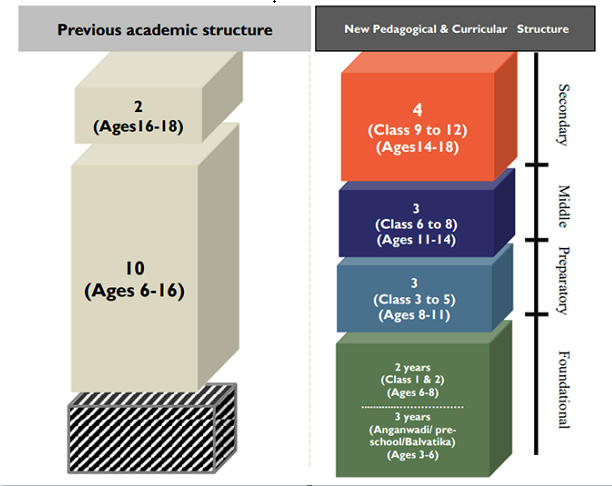 NEP expands age group 6-14 years of mandatory schooling to 3-18 years of schooling.
**Criticism – Anganwadi workers are not equipped or trained to 'teach'

Boards?
Board exams for Grades 10 and 12 will be continued, but they will be low stake. The focus will be on testing concepts and knowledge application.
Students will be given a second chance at boards to improve their score
Students will be able to choose many of the subjects and the 'level' in which they take Board exams.
There will be no hard separation among 'curricular', 'extracurricular ', or 'co-curricular', among 'arts', 'humanities', and 'sciences', or between 'vocational' or 'academic' streams.
Co-curriculum and vocational subjects like sports, arts, commerce, science will be treated at the same level.
Students can opt for courses as per their preference.
Reviews by peers and teachers.
Skills, such as analysis, critical thinking and conceptual clarity will be taught in school.
Change in pattern by when?

The school curriculum overhaul will come in the shape of a new National Curricular Framework for School Education (or NCFSE 2020-21), which will be undertaken by the National Council of Educational Research and Training (NCERT)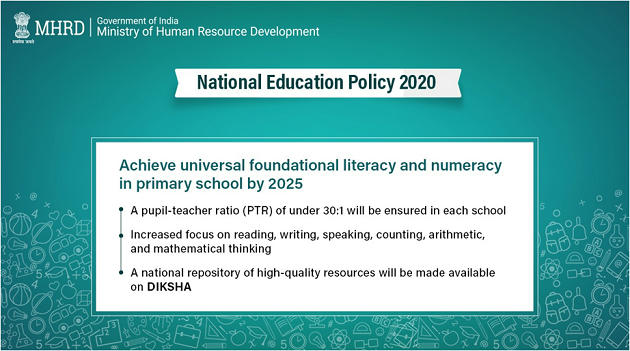 Gross Enrolment Ratio Goals for 2035
Secondary school – 100%
(Current – 56.5 % for class 11 and 12)
Higher education –  50%
(Current – 26.3 %)
Language
The NEP puts focus on students' mother tongue as the medium of instruction.
''Wherever possible, the medium of instruction until at least Grade 5, but preferably till Grade 8 and beyond, will be the home language, mother tongue, local language or the regional language.
Thereafter, the home or local language shall continue to be taught as a language wherever possible.
This will be followed by both public and private schools.''
Research shows that children pick up languages extremely quickly between the ages of 2 and 8 and that multilingualism has great cognitive benefits to young students, children will be exposed to different languages early on.
The 'Three language formula' will continue but no language would be imposed on anyone.
At least two of the three languages should be Indian.
The NEP only recommends the mother tongue as medium of instruction, and not make it compulsory. (Upto states to implement)
When the original NEP draft was released by the Centre in May 2019, it contained a clause stipulating the teaching of Hindi as part of the three-language formula in schools.
Following a backlash from Tamil Nadu, West Bengal and other States, the Centre quickly issued a revised phrasing of that clause.
Criticism of Primary education in Mother Tongue
Unequal learning in Private vs Govt schools
State vs state (Ex. Andhra pradesh)
Class divide will be furthered.
English is the dominant language of Internet, Science and technology.
What about children of people in transferable jobs?
College Admission Entrance Exams
Common entrance exam for admissions
The National Testing Agency (NTA) will conduct a common entrance examination (CEE) for admissions to universities across the country.
A common aptitude test, as well as specialised common subject exams in the sciences, humanities, languages, arts, and vocational subjects, will be held at least twice every year.
** Criticism – It will not be mandatory and will be left to individual universities and colleges to use NTA assessments for their admissions.
Higher Education
Higher Education Commission of India(HECI) will be set up as a single overarching umbrella body for entire higher education, excluding medical and legal education.
Phasing out of the affiliation of colleges in 15 years and a stage-wise mechanism is to be established for granting graded autonomy to colleges.
Reforms for HIE
Moving towards a higher educational system consisting of large, multidisciplinary universities and colleges.
Phasing out of all institutions offering single streams and that all universities and colleges must aim to become multidisciplinary by 2040.
At least one Uni. in or near every district
HEIs across India that offer medium of instruction or programmes in local/Indian languages
Moving towards faculty and institutional autonomy;
Revamping curriculum, pedagogy, assessment, and student support for enhanced student experiences;
Reaffirming the integrity of faculty and institutional leadership positions through merit appointments and career progression based on teaching, research, and service;
Establishment of a National Research Foundation to fund outstanding peer-reviewed research and to actively seed research in universities and colleges
Governance – "light but tight" regulation by a single regulator for higher education
4 year Courses
FYUP – Four Year Undergraduate Program
Multiple Exit Options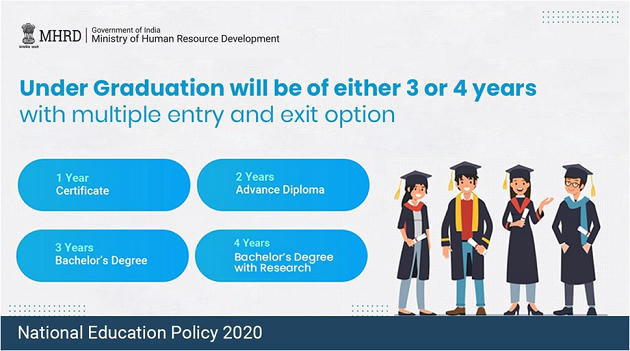 Academic Bank of Credit for digitally storing academic credits earned from different HEIs so that these can be transferred and counted towards final degree earned.
Masters of Philosophy to be scrapped
BA   MA   M Phil   PhD
M Phil was a middle research degree between a master's and a PhD.
Those who have entered MPhil, more often than not ended their studies with a PhD degree.
Foreign colleges WILL BE PERMITTED TO OPEN CAMPUS IN India
*Criticism  –
Promoting private players and foreign universities.
Foreign involvement in education
Higher Education can become grant-based to loan-based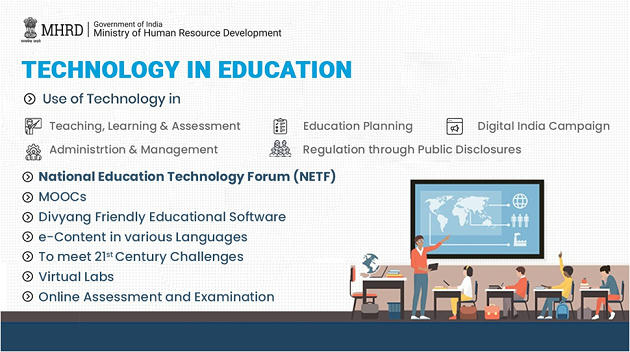 Teacher Recruitment
The teacher must be at the centre of the fundamental reforms in the education system.
The new education policy must help re-establish teachers, at all levels, as the most respected and essential members of our society, because they truly shape our next generation of citizens.
Teacher Eligibility Tests (TETs) will be strengthened to inculcate better test material, both in terms of content and pedagogy.
The TETs will also be extended to cover teachers across all stages (Foundational, Preparatory, Middle and Secondary) of school education.
**To gauge passion and motivation for teaching, a classroom demonstration or interview will become an integral part of teacher hiring at schools and school complexes.
These interviews would also be used to assess comfort and proficiency in teaching in the local language, so that every school/school complex has at least some teachers who can converse with students in the local language.
Teachers in private schools also must have qualified similarly through TET, a demonstration/interview, and knowledge of local language(s).
By 2030, the minimum degree qualification for teaching will be a 4-year integrated B.Ed.

Finance
The current public (Government – Centre and States) expenditure on education in India has been around 4.43% of GDP.
NEP Target – 6% of GDP
*Criticism – The same target was set up in 1968 and 1986 too
The Big Picture
The NEP only provides a broad direction and is not mandatory to follow.
Since education is a concurrent list subject, the reforms proposed can only be implemented collaboratively by the Centre and the states.
The government has set a target of 2040 to implement the entire policy.