EARLY LIFE
Jean-Baptiste Lamarck was born in Bazentin, Picardy, northern France, as the 11th child in an impoverished aristocratic famil on 1 August 1744.
Lamarck enrolled in a Jesuit college in Amiens in the late 1750s.After his father died in 1760, Lamarck bought himself a horse, and rode across the country to join the French army, which was in Germany at the time.
He was awarded a commission and settled at his post in Monaco. There, he encountered Traité des plantes usuelles, a botany book by James Francis Chomel.
He attempted to study medicine, and supported himself by working in a bank office.
CAREER
Lamarck studied medicine for four years, but gave it up under his elder brother's persuasion. He was interested in botany became a student under Bernard de Jussieu, a notable French naturalist.
Under Jussieu, Lamarck spent 10 years studying French flora. In 1776, he wrote his first scientific essay— a chemical treatise.
After his studies, in 1778, he published some of his observations and results in a three-volume work, entitled Flore française.
CAREER
He gained membership to the French Academy of Sciences in 1779 and a commission as a royal botanist in 1781, in which he traveled to foreign botanical gardens and museums.
Lamarck had worked as the keeper of the herbarium for five years before he was appointed curator and professor of invertebrate zoology at the Muséum national d'histoire naturelle in 1793.
In his first six years as professor, Lamarck published only one paper, in 1798, on the influence of the moon on the Earth's atmosphere.
CAREER
He set out to develop an explanation, and on 11 May 1800 he presented a lecture at the Muséum national d'histoire naturelle in which he first outlined his newly developing ideas about evolution.
In 1801, he published Système des Animaux sans Vertebres, a major work on the classification of invertebrates.
Lamarck was the first to separate arachnids from insects in classification.In 1802 Lamarck published Hydrogéologie, and became one of the first to use the term biology in its modern sense.
CAREER
That year, he also published Recherches sur l'Organisation des Corps Vivants, in which he drew out his theory on evolution.
During Lamarck's lifetime, he became controversial, attacking the more enlightened chemistry proposed by Lavoisier.
Lamarck gradually turned blind; he died in Paris on 18 December 1829. When he died, his family was so poor, they had to apply to the Academie for financial assistance.
LAMARCKISM – THEORY OF EVOLUTION
"Life by its own force, tends to increase the volume of all organs which possess the force of life, and the force of life extends the dimensions of those parts up to an extent that those parts bring to themselves;"
"The production of a new organ in an animal body, results from a new requirement arising. and which continues to make itself felt, and a new movement which that requirement gives birth to, and its upkeep/maintenance;"
"The development of the organs, and their ability, are constantly a result of the use of those organs."
"All that has been acquired, traced, or changed, in the physiology of individuals, during their life, is conserved through the genesis, reproduction, and transmitted to new individuals who are related to those who have undergone those changes."
 LAMARCKISM – THEORY OF EVOLUTION
Change Through Use And Disuse : The organs which are used frequently by the organism develop and the characteristics that are used seldom are lost in the succeeding generations
Organisms Driven To Greater Complexity : As the organisms adapted to their surroundings, they became increasingly complex from the simpler forms.
Inheritance of Acquired Characters: An individual acquires certain characteristics during its lifetime. These characters are inherited by their offsprings as well.
Effect of Environment and New Needs : The environment influences all the organisms. A slight change in the environment brings about changes in the organisms. This gives rise to new needs which in turn produces new structures and changes the habits of the organisms.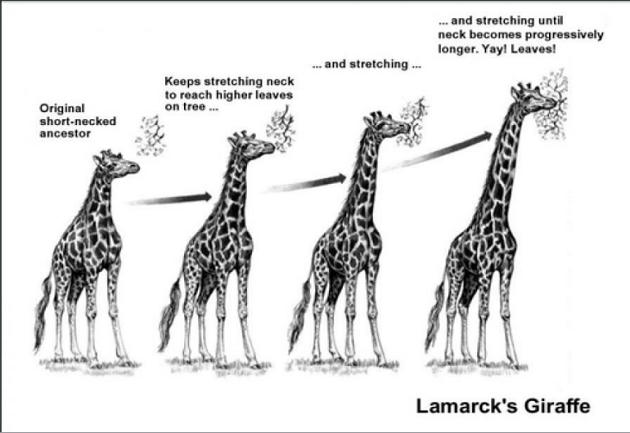 LAMARCKISM V/S DARWINISM
Lamarck proposed theories like the inheritance of acquired characters, use and disuse, increase in complexity, etc. whereas Darwin proposed theories like inheritance, different survival, species variation, and extinction.
Darwin did not completely believe in his theory of acquired characters and proposed that the complexity in the organisms arise by the adaptation to the environment for several generations. Whereas Lamarck proposed that complexity arises due to usage or disuse of particular characters.