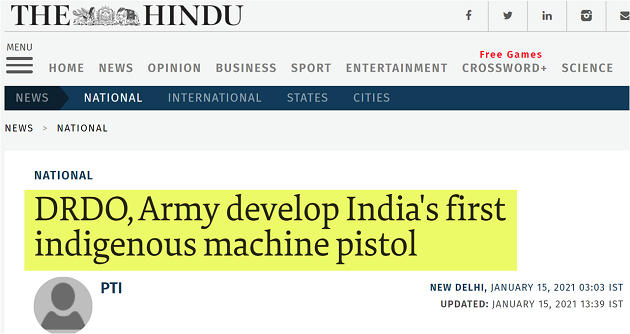 A machine gun is a rapid-firing, rifled long-barrel autoloading firearm designed for sustained direct fire with fully powered cartridges.
Other automatic firearms such as assault rifles and automatic riflesare really designed more for unleashing short bursts rather than continuous firepower, and not considered machine guns.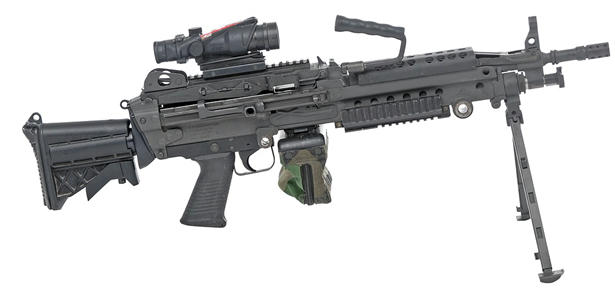 A machine pistol is a self-loading pistol capable of burst fire or fully automatic.
It can also be used to describe a stockless handgun-style submachine gun.
 
What has happened?
The Pune-based facility of the Defence Research and Development Organisation (DRDO) and the Indian
Army's Mhow-based Infantry School,
Have jointly developed India's first indigenous 9mm machine pistol named 'Asmi'.
The pistol is likely to have a production cost lower than Rs 50,000 each and has export potential as well.
DRDO and Army designed and developed this weapon utilising their respective areas of expertise in a record time of four months.
3D Printing process has been used in designing and prototyping of various parts including trigger components made by metal 3D printing.
It was designed by Lt Colonel Prasad Bansod of the army's Mhow-based Infantry school.
Some of the world's best small arms have been designed by military personnel.
The legendary AK-47 was designed by a tank commander, General Mikhail Kalashnikov, during World War 2.
Israel's iconic Uzi submachine gun was designed by Major Uziel Gal in the late
Press statement from the Ministry of Defence
"The weapon has huge potential in armed forces as a personal weapon for-
Heavy weapon detachments, commanders, tank and aircraft crews, drivers and dispatch riders, radio or radar operators, for closed quarter battles, counter-insurgency and counter-terrorism operations etc.
This is also likely to find huge employability with the central and state police organisations, as well as VIP protection duties and policing.
The weapon is aptly named Asmi, which means pride, self respect and also hard work."
New fire power
The 'Made in India' sub-machine gun is expected to replace the standard 9mm gun in the armoury of the defence forces.
The indigenously developed sub-machine gun that weighs around 3.0 kg, can fire up to a range of 100 meters and is in the same class as the UZI series guns of Isreal.
The sub-machine gun prototype has fired over 300 rounds throughout the last four months of its development process.
Not for frontline
The Asmi will not replace primary assault rifles like the AK-47 and the INSAS which are in frontline service and
which fire high-velocity ammunition.
It is designed for use as a second-line personal weapon for tank and aircraft crews and in close combat situations like-
Counter-terrorist operations and room interventions, in confined spaces like warships and merchant vessels and by VIP protection forces.
Because it fires a subsonic 9×19 mm round, it could potentially find a huge market with the Central Police Organisations, state police forces as well as exports.
With a likely production cost of between Rs 40,000 and 50,000 a weapon it is just one-third the cost of imported sub-machine guns like the MP5.
Lighter version
A smaller, sub-compact version of the weapon weighing less than 1.5 kg is in development.
(An empty AK-47 type rifle weighs 3.4 kg).
The weapon operates on a simple blowback principle, has a 33-round high-capacity magazine, a range of 100 metres and a rate of fire of 600 rounds per minute.
Challenges
The key challenge for the Asmi will begin when the weapon enters mass production.
This is where issues like consistency of production, quality control and manufacturing processes will come into play.
Kalashnikov's during World War 2, was successful because it was backed by the resources of the Soviet state which put it into mass production and stabilised the design.
Conclusion
For decades, the Indian Army struggled to replace its vintage Sterling carbine, a weapon that entered service in the closing stages of World War 2.
Over the past 15 years, the has often resorted to piecemeal imports of alternatives like the German H&K MP5, MP9 and the Uzi.
Q) Indradhanush is a bilateral air exercise between India which country?
UK
Indonesia
Thailand
USA